Insights
Do You Know What Lies Beneath Your Jobsite?
Three stories that prove the value of subsurface utility mapping, the McCarthy way.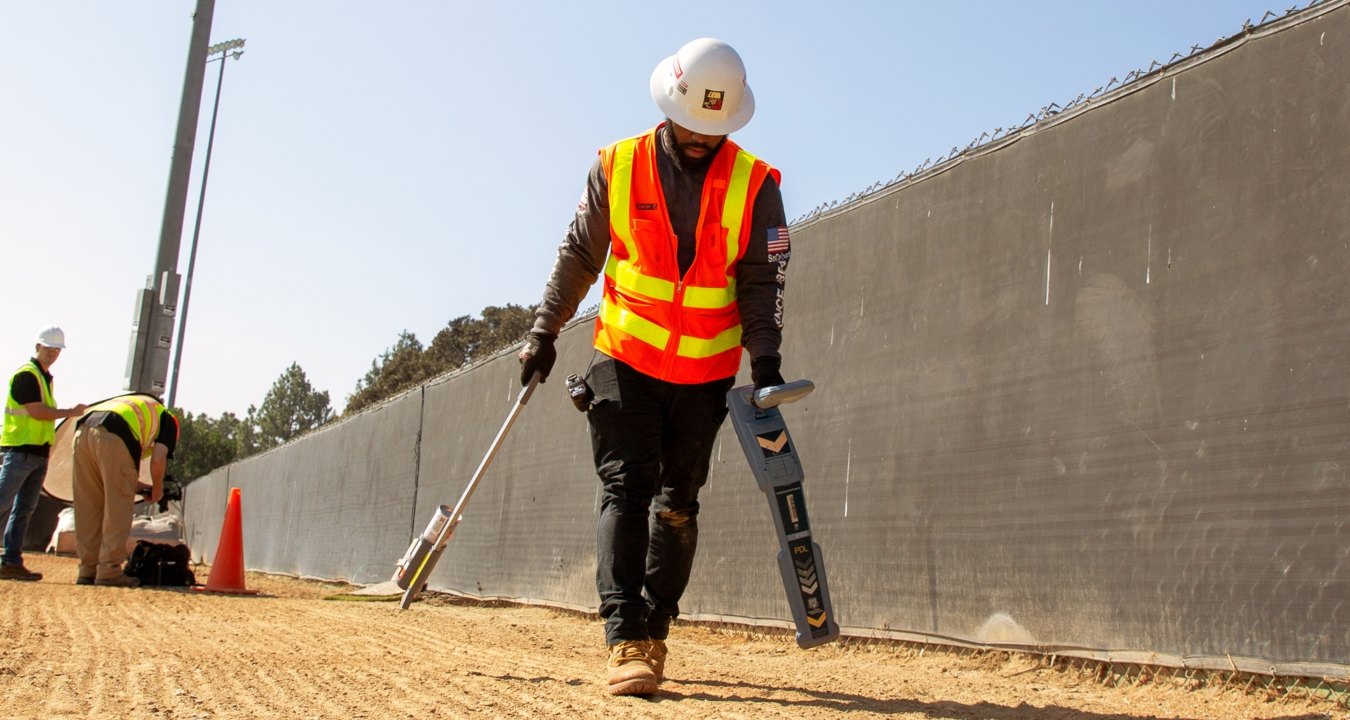 THE THREAT FROM BELOW
Imagine hitting a gas main right next to a school or cutting off the oxygen to a hospital's intensive care unit. What if a hidden set of trolley tracks suddenly derails your building schedule? Or you dig up a decades-old fuel tank that was long forgotten — until you were unfortunate enough to find it, right in the middle of your jobsite?
It happens. In fact, it's common. Using McCarthy Mapping, we find issues every single time we create a map of what's underground at a construction site. And yet, in our experience, about 90 percent of all construction projects don't include comprehensive subsurface mapping before excavation.
Failing to accurately locate subsurface utilities places owners, contractors and facility operations at risk. The financial impact alone can be substantial. For example, underground unknowns typically lead to an 18 percent change order rate on complex civil site project contracts. Hidden utilities and other threats from below are ticking time bombs waiting to cost you time and money as you prepare your site to build.
When the design and construction teams know exactly where the utilities are before digging, it reduces the potential for costly delays. By using complete, accurate, color-coded and extremely detailed maps and models, McCarthy Mapping creates a full picture of what may be lurking underground. So, it should come as no surprise that according to the Purdue University Department of Building Construction Management — for every $1 spent on mapping at this level of detail, owners can save an average of $4.62 in cost avoidance for their project.
What happens when you don't use a comprehensive subsurface utility mapping service like McCarthy's? And what happens when you do? Let's take a look at both scenarios.
THREE TALES FROM THE UNDERGROUND
Without McCarthy Mapping: The day before Christmas, a construction team was working on a major healthcare campus when an excavator barely missed an unidentified two-inch line. When a pipe setter jumped in the hole to identify the utility, he discovered that they'd nearly hit a gas main that was improperly installed with an upside-down valve. In the process of inspecting the unforeseen utility, the improperly installed gas valve ruptured forcing the evacuation of an adjacent patient care building.
With McCarthy Mapping: As a hospital building was being demolished to make way for a new tower, an oxygen line appeared where nobody expected one. It was the single remaining source of oxygen for the nearby children's hospital because the redundant feed was taken out of service in the previous phase of construction. Had this line not been discovered during the mapping process, it would likely have been destroyed during construction and caused a critical utility outage for the hospital, which would have had only enough backup oxygen to last 24 hours.
When an owner tries both approaches: An owner was planning to construct two civil projects that both ran down a public right-of-way. The first project was designed without the benefit of creating a subsurface utility map first. The project was about 700 feet long, and excavators kept running into unexpected utility lines every step of the way. Plan after plan had to be scrapped to deal with each setback, costing substantial time and money. By the end, the project was a year late, the budget was 150 percent over the original plan — and the owner had lost around $1 million in rework.

The second project, on the other hand, used McCarthy Mapping. This time, every pertinent underground issue was identified upfront and accommodated during the initial construction plan. As a result, the project was on schedule and under budget.
McCarthy Mapping often helps owners build successfully in high-risk areas. For example, a jobsite might be adjacent to an education or healthcare campus where critical utilities, such as oxygen lines, can't be disturbed. The age or sheer number of utilities can also create risk, especially on jobsites where multiple generations of utilities have been installed and reconfigured. Many of these utilities can be very dangerous and even life-threatening if they are accidentally struck during construction.
Some owners might turn to a private utility locating company to mark underground lines. But a few paint marks on the ground don't solve the problem. The fact is that private locating companies typically don't dig deeply enough — both literally and figuratively — to identify all the dangers to projects and workers. They don't have the technological resourcefulness or expertise to reliably solve the puzzle of aging utilities and environments. And once they've sprayed their paint, they move on.
That's where the McCarthy Mapping difference becomes clear. Using electromagnetic utility locators, ground penetrating radar, hydro excavation, CCTV truck, acoustic pipe locators and infrared energy pattern analysis, our technology works in concert with our expertise to help you build confidently. Our employee-owners have decades of experience using this equipment and a quality-first approach rather than production-driven mentality. We do more than put paint on the ground; our zero-loss of information through data collection, design drafting and comprehensive deliverables puts confidence into your planning.
It's always smart to "dig" with technology before the first shovel hits the ground. That's why we're here.
# # #
About the Author
As Vice President for McCarthy Building Companies, Inc., Fermin Glasper oversees the delivery of McCarthy Mapping services for clients across the nation as owners and building team partners continue to realize the benefits of this service. Fermin is a Department of Defense-trained Geomatics Engineer with more than 20 years of applied experience and a diverse background in geomatics engineering, civil engineering, geotechnical engineering, surveying, design, construction management and strategic planning. He is a licensed Professional Land Surveyor registered in multiple states, a former adjunct instructor for the University of Wyoming and former president of the St. Louis chapter of the Missouri Society of Professional Surveyors. Fermin is also a member of the American Society of Civil Engineering, the National Society of Professional Surveyors and the American Association for Geodetic Surveying.