Marine & Port Terminals
Our Work
MARINE & PORT TERMINALS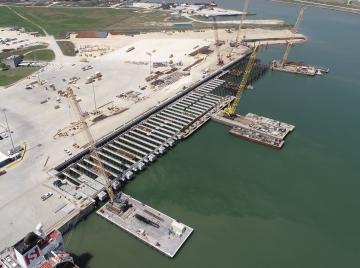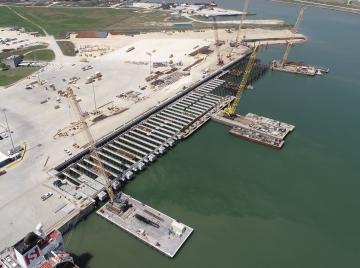 THE EXPERIENCED PARTNER YOU NEED WHEN BUILDING ON OR AROUND WATER
We understand the unique challenges of building on and around water, and are ready to deliver safe, high-quality outcomes — no matter what your project requires.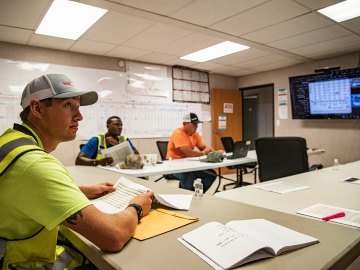 EXECUTING YOUR STRATEGY TO ACHIEVE YOUR GOALS
There is no "standard" project when it comes to marine projects. We bring a collaborative, strategic approach — based on decades of experience — to execute your vision, minimize impacts to active facilities and deliver exceptional experiences along the way. 
NO CHALLENGE TOO BIG
NO TASK TOO COMPLEX
Marine, Ports, Heavy Civil and Industrial projects require specialized equipment, knowledge, and experience that the McCarthy team can readily provide.
Safety
An embedded culture of safety
Our nationally recognized safety program is customized to encompass the unique safety challenges and potential hazards of every project and to conform with owner-specific safety guidelines.
.69 Total Project Incident Rate

Industry average: 3.2

.03 Lost Time Incident Rate

Keeping projects safe

.47 Experience Modifier Rate

Half the industry average
RESULT-DRIVEN SELF-PERFORM
We regularly self-perform 80 percent or more of the activities on marine terminal and port projects — ensuring the on time, high quality work you expect.
Safety is always our No. 1 priority. Through our self-preform experience, we understand which activities are inherently riskier and can mitigate those risks to minimize issues and make safe outcomes more certain. At McCarthy, we nurture a company-wide culture of safety and start every day on the jobsite with a focus on safety planning. It's one of the many reasons we've been previously recognized as the safest large contractor in America.
Partnering with a builder that self-performs is one of the best ways to minimize schedule delays and maximize the certainty every owner is seeking. Many projects often require simultaneous execution of complicated construction techniques and equipment installation. Experienced self-performing builders can plan and execute the work themselves while executing greater control over the entire process from planning to budgeting and scheduling to completing the project on time.
Self-performing builders have the in-house expertise to estimate costs more accurately and provide the certainty owners want. Knowing how to build isn't valuable on the jobsite alone. During the preconstruction phase, these builders can work closely with their design partners to determine project constructability based on budget parameters, then can recommend adjustments as needed. Once construction is underway, self-perform builders can work with their in-house talent or better manage trade partners to help keep the project on schedule and minimize the potential for delays and cost overruns.
With so many experts on the ground at the same time, it's easier to control the quality of craftsmanship. When there's an issue on the jobsite, self-performing builders know how to solve it themselves. They also know how to work with their trade partners to plan and deliver exact results. Self-performing builders with that level of knowledge, self-reliance and dedication to quality give owners even more certainty around project outcomes.
Because of the complexity and amount of time it takes to complete large construction projects, schedule and budget are always top of mind. Clients simply can't plan to bring in ships, store or process materials without being sure when the project will be operational — and how much it will cost. By increasing control of the schedule and managing costs appropriately, self-performing some of the work can help provide a level of certainty that gives clients the confidence they need to plan their opening — on time and within their budget.