Our History
Built from Humble Beginnings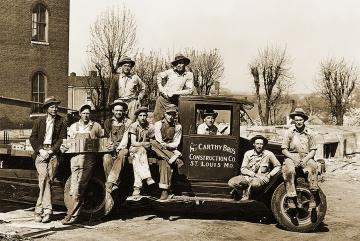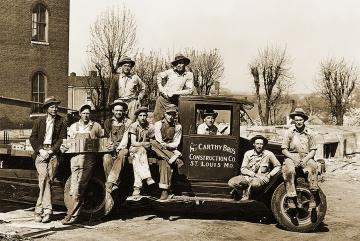 The McCarthy Story
In 1864, a humble Irish immigrant built his first barn in Ann Arbor, Michigan. Today, Timothy McCarthy's lumber business has grown into one of the largest and most diversified commercial construction companies in America.
For 138 years, McCarthy was primarily a family-owned business. That changed in 2002 when the company became 100% employee owned. Each of us now has a personal – and financial – stake in the company's future, and a greater responsibility to genuinely understand our clients' businesses, build truly collaborative teams and create great experiences for everyone throughout the project life cycle. 
We may not build barns and farmhouses anymore, but we've never stopped building relationships and results that stand the test of time.
2000s
2022
2022
2021
2021
2021
2021
2021
2020
2020
2020
2020
2020
2020
2019
2019
2019
2019
2018
2018
2018
2018
2017
2017
2017
2017
2017
2016
2016
2016
2016
2016
2016
2015
2015
2015
2015
2015
2014
2014
2014
2013
2013
2013
2012
2012
2012
2012
2011
2011
2010
2010
2010
2010
2009
2009
2008
2008
2007
2007
2007
2007
2007
2006
2005
2005
2005
2005
2005
2004
2004
2002
2002
2002
2001
2001
1900s
1998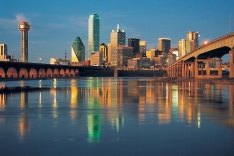 MILESTONES
August 3, 1998
1997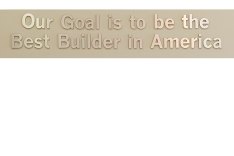 MILESTONES
1997
McCarthy unveils its new mission statement, reaffirming the intent to be "The Best Builder in America."
1996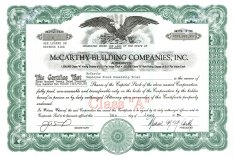 MILESTONES
1996
McCarthy establishes an Employee Stock Ownership Program (ESOP), taking the first step toward becoming 100 percent employee-owned.
1995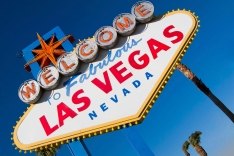 MILESTONES
November 8, 1995
1995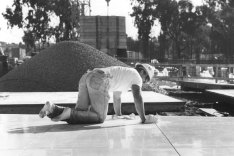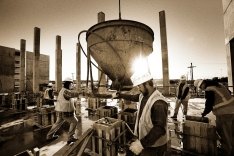 FIRSTS
September 14, 1995
The Salk Institute for Biological Studies in La Jolla, California, selects McCarthy for its East Building Addition. McCarthy develops a first-of-its kind architectural concrete forming and placing technique known as MIRASTONE. 
McCarthy is selected among the Top 25 Contractors in America by Concrete Magazine.
1995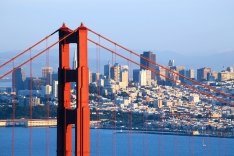 MILESTONES
March 10, 1995
1995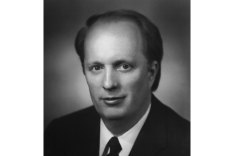 PEOPLE
1995
Mike Hurst becomes the new president and chief operating officer.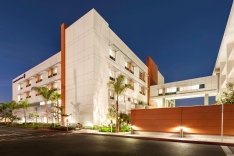 MILESTONES
1993
McCarthy introduces The Melvin Award honoring the top projects from each region and the Roger Burnet Award, chosen from the winners of the Melvin Award, recognizing the top project companywide each year. The first recipient of the "Rog" is Motorola CS-1 Phase 1B in Tempe, Arizona (pictured).
2015
The 2015 Roger Burnet Award goes to St. Jude Medical Center Northwest Tower in Fullerton, Calif.
1992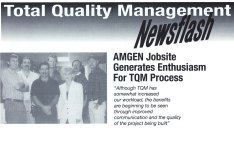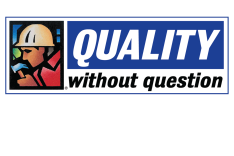 MILESTONES
1992
McCarthy establishes Total Quality Management program.
McCarthy again leads the industry in construction quality and creates the "Quality Without Question" Program.
1992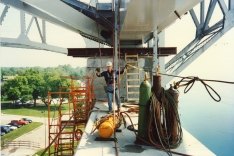 FIRSTS
1992
McCarthy sets a new industry standard for safety by providing all employees at construction sites 100 percent Fall Protection Tie Off at heights of over six feet. 
1991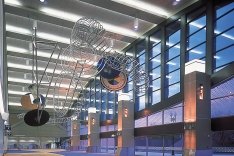 MILESTONES
April 8, 1991
McCarthy's Pacific Region opens an office in Sacramento and soon after wins a bid to build the Sacramento Convention Center. 
1991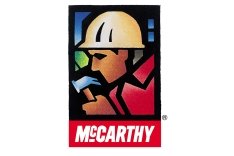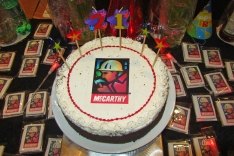 MILESTONES
April 8, 1991
McCarthy develops a new company logo and "The Dude" is born. 
The Dude celebrates his 21st birthday with parties across America.
1990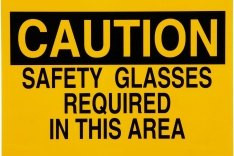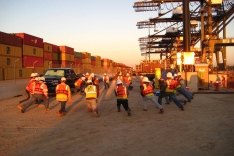 FIRSTS
1990
McCarthy becomes the first company in the industry to provide safety glasses to all employees at construction sites.
TODAY
McCarthy is recognized as the safest large contractor in America.
1990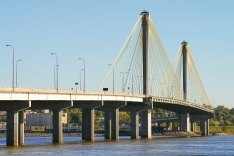 PROJECTS
1990
Construction of the Clark Bridge, spanning the Mississippi River between Alton, Illinois and St. Louis, is featured on NOVA.
1988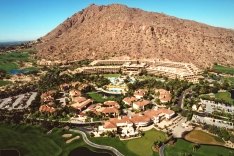 PROJECTS
October 1, 1988
Construction of the 1,387,000-sf, 620-room Phoenician Resort in Scottsdale, Arizona is completed. 
1988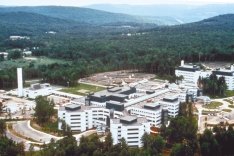 PROJECTS
September 1, 1988
Construction begins on Dartmouth-Hitchcock Medical Center, McCarthy's largest contract to date.
1986
MILESTONES
1986
McCarthy completes the Ataba Square and Opera Square parking structures in Cairo, Egypt.
1985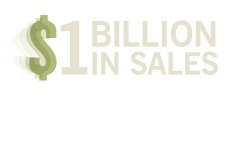 MILESTONES
1985
McCarthy reaches more than one billion dollars in sales.
1984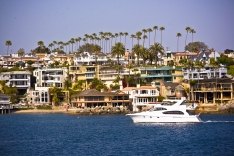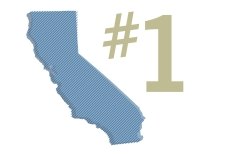 August 2013
Engineering News-Record ranks McCarthy the #1 contractor in California in August 2013.
1984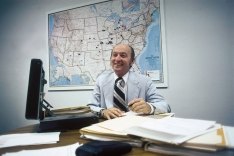 PEOPLE
1984
Roger Burnet becomes the company's first president without the last name McCarthy.
1984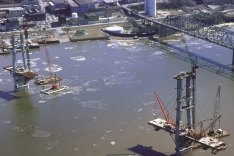 PROJECTS
1984
The twin tower design of the Bayview Bridge at Quincy, Illinois was McCarthy's first cable stayed bridge project.
1982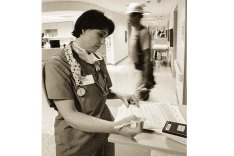 FIRSTS
March 1982
For the first time, McCarthy is ranked the #1 Hospital Construction Manager in U.S.
1982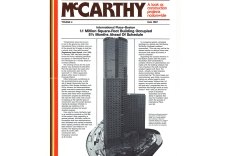 PROJECTS
1982
McCarthy builds International Place in Boston, the largest project in its history outside of St. Louis to date.
1982
MILESTONES
1982
McBro has more than 275 employees working in 32 different states and begins opening additional offices around the country.
1981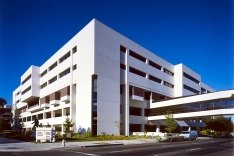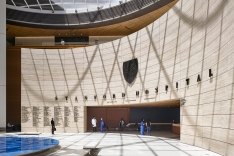 PROJECTS
1981
Sutter General Hospital in Sacramento, California becomes McCarthy's first modern-day project in California. 
Stanford University Medical Center hires McCarthy to build its new technologically-advanced 812,000-sf replacement hospital.
1979
MILESTONES
May 1, 1979
McCarthy purchases TGK Constructors and opens a Phoenix office and Gerry Murphy (pictured) becomes president.
1976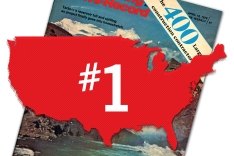 MILESTONES
April 1976
Engineering News-Record names McCarthy the top construction management firm in the nation.
1976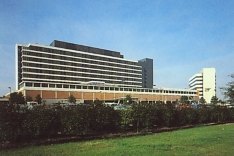 FIRSTS
1976
The University Hospital in Augusta, Georgia becomes McCarthy's first hospital project in the Southeast. 
1975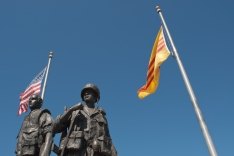 1975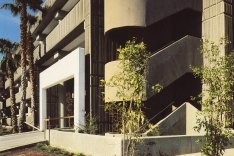 FIRSTS
1975
St. Joseph Hospital awards McBro its first project in Arizona.
1974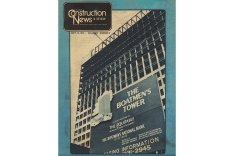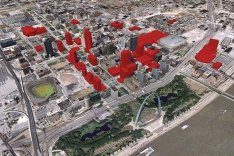 PROJECTS
1974
McCarthy rebuilds St. Louis' downtown skyline with the 22-story Boatmen's Bank Tower, 352-room Spanish Pavilion and new national headquarters for General American Life Insurance Company.
The St. Louis Business Journal repeatedly ranks McCarthy the Largest Contractor in St. Louis. A look around the St. Louis community showcases the mark that McCarthy has made on the metro area.
1974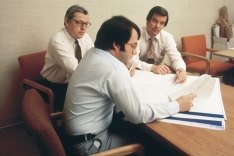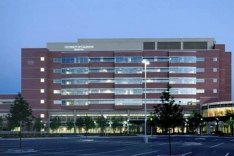 FIRSTS
1973
St. Joseph Mercy Hospital in Mason City, Iowa, awards McCarthy the company's first design-build project while St. Joseph Medical Center in Wichita, Kansas, awards the company its first construction management job.
Project delivery options continue to expand, providing improved outcomes for owners. McCarthy completes more than $10 billion in work on design-build projects.
1972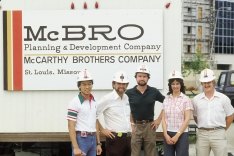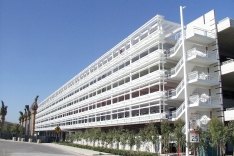 MILESTONES
1972
Mike McCarthy founds McBro to expand McCarthy's parking structure work. McBro also moves the company into construction management for hospitals.
McCarthy becomes one of the nation's leading parking structure builders and its projects include one of the largest, most visible parking structures in America for the Disneyland Resort in Anaheim, California.
1971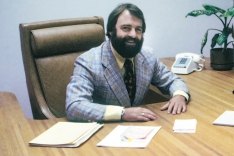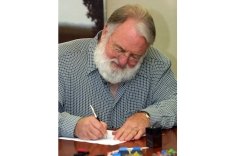 PEOPLE
1971
Mike McCarthy becomes the new chief operating officer of the company.
PEOPLE
2002
In 2002, Mike McCarthy sells his shares of the company to employees, making McCarthy one of the nation's oldest, 100 percent employee-owned construction firms with majority ownership via an employee stock ownership plan (ESOP).  
1969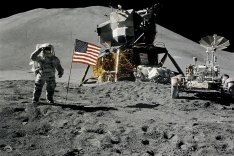 NEWS
1969
Neil Armstrong sets foot on the moon and takes, "One small step for man, one giant leap for mankind." 
1966
MILESTONES
June 24, 1966
McCarthy buys two acres of land near Rock Hill Quarries and moves the company headquarters to 1341 North Rock Hill Road in suburban St. Louis. 
1963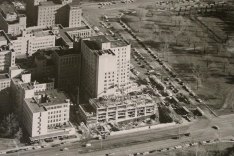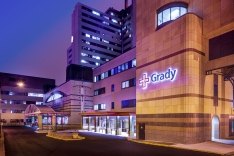 PROJECTS
1963
Barnes Hospital in St. Louis selects McCarthy to construct its Queeny Tower, a 17-story ambulatory care center that goes on to finish ahead of schedule. 
Healthcare clients turn to McCarthy again and again to tackle the toughest construction challenges — like Grady Hospital, which counted on McCarthy to build its new Emergency Department on its busy campus in Atlanta.
1961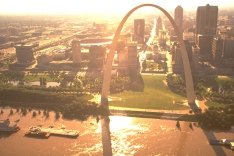 PROJECTS
1961
McCarthy begins building a three-quarter mile section of floodwall along St. Louis' northern riverfront, the first of several floodwall contracts awarded to the company. 
1993
In the flood of 1993, these floodwalls helped protect downtown St. Louis.
1961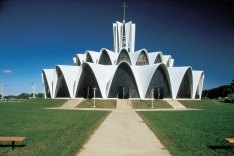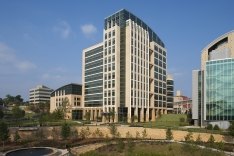 PROJECTS
1961
McCarthy wins the bid to build the Priory Chapel in St. Louis. Building the chapel's parabolic arches is a challenge and helps establish McCarthy's reputation as a skilled builder developing creative solutions.
McCarthy's reputation as a creative builder spans a wide variety of markets, cities and industries throughout the U.S.
1959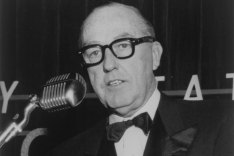 PEOPLE
1959
John E. McCarthy, son of Mr. Tim, becomes president of the company.
1948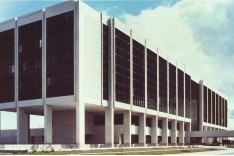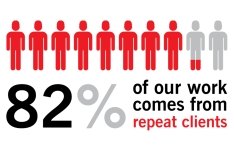 PROJECTS
1948
A nurses' home for the Sisters of St. Joseph in Wichita, Kansas, is completed by McCarthy. This project represents the beginning of an important relationship.
TODAY
Almost 82% of our work comes from repeat clients — some of whom have been coming back to McCarthy for decades. The employee-owners at McCarthy particularly treasure this repeat business and take it as the highest praise.
1945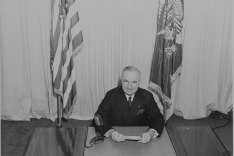 1945
MILESTONES
April 1945
Merryl McCarthy is instrumental in the purchase of Rock Hill Quarries Company, an aggregate plant and quarry in St. Louis.
1939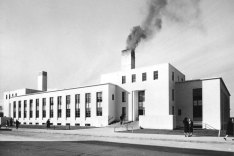 PROJECTS
1939
The new Federal Building in Anchorage, Alaska, is completed by McCarthy.
1936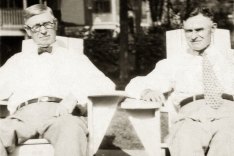 PEOPLE
1936
John W., president of McCarthy since its incorporation in 1907, dies. Timothy McCarthy (affectionately known as Mr. Tim) becomes president of the company.
1933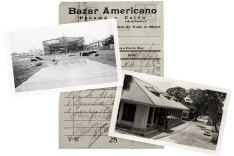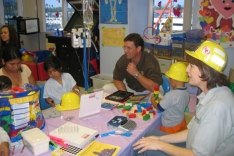 FIRSTS
1933
The Fleet Air Base at Coco Solo in the Panama Canal zone chooses McCarthy as its builder. This represents the company's first federal project. Working conditions in the Panama Canal Zone are difficult and help solidify McCarthy's culture of caring for its employees.
FIRSTS
2005
McCarthy launches its Heart Hats community outreach program in 2005 to help make a real difference in the lives of those in the local community. In 2015, more than $1.5 million and literally thousands of volunteer hours were dedicated to making a difference.
1929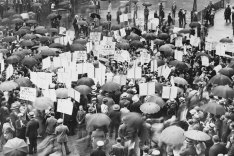 NEWS
1929
The U.S. stock market collapses, sparking an economic depression.
1926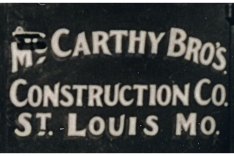 MILESTONES
1926
The company changes its name to McCarthy Brothers Construction Company, a name that would last for many years to come.
1917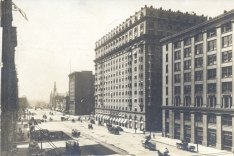 MILESTONES
September 17, 1917
John W., Charles and Timothy Jr. move the company to St. Louis.
1915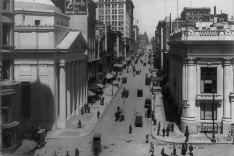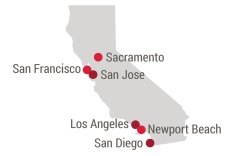 FIRSTS
1915
The Missouri Building at the Panama-Pacific International Exposition in San Francisco is completed and becomes McCarthy's first California project. 
1914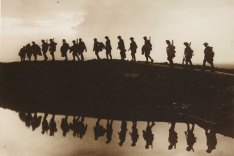 1913