Safety
FOR US SAFETY IS PERSONAL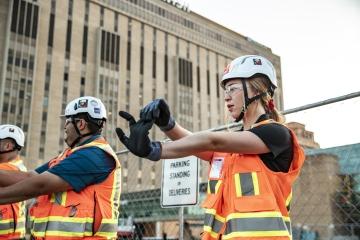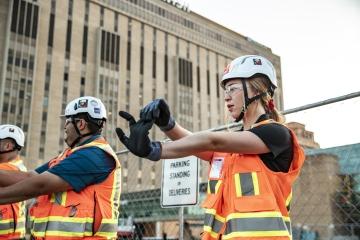 Safety is more than just a word
When your construction project begins, your mind will likely be filled with many competing priorities. The safety of those on and around the jobsite shouldn't be one of them. Not when you're working with a construction partner who is committed to the highest levels of safety and where every person on the team takes personal pride in safety, both their own safety and the safety of those around them. We genuinely believe safety is the most important thing we do every day — for our craft professionals, clients and communities. 
TAKE PRIDE IN SAFETY
EVERYONE HAS A ROLE TO PLAY 
An embedded culture of safety starts with ownership — leading by example. Starting with our Chairman & CEO Ray Sedey, to each and every one of our employee owners and craft professionals, a never-ending focus on safety is at the heart of our approach. Safety at McCarthy is everyone's responsibility. Clients select McCarthy, and the best builders in the industry choose to work with us, because of this level of personal commitment. 
We are each:
EMPOWERED

To plan for safety, identify potential issues and recognize each other for taking pride in safety

ACCOUNTABLE

To be knowledgeable about safe work practices and focused on continuous improvement

COMMITTED

To send everyone home safely at the end of the day
THE
MOST IMPORTANT THING WE DO
EVERY DAY
Far beyond just our construction team and workforce, we embrace a collaborative approach to safety and are committed to making sure your staff, facility users and members of the public return home safely when each day is done. Our quest for a zero-injury work environment isn't just a priority. We emphasize construction site safety, because simply, it's the right thing to do. In addition to physical safety, this extends to mental health and well-being as well.
A PARTNER YOU CAN COUNT ON FOR PEACE OF MIND
Working safely ensures your entire construction team is focused, your project stays on track and your business goals are achieved. McCarthy's team of dedicated, full-time safety professionals coordinate proactively with trade partners and industry experts to customize our total project approach to make sure we're planning for safety on your project each and every step along the way. With an extensive construction safety training program, our craft professionals are continually trained and supported, creating a safety culture that permeates every McCarthy jobsite.
We're never satisfied
While we strive to be the safest construction company in America, we're continuously working to raise the bar for ourselves and the industry by incorporating technology and encouraging innovation with our craft professionals in the field to work smarter and safer.
AWARDS & RECOGNITION
2022 Procore Groundbreaker Award Excellence in Safety

Safety Week Member

2022 Healthiest 100 Workplaces in America

2021 Safety Award for Excellence