Insights
M
c

Carthy Begins Construction on Banner Gateway Medical Center Tower and Emergency Department Expansion and Renovation
Accelerated construction begins on the $243 million expansion project being achieved by collaborative Integrated Project Delivery structure.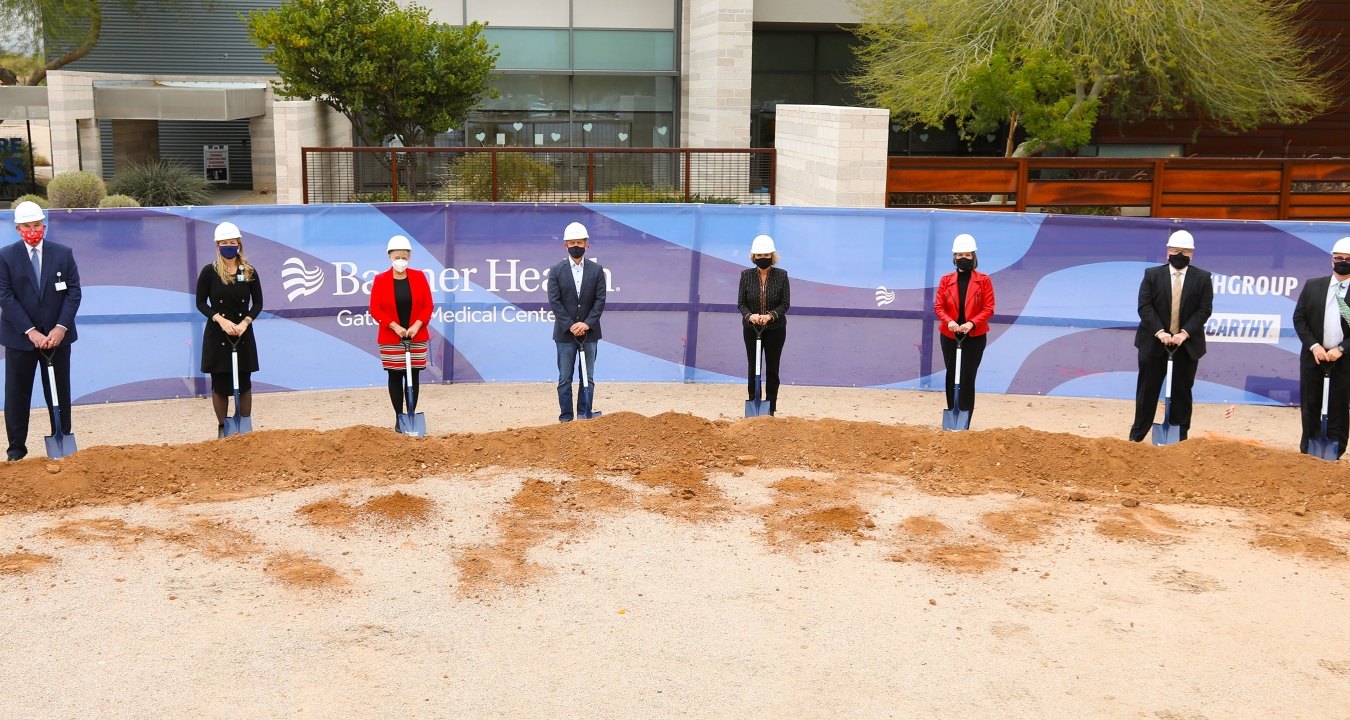 McCarthy recently broke ground on the $243 million, 351,000-square-foot Banner Gateway Medical Center Tower and Emergency Department expansion and renovation project, located at 1900 N. Higley Road in Gilbert, Arizona. The expansion essentially doubles the size of the medical center campus, addressing growing needs for women's services and cancer care by bringing an additional patient tower, an expanded diagnostics and treatment area, and more parking.
Project Details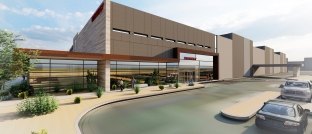 The planned expansion includes adding a second five-story patient tower. The new tower is a 208,500 square-feet addition that initially brings 109 new patient beds to the facility and provides the ability to increase the capacity of patient beds by an additional 72 to 358 total beds once the shelled space is built out to serve the rapidly growing East Valley. The project also includes a three-level, 85,000-square-foot expansion to the Diagnostics and Treatment building on the west side of campus, including an expansion to the Emergency Department, as well as a two-level expansion to the existing Diagnostics and Treatment building on the east side of campus.
The expansion addresses the capacity need for women and infant care, including labor, delivery, postpartum and a new neonatal intensive care unit for babies who need extra care. In addition to women's services, the expansion includes added space for inpatient cancer care by Banner MD Anderson Cancer Center, more space for surgical, emergency, endoscopy, and imaging services, as well as shelled space for future growth.
In addition, the Banner Gateway Medical Center renovation and expansion will include the construction of two new surface parking lots, adding approximately 690 new parking spaces for visitor and staff use, as well as upgrades to the existing Central Utility Plant. Approximately 40,000 square feet of additional renovation work is also planned within the existing medical center during the final phase of the project.
"We continue to experience rapid and significant growth in families choosing to deliver babies at Banner Gateway, as well as the growth in demand for our expert care of cancer patients," said Lamont Yoder, CEO of Banner Gateway Medical Center. "This demand presents the need to increase our Women and Infant Services and Oncology departments and other spaces dedicated to support these patients while continuing to serve the broad health care needs of our community."
Project Timeline, Jobs & Innovation
Construction on the tower expansion began in February 2021 and will complete in first quarter of 2023 on an accelerated schedule with the campus renovation work and parking lot additions completing in 2024. Banner expects to add more than 600 new jobs once the facility is opened.
The project is being managed using the Integrated Project Delivery (IPD) structure with the owner, design team, general contractor and trade partners all co-locating in a virtual "big room" allowing for the project's design and construction strategies to be developed and enhanced through a robust system of collaboration, solution innovations and coordination strategies being brought to the project to ensure operational excellence and end-user efficiency.
"Virtually co-locating our entire project team brings every stakeholder together from very early in the process to collaborate in a solution-oriented environment where benefits to the project go far beyond cost-savings and actually allow us to deliver a better facility to the end-user," said Kurt Radke, project director for McCarthy Building Companies who is overseeing the Gateway tower expansion project. "All of the new buildings at Banner Gateway tie into existing buildings, so the site will be very active and effective planning will be paramount to minimize disruptions to this operational hospital campus, while adhering to the accelerated schedule."
Some of the innovative cost- and time-saving measures on the Banner Gateway project include:
Prefabrication of the exterior skin;
Project delivery completed in five separate design packages, allowing construction to start prior to design-phase completion;
Construction of all three building expansions occurring simultaneously.  
As part of the IPD process, all the major building trade partners were contracted early in design to aid in target value design, constructability and Building Information Modeling (BIM) coordination prior to permit. This has proven to save on costs and ensures that the construction team is able to proceed with system fabrication earlier on in the project. 
The architect on the project is The SmithGroup with civil engineering led by Dibble Engineering and structural engineering led by PK Associates. Field Verified is serving as an exterior skin consultant. Major trade partners include AmFab Steel, MKB, AROK, Buesing Excavation, Delta Electric, Foothills Fire, KT Fab, Otis Elevators, Stafford Crane, SwissLog, TD Industries and Walters & Wolf.
McCarthy completed the initial Banner Gateway Medical Center campus in only 20 months in 2007.
About Banner Gateway Medical Center
Banner Gateway Medical Center in Gilbert, Arizona, offers emergency care, surgery, women's services, obstetrics and medical/surgical beds. Banner Gateway shares the campus with Banner MD Anderson Cancer Center and is part of Banner Health, a nonprofit health care system with 30 hospitals in six states. For more information, visit bannerhealth.com/gateway.
About McCarthy 
McCarthy is the oldest privately held national construction company in the country – with more than 150 years spent collaborating with partners to solve complex building challenges on behalf of its clients. With an unrelenting focus on safety and a comprehensive quality program that span all phases of every project, McCarthy utilizes industry-leading design phase and construction techniques combined with value-add technology to maximize outcomes. Repeatedly honored as a Best Place to Work and Healthiest Employer, McCarthy is ranked the 9th largest domestic builder (Engineering News-Record, May 2020). With approximately 3,700 salaried employees and craft professionals, the firm has offices in St. Louis, Atlanta; Collinsville, Ill.; Kansas City, Kan.; Omaha, Neb.; Phoenix; Las Vegas; Denver; Dallas, Houston; and San Diego, Newport Beach, San Francisco, San Jose and Sacramento, Calif. McCarthy is 100 percent employee owned. More information about the company is available online at www.mccarthy.com or by following the company on Facebook, Twitter, LinkedIn and Instagram.