Insights
M
c

Carthy Tops Out Houston Methodist Cypress Hospital Campus
McCarthy broke ground on the hospital in February 2022, and construction is scheduled to achieve substantial completion by the end of 2024.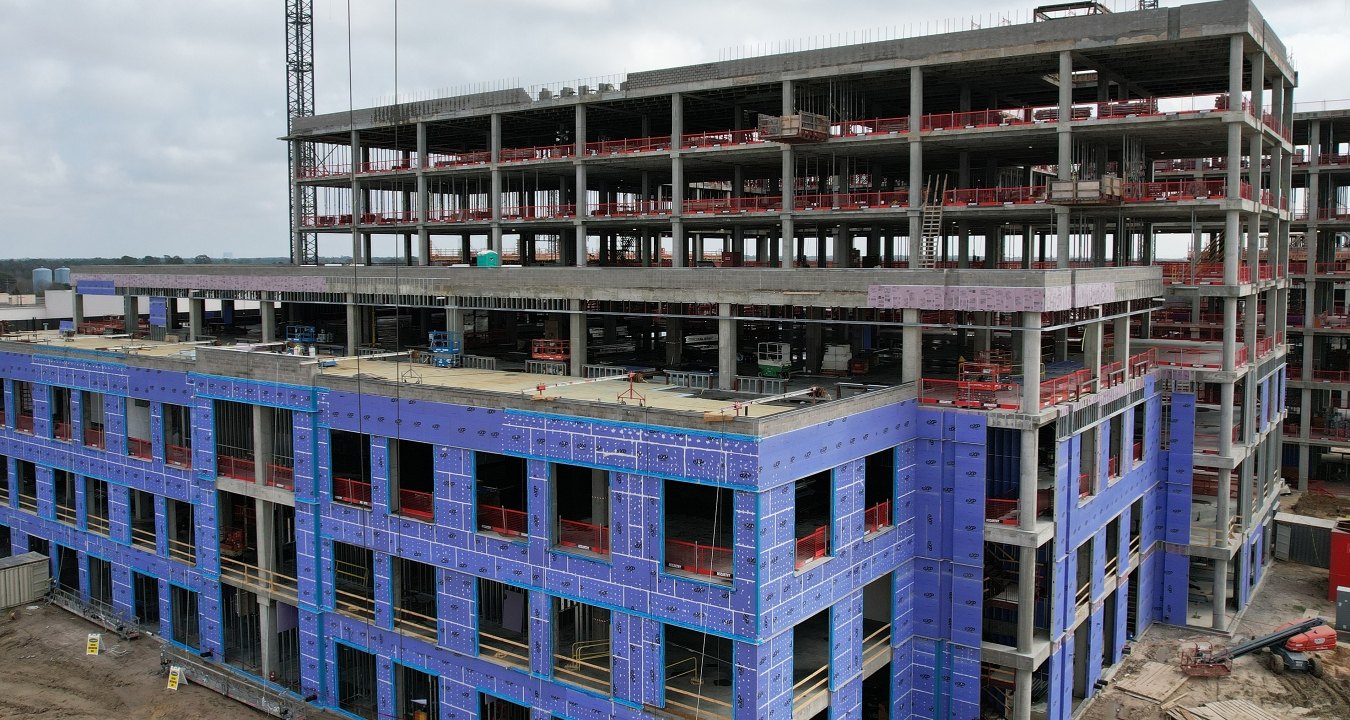 McCarthy Building Companies, Inc. celebrated the topping out of Houston Methodist's new Cypress Hospital campus located in the greater Houston area. The Houston Methodist campus sits on 105 acres and consists of a seven-story hospital, two medical office buildings, and a central utility plant, with a mixture of built-out space and a shell for future growth. McCarthy broke ground on the hospital in February 2022, and construction is scheduled to achieve substantial completion by the end of 2024.  
To celebrate the construction milestone, those involved in the project and Houston Methodist executives gathered for a barbeque lunch and remarks by various speakers. All attendees signed a symbolic construction beam that was hoisted to the top of the structure along with the traditional evergreen tree. Speakers reflected on the work accomplished safely this far and looked ahead to the work needed to complete the campus.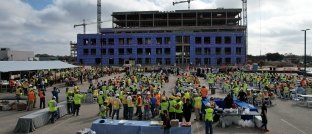 Completing Houston Methodist's Cypress Hospital By-the-Numbers
McCarthy's scope includes demolition of 11 existing buildings, totaling 600,000 square feet before constructing the new hospital with capacity for 276 licensed beds. The campus consists of a 569,100 square-foot, seven-story hospital building centered around a seven-story atrium. It also includes two medical office buildings that are six stories each. The first, totaling over 162,900 square feet, contains a cancer center with linear accelerator, a breast center, infusion and pharmacy areas, and a bridge connector to the new hospital tower. The second, totaling 160,200 square feet, includes an orthopedics and sports medicine center and clinics. McCarthy is also renovating an existing 29,000-square-foot central utility plant onsite.  
"Reaching this milestone in such a quick timeframe is a testament to our team's commitment to not only deliver a project on schedule, but to showcase our skills on such a complex project involving not just construction but demolition and renovation as well," said Preston Hodges, Senior Vice President, Houston Business Unit Leader. "McCarthy has extensive healthcare construction experience, and we're honored to continue our work with Houston Methodist on an important center of innovation coined the hospital of the future that will serve the Cypress community and the greater Houston area."  
All structures, including the hospital and both medical office buildings, are pan-deck concrete structures, with envelopes consisting of masonry and glazing similar to Houston Methodist's other community hospital campuses. The hospital is designed as a "hospital of the future" and will incorporate the most advanced technology available from the day the doors open.  
Overcoming Material Shortages 
While the construction process uses standard materials, procurement lead times, supply chain issues, and inflation have presented challenges to the project. The cement shortage Texas faced through the summer months created schedule constraints and drove teams to ensure they were ready for pour dates. McCarthy worked closely with the design team to progress the design, focusing on certain elements of the project to support the fast-paced construction. Due to the speed to market, McCarthy recommended a fast-track multi-phase GMP approach, giving them the ability to procure certain components for each structure before the design was complete. This collaborative effort has also accelerated the BIM coordination to set the team up for success moving forward.  
McCarthy serves as the project construction manager at risk with Page as the project architect. Walter P. Moore is the project structural and civil engineer, Smith Seckman Reid, Inc. handles mechanical, electrical, and plumbing, OJB is the landscape architect, and Vizient oversees medical equipment planning. With an extensive portfolio of multi-phase healthcare and research facility projects, McCarthy is ideally suited to take on healthcare and research projects of any size or complexity. Some of McCarthy's other healthcare projects include Texas Children's Hospital – Austin, Parkland Moody Center for Breast Health in Dallas, CHRISTUS Mother Frances Hospital - Tyler expansion, CHRISTUS Spohn in Corpus Christi, The University of Texas MD Anderson Cancer Center Alkek Hospital Expansion and The University of Texas MD Anderson Cancer Center The Pavilion expansion.  
Further Reading: Taking Control in Uncertain Times
About McCarthy 
McCarthy Building Companies, Inc. is the oldest privately held national construction company in the country – with more than 150 years spent collaborating with partners to solve complex building challenges on behalf of its clients. With an unrelenting focus on safety and a comprehensive quality program that span all phases of every project, McCarthy utilizes industry-leading design phase and construction techniques combined with value-add technology to maximize outcomes. Repeatedly honored as a Best Place to Work and Healthiest Employer, McCarthy is ranked the 19th largest domestic builder (Engineering News-Record, 2022). With approximately 5,000 salaried employees and craft professionals, the firm has offices in St. Louis, Atlanta; Collinsville, Ill.; Kansas City, Kan.; Omaha, Neb.; Phoenix; Las Vegas; Denver; Dallas, Houston; and San Diego, Newport Beach, San Francisco, San Jose and Sacramento, Calif. McCarthy is 100 percent employee owned. More information about the company is available online at www.mccarthy.com or by following the company on Facebook, Twitter, LinkedIn and Instagram.