Insights
Join M
c

Carthy at the ASHE PDC Summit in Phoenix
Visit us at Booth #901 on March 12-15, 2023 in Phoenix, Arizona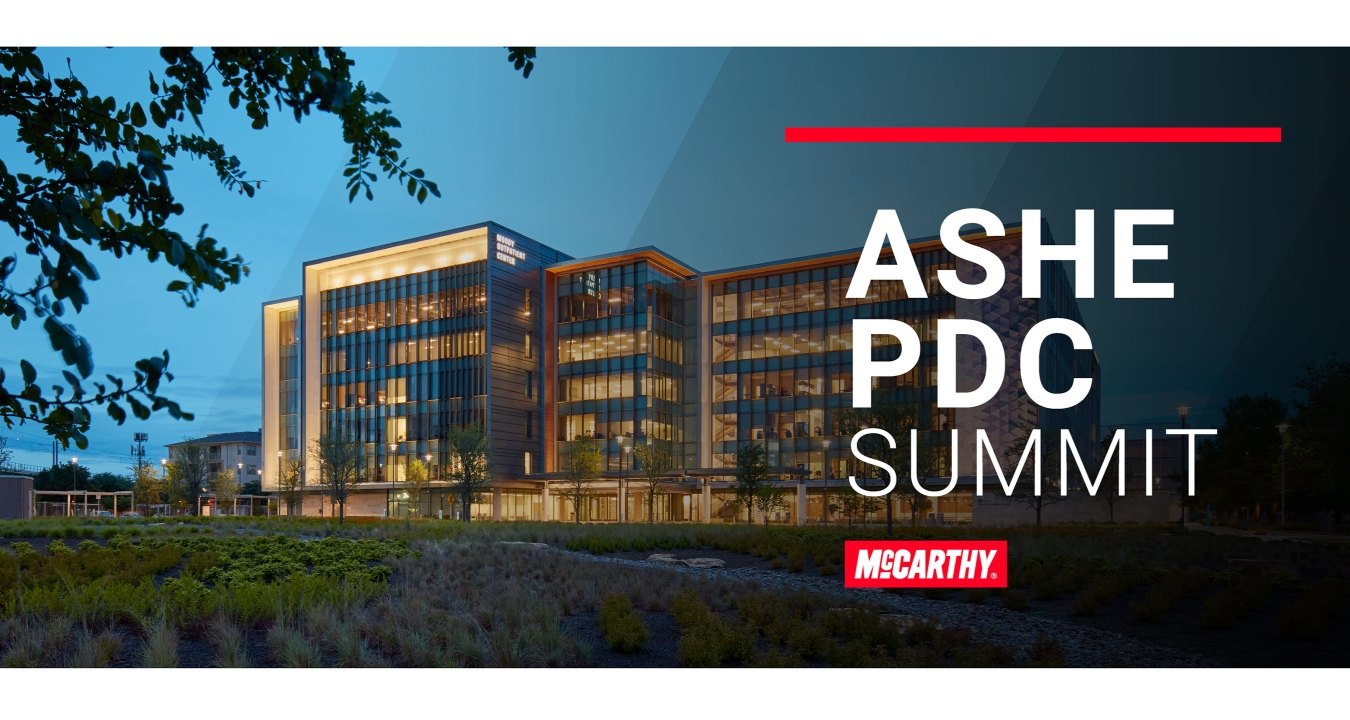 Visit us at Booth #901 on March 12-15, 2023 in Phoenix, Arizona
We strive to build a great experience for everyone – working safely and without disrupting patient care while supporting and collaborating with all stakeholders throughout the project life cycle. Speak with our team during the 2023 ASHE PDC Summit to learn how McCarthy provides a best-in-class experience. 
Learn more about McCarthy's Healthcare Experience
Don't Miss Out on these Presentations!
Join McCarthy at speaking events during the conference to learn more about improving outcomes for your entire healthcare team. 
LLUMC: Monumental Building for Body, Mind and Spirit 
Monday, March 13 | 9:45 – 10:45 a.m. MST
In 2021, Loma Linda University Medical Center (LLUMC) opened its doors to a new medical campus, making it the second largest hospital in California at 992,000 gross square feet. Panelists will discuss creating a collaborative environment to incorporate owners' needs, voice, and vision, using technology and modern therapies to help all stakeholders. They also will detail planning and building a seismically safe healthcare facility for healing the whole body, spirit and mind.
Progressive Design-Build Shapes Forward-Thinking Results at University of California-Davis Health
Tuesday, March 14 | 3:30 – 4:30 p.m. MST
University of California, Davis Health (UCDH) began planning for a 200-bed replacement hospital more than 10 years ago to meet compliance for seismic safety. During planning, UCDH leadership chose progressive design-build (PDB) delivery to manage the risks and costs associated with the project and enhance their ability to shape the design to meet future needs. This session will focus on the collaborative environment of PDB delivery to help mitigate risk, meet hospital and patient needs and plan for future healthcare trends.
Parkland Health Redefines Change-Ready Clinics of the Future
Wednesday, March 15 | 8:30 – 9:30 a.m. MST
Are your facilities "change-ready"? For Parkland Health & Hospital System, one of the nation's largest public health systems, change readiness envisions the future of healing and well-being for those facing unique barriers to care. Join the owner-architect-contractor team responsible for consolidating 24 clinics and multiple ancillary services into the 525,000-square-foot Parkland Outpatient Clinic ahead of schedule and $8 million below the total budget, despite the pandemic, weather delays and scope expansion. 
Leverage More Than 100 Years of Healthcare Construction Expertise
Meet the Healthcare Team Leaders shaping the most innovative healthcare projects across the country. McCarthy has the experience, resources, and talent to tackle the most challenging construction programs. Connect with us at ASHE or get in touch to follow up!