Insights
M
c

Carthy Breaks Ground on Cancer Treatment and Research Center on CHRISTUS Health
85,000-square-foot center will provide outpatient care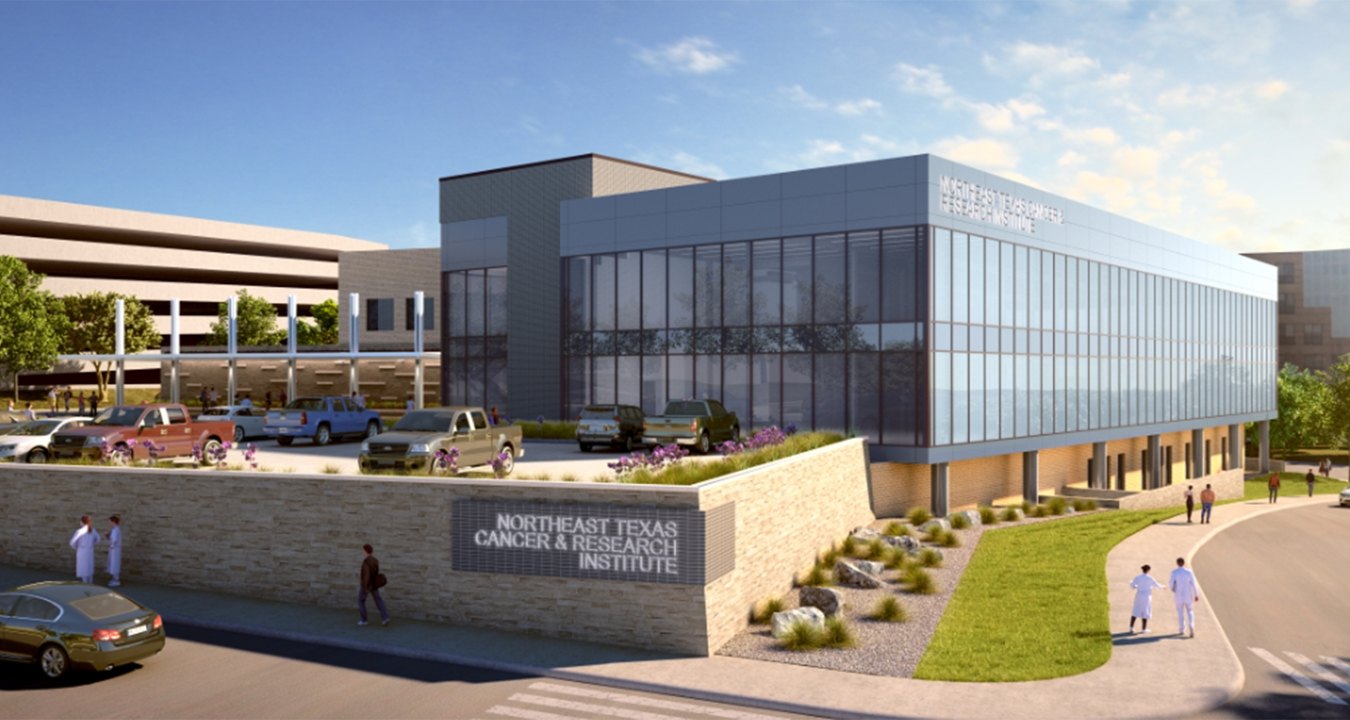 McCarthy has broken ground on the Northeast Texas Cancer and Research Institute, an innovative new cancer center in Tyler, Texas. A Cottonwood Development project, the 85,000-square-foot facility center is located on the CHRISTUS Mother Frances Hospital - Tyler campus and will provide outpatient care to the region.
The Northeast Texas Cancer and Research Institute will consist of specialized areas for Tyler's largest Oncology provider, including 30,000 square feet of clinic space for medical oncology, radiation oncology, and gynecologic oncology services, and nearly 3,000 square feet dedicated to research. These areas will also contain three linear accelerators for radiation therapy, 52 chemotherapy infusion stations – including six allotted to research - and four private rooms as well as pharmacy and lab services and an exercise area for patients. Within the institute, CHRISTUS Health will house a 7,500-square-foot advanced imaging center with 3T MRI, PET/CT, ultrasound, nuclear medicine and more. There will be an additional 10,000 square feet of CHRISTUS Trinity Clinic space in the new institute to support the surgical oncology programs of the CHRISTUS Trinity Mother Frances Louise Herrington Cancer Center, an inpatient facility located within CHRISTUS Mother Frances Hospital - Tyler, providing advanced, inpatient care for complex cancer patients. The project also consists of a 762-car parking garage.
McCarthy will self-perform earthwork and concrete for the Cancer Institute, including concrete for the three Linear Accelerator Vaults. These high-density concrete vaults, used for external beam radiation treatments that deliver high-energy beams of accelerated electrons to target tumors, feature 8-foot-thick walls and a 6-foot-thick lid. The vault walls will be poured monolithically in a continuous pour in order to avoid using any joints that radiation could leak through. The vaults are above ground, attached to the cancer center, and are accessed from inside the building through a heavy lead-lined steel door.
"We're pleased to be able to continue our relationship with CHRISTUS Health and help them bring a world-class cancer center to northeast Texas," said Tim Campbell, senior project manager for McCarthy. "This project requires complex, unique solutions to ensure we construct a space that is safe for all patients and caregivers."
McCarthy's extensive portfolio of health care projects makes it ideally suited to take on health care projects of any size or complexity. In addition to the Northeast Texas Cancer and Research Institute, some of McCarthy's health care projects include the recently-completed Parkland Moody Center for Breast Health in Dallas, CHRISTUS Mother Frances Hospital- Tyler expansion, CHRISTUS Spohn in Corpus Christi, The University of Texas MD Anderson Cancer Center Alkek Hospital Expansion in Houston, The University of Texas MD Anderson Cancer Center The Pavilion expansion in Houston, the Children's Health Plano Campus, Specialty Center II, and the Carl R. Darnall Army Medical Center Replacement at Fort Hood, Texas by Balfour Beatty | McCarthy joint venture.
About McCarthy
McCarthy is the oldest privately held national construction company in the country – with more than 150 years spent collaborating with partners to solve complex building challenges on behalf of its clients. With an unrelenting focus on safety and a comprehensive quality program that span all phases of every project, McCarthy utilizes industry-leading design phase and construction techniques combined with value-add technology to maximize outcomes. Repeatedly honored as a Best Place to Work and Healthiest Employer, McCarthy is ranked the 9th largest domestic builder (Engineering News-Record, May 2020). With approximately 5,000 salaried employees and craft professionals, the firm has offices in St. Louis, Atlanta; Collinsville, Ill.; Kansas City, Kan.; Omaha, Neb.; Phoenix; Las Vegas; Denver; Dallas, Houston; and San Diego, Newport Beach, San Francisco, San Jose and Sacramento, Calif. McCarthy is 100 percent employee owned. More information about the company is available online at www.mccarthy.com or by following the company on Facebook, Twitter, LinkedIn and Instagram