Insights
M
c

Carthy Completes Cancer Center at CHRISTUS Mother Frances Hospital
85,000-square-foot center brings cancer care to Northeast Texas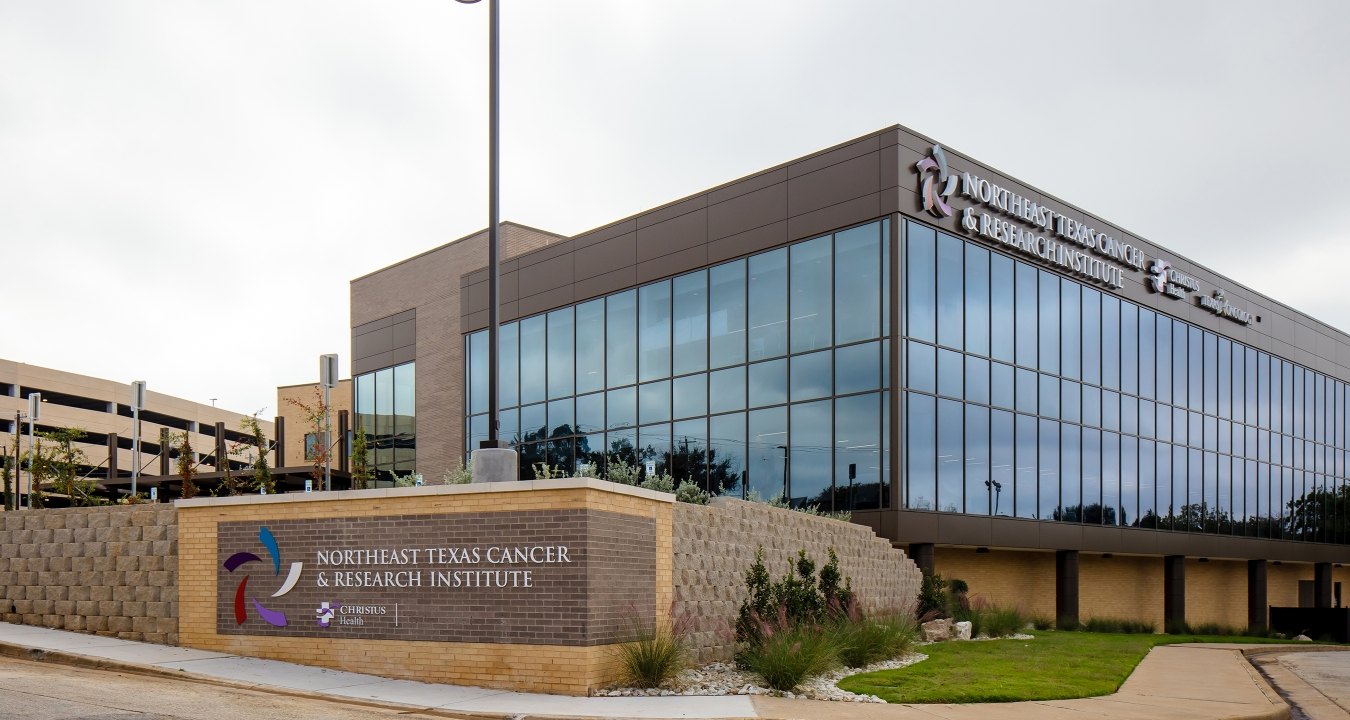 85,000-square-foot center brings cancer care to Northeast Texas
McCarthy Building Companies, Inc. has completed construction of the Northeast Texas Cancer and Research Institute in Tyler, Texas. A Cottonwood Development project, the 85,000-square-foot research facility is located on the CHRISTUS® Trinity Mother Frances - Tyler campus and will now provide outpatient care to surrounding communities. To celebrate the completion, CHRISTUS® Trinity Mother Frances held a ribbon cutting & blessing ceremony for their tenant spaces, attended by CHRISTUS® leadership, local, state, and federal officials, and clergy members. McCarthy broke ground on the project in May 2021.
Welcoming Patients to the Northeast Texas Cancer and Research Institute
The Northeast Texas Cancer and Research Institute consists of specialized areas for Texas Oncology, Tyler's largest oncology provider, including 34,500 square feet of clinic space for medical, radiation and gynecologic oncology services. Nearly 3,000 square feet is dedicated to research facilities, including three linear accelerators for radiation therapy, 52 chemotherapy infusion stations – with six allotted to research - and four private rooms. The facility also contains a pharmacy and lab services, as well as a patient exercise area.
CHRISTUS® Health features a 7,500-square-foot advanced imaging center with 3T MRI, PET/CT, CT, X-Ray, ultrasound, nuclear medicine and more. An additional 10,000 square feet of clinic space supports the surgical oncology programs of Louise Herrington Cancer Center, an inpatient facility located within The Bradley-Thompson Tower on the CHRISTUS® Trinity Mother Frances – Tyler campus, providing advanced, inpatient care for complex cancer patients.
McCarthy's work also included the construction of a 620-car six-story parking garage.
"We're thrilled to have completed such a meaningful project that will bring life-changing care to the community," said Martin Montgomery, project superintendent for McCarthy. "This was a challenging project in multiple ways. Between the linear accelerators, multiple pieces of advanced imaging equipment from multiple vendors, and coordinating the requirements of two different healthcare providers that need to work together seamlessly to provide top-notch care, we're excited to celebrate the opening of this facility."
McCarthy self-performed earthwork for the Cancer Center and installed all underground MEP components for the tenant spaces ahead of schedule and before the final design was completed, despite ongoing supply chain and labor shortage challenges. This allowed McCarthy, who also self-performed concrete for the Cancer Center and the Linear Accelerator Vaults, to pour the slabs-on-grade on schedule.
Perfecting Linear Accelerator Vault Construction
McCarthy had two mass concrete placements in August 2021, totaling over 2,200 CY of concrete for the Linear Accelerator vaults, which feature 6-foot-thick walls and a 6-foot-thick lid constructed of high-density concrete. Adhering to mass concrete principles required the use of liquid nitrogen in the concrete mix. These vault walls were poured monolithically in a continuous pour in order not to have any joints for radiation to leak through. Faced with a construction timeline amidst soaring Texas summer temperatures, McCarthy replaced all the water in the concrete mixers with ice to bring the concrete temperature down below 75 degrees at point of placement.
McCarthy's extensive portfolio of healthcare projects makes it ideally suited to take on projects of any size or complexity. In addition to the Northeast Texas Cancer and Research Institute, some of McCarthy's healthcare projects include the Parkland Moody Center for Breast Health in Dallas, CHRISTUS Spohn in Corpus Christi, The University of Texas MD Anderson Cancer Center Alkek Hospital Expansion in Houston, The University of Texas MD Anderson Cancer Center The Pavilion expansion in Houston, the Children's Health Plano Campus, Specialty Center II, and the Carl R. Darnall Army Medical Center Replacement at Fort Hood, Texas by Balfour Beatty | McCarthy joint venture.
###
About McCarthy
McCarthy Holdings, Inc. is the oldest privately held national construction company in the country – with nearly 160 years spent collaborating with partners to solve complex building challenges on behalf of its clients. McCarthy Holdings, Inc. is comprised of McCarthy Building Companies, Inc. and Castle Contracting, LLC. Repeatedly honored as a Best Place to Work, McCarthy is ranked the 19th largest domestic builder (Engineering News-Record, May 2022). As a 100 percent employee-owned company, McCarthy is committed to sustaining a culture that delivers a great experience. In 2019, Forbes named McCarthy one of the nation's top 500 best employers for diversity and in 2020, McCarthy became one of the first large national general contractors to formally commit to the Associated General Contractors of America Culture of CARE pledge. With approximately 6,000 salaried employees and craft professionals, the firm has offices in St. Louis; Atlanta; Collinsville, Ill.; Kansas City, Kan.; Omaha, Neb.; Phoenix; Las Vegas; Denver; Austin, Channelview, Dallas and Houston, Texas; and San Diego, Newport Beach, Los Angeles, San Francisco, San Jose and Sacramento, Calif.