Insights
M
c

Carthy Continues Partnership with Lightsource BP to Deliver Solar Power in Pueblo
Construction on 293MW solar project prepares to move into peak construction phase in Q1 2022, bringing 300 solar construction jobs and job training for local workers.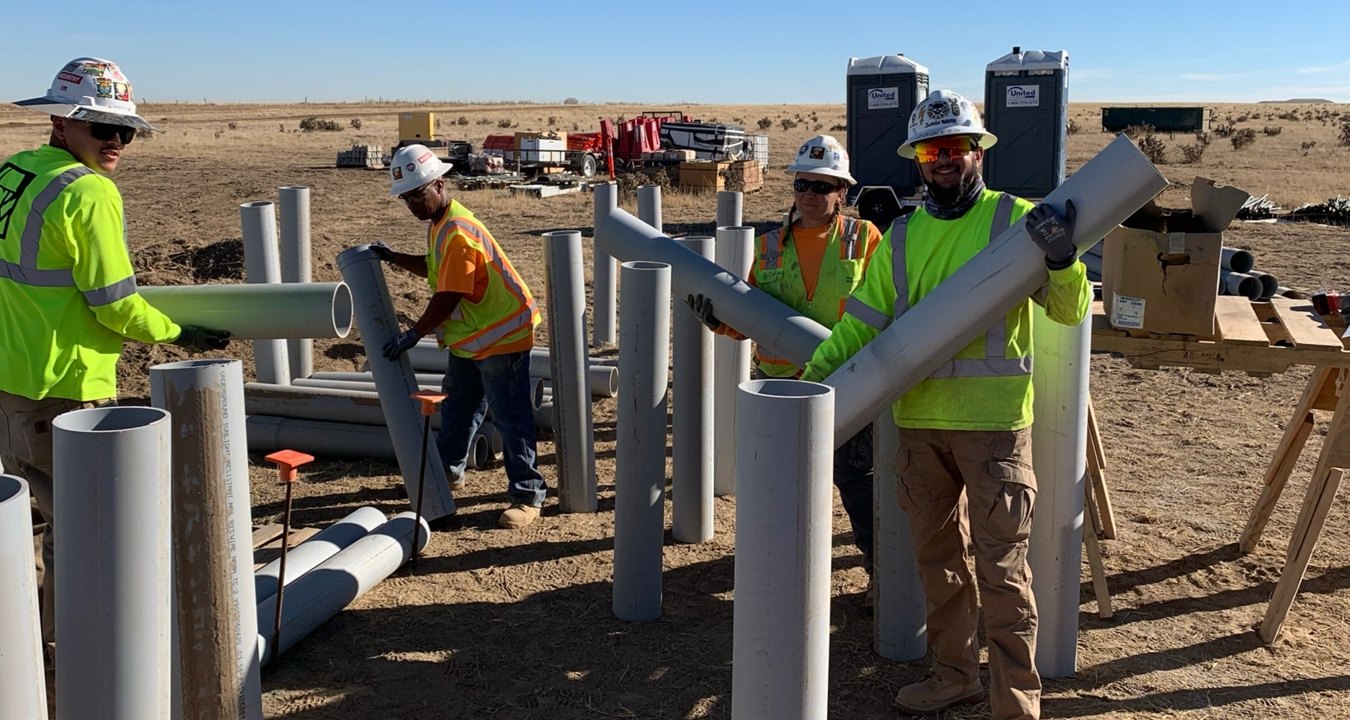 McCarthy Building Companies is once again teaming up with Lightsource bp to deliver solar power in Pueblo, Colo. The project is the second in Pueblo, with the two projects representing a cumulative total of nearly 600MW (megawatts) of energy infrastructure to support Colorado's clean energy future.
Sun Mountain Solar: Construction Is Underway
Full construction has started with commercial operation expected by late 2022. McCarthy Building Companies was selected by Lightsource bp as the Engineer-Procure-Construct (EPC) contractor for the 293MWdc solar project located south of Pueblo's city center. Dubbed Sun Mountain Solar, the project includes the installation of nearly 640,000 solar modules on more than 1,700 acres of land firmly securing its position on the list of largest solar facilities in Colorado to date.
As one of the state's top solar contractors, McCarthy has a proven track record of successfully building large utility-scale projects in Colorado including Lightsource bp's Bighorn Solar project, which is also located in Pueblo.
According to Justin Peterson, vice president of operations for McCarthy Building Companies' Colorado office, the team has benefitted from the earlier alliance on Bighorn, with important considerations such as vegetation management and biodiversity being accommodated in the base design.
"The Sun Mountain project is just one of many solar sites McCarthy has worked on in Colorado along the Front Range and on the Western Slope," said Peterson. "Our projects have not only resulted nearly 1,000MW of clean, renewable energy infrastructure in the state, but also in the creation of hundreds of new jobs and opportunities for local residents to develop lasting careers in the construction industry. We are proud to be a leader in Colorado's renewable energy future."
Project Offers Local Jobs and Solar Construction Training Opportunities
The Sun Mountain Solar project will create 300 jobs during the 12-month construction period, to be filled mainly by local workers. Approximately 150 of the workers from Bighorn Solar will be transitioning to construct Sun Mountain with 150 additional workers to be recruited from the local community.
McCarthy is currently hiring, as the project moves into peak construction workforce staffing in Q1 2022. Area residents interested in working on the Sun Mountain Solar project should visit our Careers page and enter "Pueblo, CO" to find job postings for positions ranging from entry-level to experienced, including installer, laborer, operator, crew lead, electrician and journeyman electrician. McCarthy's solar construction training program offers individuals of all levels the opportunity to learn skills for developing long-term rewarding careers in the rapidly growing solar industry.
"I used to be in the restaurant industry. That just wasn't a good fit for me and my family because of the pay and odd hours. Working in solar means that I have the opportunity to build a career in which I can not only grow and advance but also have more quality time with my family. The job creation that has come with these two solar projects is awesome for our area." – Sixto Reyes, Pueblo resident and native
McCarthy's Renewable Energy and Storage group is currently constructing or has completed nearly 70 utility-scale clean energy projects in communities across the country since 2010, delivering a combined capacity of more than 6.6 gigawatts (GW) of clean energy production and over 340 MW/770MWh of energy storage. Nationally, McCarthy provides EPC services on utility-scale solar projects for private solar developers and utilities, helping them deliver cost-effective clean energy to the communities they serve. 
About McCarthy Building Companies
McCarthy Building Companies, Inc. is the oldest privately held national construction company in the country – with more than 150 years spent collaborating with partners to solve complex building challenges on behalf of its clients. Nationally, McCarthy provides EPC services on utility-scale solar projects for private solar developers and utilities, helping them deliver cost-effective clean energy to the communities they serve.  With an unrelenting focus on safety and a comprehensive quality program that span all phases of every project, McCarthy utilizes industry-leading design phase and construction techniques combined with value-add technology to maximize outcomes. Repeatedly honored as a Best Place to Work and Healthiest Employer, McCarthy is ranked the 9th largest domestic builder (Engineering News-Record, May 2021) and in 2019 McCarthy was named the Top Solar Contractor in Colorado by Solar Power World. With approximately 3,700 salaried employees and craft professionals, the firm has offices in St. Louis, Atlanta; Collinsville, Ill.; Kansas City, Kan.; Omaha, Neb.; Phoenix; Las Vegas; Denver; Dallas, Houston; and San Diego, Newport Beach, San Francisco, San Jose and Sacramento, Calif. McCarthy is 100 percent employee owned. More information about the company is available online at www.mccarthy.com.