Insights
Mortenson Construction and M
c

Carthy Break Ground on New Gaylord Pacific Hotel
Boasting Nearly Two Million Square Feet of Enclosed Space and 22 Stories, New Hotel and Convention Center Will Anchor Future Development of Chula Vista's Bayfront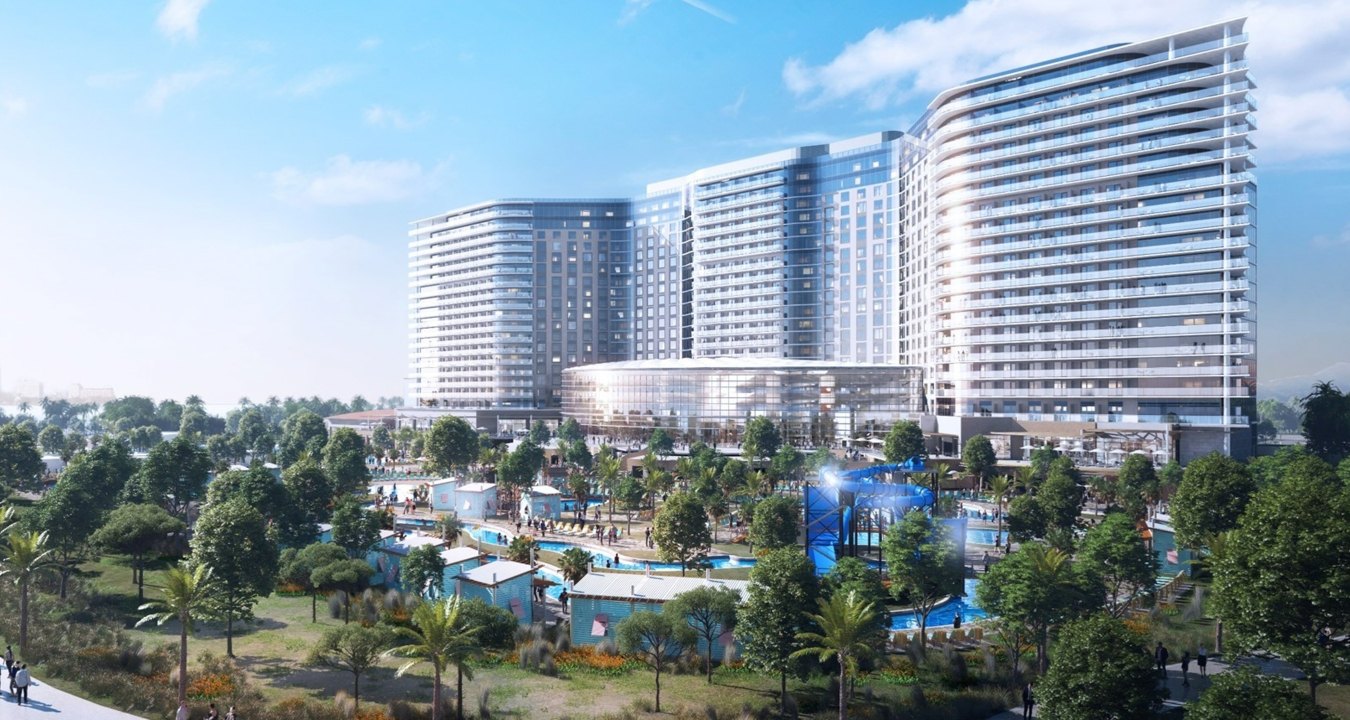 Boasting Nearly Two Million Square Feet of Enclosed Space and 22 Stories, New Hotel and Convention Center Will Anchor Future Development of Chula Vista's Bayfront
The construction team of Mortenson Construction and McCarthy Building Companies, Inc., in collaboration with the owner RIDA Development and the architect of record HKS Architects broke ground Wednesday, July 27, 2022 on the 1.8 million square-foot Gaylord Pacific Resort Hotel and Convention Center on the Chula Vista Bayfront.
"After a multi-year preconstruction process, the Mortenson | McCarthy Joint Venture team is pleased officially break ground on Gaylord Pacific alongside owner RIDA, designer HKS and Chula Vista Bayfront Facilities Financing Authority," said Maja Rosenquist, senior vice president at Mortenson. "Mortenson and McCarthy have a long history of building landmark projects together, and we know Gaylord Pacific is a project with the power to transform the community. It's not just a resort. It's an opportunity for new jobs and future economic development to take place and ultimately for Chula Vista to be on the forefront of growth in the region."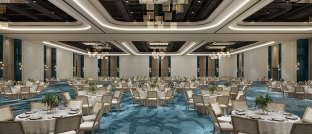 ENVISIONING THE GAYLORD PACIFIC RESORT HOTEL AND CONVENTION CENTER
Scheduled to open summer 2025, the resort will include 1,600 rooms, multiple restaurants, an unforgettable sports bar, resort style pool, and an array of recreational facilities. In addition, the 275,000-square-foot state-of-the-art convention center will boast an open-floor exhibit hall space with meeting rooms, elevated ballrooms and support areas to host large events. 
"It's an absolute pleasure to join together with Mortenson to build the Gaylord Pacific Resort and Convention Center," said Robert Betz, executive vice president at McCarthy. "As a local Southern California builder, McCarthy understands this project is incredibly important for Chula Vista and the broader community. The Mortenson/McCarthy team has experience working together to set new standards for quality, innovation and safety and we're wholly committed to delivering a world-class resort we can all be proud of for generations to come."
NEW PROJECT ANCHORS FUTURE CHULA VISTA BAYFRONT DEVELOPMENT
Designed to highlight the natural beauty of Chula Vista's Bayfront while maintaining Gaylord Resort's signature features, the new hotel and convention center will have a beautiful major atrium. A particularly unique and challenging feature to build, the atrium will also be home to an array of water features, a translucent polymer roof and elaborate glass wall system with large folding doors that will provide spectacular views of the bay.
Mortenson | McCarthy are committed to providing opportunities to participate in—and benefit from—the construction of the Gaylord Pacific Resort & Convention Center to a broad and diverse membership of the community. Opportunities created will also help establish a lasting benefit and community legacy that will be continued through the operation of the facility and across other construction projects in San Diego. The project is expected to create approximately 3,480 jobs annually during the construction phase, and an estimated 3,900 permanent jobs, once opened in 2025.
Gaylord Pacific is the second Gaylord property built by Mortenson, with the first being the Gaylord Rockies in Denver, Colorado. To learn more about the Gaylord Pacific project, please visit www.mmjvgp.com. Additional information on the team includes:
About Mortenson Construction
Mortenson is a U.S.-based, top-20 builder, developer, and engineering services provider serving the commercial, institutional, and energy sectors. Mortenson's expanding portfolio of integrated services help its customers move their strategies forward, ensuring their investments result in high-performing assets. The result is a turnkey partner, fully invested in its customers' business success. 
Founded in 1954, Mortenson has operations across the U.S. with offices in Chicago, Denver, Fargo, Iowa City, Milwaukee, Minneapolis, Phoenix, Portland, Salt Lake City, San Antonio, Seattle, and Washington, D.C. For additional information, visit www.mortenson.com.
About McCarthy 
McCarthy Building Companies, Inc. is the oldest privately held national construction company in the country – with nearly 160 years spent collaborating with partners to solve complex building challenges on behalf of its clients. With an unrelenting focus on safety and a comprehensive quality program that span all phases of every project, McCarthy utilizes industry-leading design phase and construction techniques combined with value-add technology to maximize outcomes. Building locally in San Diego for over 30 years, McCarthy has repeatedly been honored as a Best Place to Work and Healthiest Employer, McCarthy is ranked the nation's 19th largest domestic builder (Engineering News-Record, May 2022). With approximately 6,000 salaried employees and craft professionals, the firm has offices in St. Louis, Atlanta; Collinsville, Ill.; Kansas City, Kan.; Omaha, Neb.; Phoenix; Las Vegas; Denver; Dallas, Houston; and San Diego, Newport Beach, Los Angeles; San Francisco, San Jose and Sacramento, Calif. McCarthy is 100 percent employee owned. More information about the company is available online at www.mccarthy.com or by following the company on Facebook, Twitter, LinkedIn and Instagram. 
About RIDA Development Corporation
RIDA Development Corporation has achieved an international reputation for creating innovative, high quality, and successful real estate ventures. Headquartered in Houston, Texas and founded in 1974 by David Mitzner, RIDA operates major divisions in California, Texas, Florida, and Europe. RIDA is currently managing and developing retail, office, distribution, residential, hotel and mixed-use land developments with a value in excess of $7 billion. As one of the nation's most active conference hotel developers, RIDA's projects have earned it a reputation as one of the industry's leading development organizations. For more information, please visit our website at www.ridadev.com.
About HKS
HKS is a team of more than 1,300 architects, interior designers, urban designers, scientists, artists, anthropologists and other professionals working together across industries and across the globe to create places that delight, heal and stimulate peak performance. The firm has nurtured a culture of extraordinary people with curious and creative minds who are passionate about delivering elegant solutions. HKS has a dedicated research team that digs deep to discover processes and ideas that improve outcomes for everyone. In everything HKS does, it is mindful of the fragility of all life and of the planet.
###