Insights
M
c

Carthy Completes Construction on Circa Resort & Casino
First New-Build Resort in Downtown Las Vegas in 40 Years Redefines the Skyline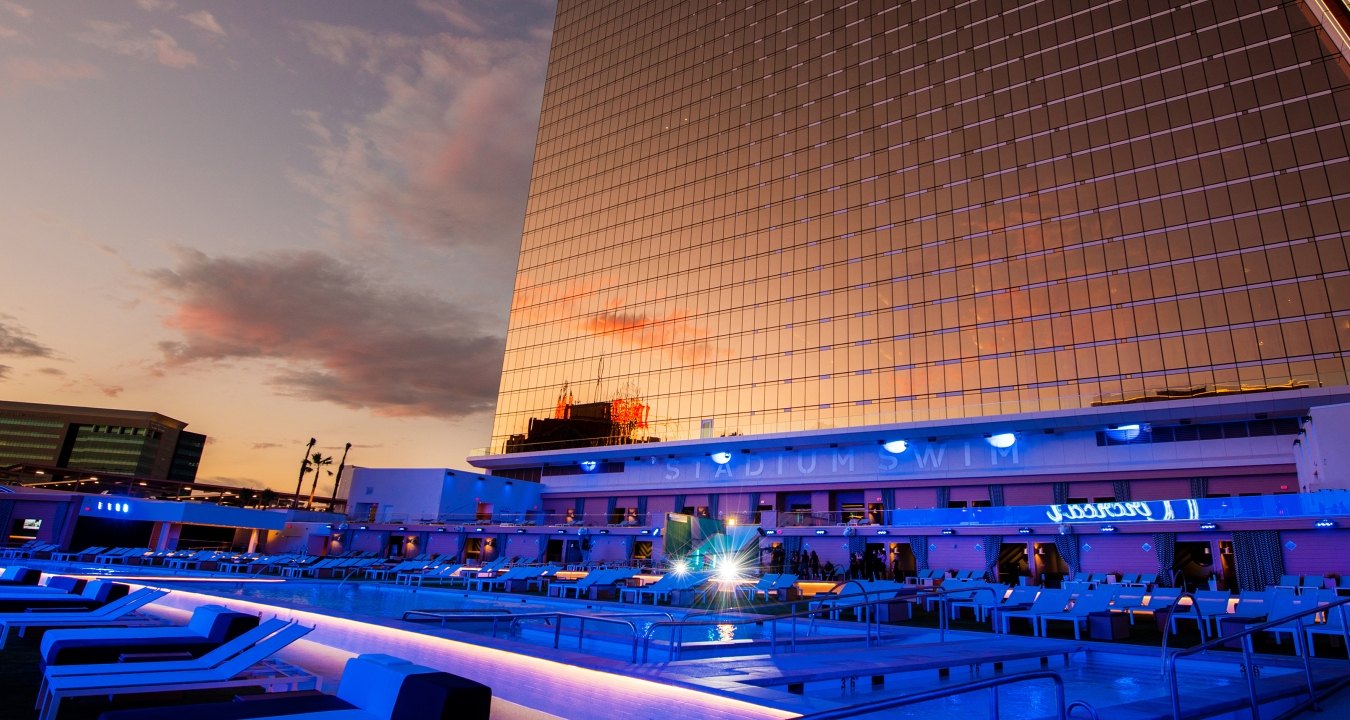 Just in time to herald a new year, McCarthy completed construction on Circa Resort & Casino, the first new resort to be built from the ground up in Downtown Las Vegas in 40 years. The impressive hotel and casino development located on Fremont Street is the new crown jewel of downtown and consists of a six-story, low-rise structure, casino, Circa Sports, the world's largest sports book, and Stadium Swim, a multi-level pool amphitheater with eight pools and spas. The resort property also includes numerous eclectic restaurants, bars, and retail, as well as a 35-story hotel tower featuring the Legacy Club - a massive rooftop lounge.
In total, the project encompasses more than one million square feet of finished space including a pedestrian bridge spanning Main Street leading to the high-tech, high-end, and award-winning Garage Mahal (also constructed by McCarthy) - an eight-story, 1,000+ space cast-in-place parking structure that also houses the central utility plant for the entire development and was design-built to serve as a rideshare hub for Fremont Street.
Building In a Pandemic
With McCarthy serving as general contractor, Circa was built in collaboration with a number of trade partners including Tré Builders, and Steelman Partners. Construction began in February 2019 and was approx. 60% complete in March 2020 when the global pandemic was declared. With construction deemed essential in Nevada, the high-profile resort project continued forward, but the team had to pivot their approach to delivering the project. The project team navigated through changes in safety protocol, staffing, labor and supply chain availability. However, one of the most significant changes resulted from the construction schedule being reconfigured to allow for the construction of the main casino and amenities to be completed early, opening in October 2020. Construction on the new 777-room hotel tower continued beyond that date and was ultimately completed on schedule and just in time for guests to ring in the new year at the landmark resort.
"Completing construction on a resort of this scale in just 22 months during a pandemic is a testament to the talent and capabilities of the construction professionals within our community," said Jeff Wood, executive vice president for McCarthy Building Companies. "Working collaboratively with the Circa developers and owners, Derek and Greg Stevens, as well as with all of our expert trade partners enabled us to effectively refocus resources, reevaluate priorities and rework the construction schedule to find a path that allowed for us to deliver the project within the modified schedule. It took an incredible amount of planning, coordination and buy-in from every individual who stepped foot on this jobsite."
Other Challenges
In addition to traversing the complexities presented by Covid-19, there were additional challenges the construction team had to address and overcome including safely navigating the difficulties of working in a dense, sidewalk-to-sidewalk footprint with downtown traffic that was amplified by the site's proximity to the Fremont Street Experience. There were several logistical challenges inherent to this busy location including storage and movement of jobsite materials that required meticulous planning and coordination.
"Our trade partners were adaptive, flexible and committed to this project's goals," said Ryan Cogley, vice president and project executive for McCarthy. "We used three cranes to maneuver materials and loaded in materials during the evening to resupply the day shift."
Among the many factors contributing to the success and on time completion of the project was McCarthy's ability to self-perform concrete for the project. The team successfully executed a very aggressive structural concrete schedule, pouring more than 55,000 cubic yards of concrete in 13 months at a pace of one tower-floor per week. Their ability to perform this scope with their own labor benefitted the project through an added level of control managing critical path activities, quality, cost, and most importantly, project safety.
As the tallest tower north of the Strip, Circa's uniquely tapered 71-degree tower is visually stunning. The high-resolution and abundant pixels within the massive signage on the north side of the tower beckon travelers to the new downtown destination.
Inside Circa
Inside discover nods to vintage Vegas through its design and old-school hospitality, Circa doesn't disappoint when it comes to high-end room finishes. standout features including an advanced lighting control system that is top tier throughout the hospitality industry. This high-tech system controls light, air, and window treatments via an easy-to-use touch panel user interface
"Seeing Circa transform Downtown Las Vegas has been incredible, and we are extremely grateful to have been able to collaborate with some of the best talent in the industry," said Wood. "Together, we have accomplished something truly special and are proud to share this new destination with Las Vegas."
Throughout construction, Circa provided 4,000 industry-related jobs. Ultimately, the new resort intends to provide more than 1000 operational jobs. An adults-only property, the impressive new resort will serve as a driver and motivator for visitation to the downtown destination and provide guests with a Las Vegas experience like no other.
About McCarthy
McCarthy Building Companies, Inc. is the oldest privately held national construction company in the country – with more than 150 years spent collaborating with partners to solve complex building challenges on behalf of its clients. With an unrelenting focus on safety and a comprehensive quality program that span all phases of every project, McCarthy utilizes industry-leading design phase and construction techniques combined with value-add technology to maximize outcomes. Repeatedly honored as a Best Place to Work, McCarthy has been operating in Nevada since 1973. McCarthy is 100 percent employee owned. For additional information, visit www.mccarthy.com.
About Circa Resort & Casino
Circa Resort & Casino delivers an all-new integrated resort concept to the heart of downtown Las Vegas. Las Vegas' first adults-only casino, Circa introduces a new legacy that turns up the good times to eleven and burns bright with the original spirit of Vegas. Combining the best of Las Vegas service in a modern, state-of-the-art setting, Circa is designed for guests to live large in the now, make the most of life's fleeting moments and create new memories through an exhilarating, multi-sensory experience. The first ground-up casino-resort in downtown Las Vegas in 40 years, its larger-than-life amenities include 777 luxe rooms and suites; world's largest sportsbook; Stadium Swim, a year-round pool amphitheater; two-story casino; eclectic restaurant and bar concepts; Garage Mahal, a high-tech transportation hub; an expansive local art collection and more. Visit circalasvegas.com or follow us on Facebook, Twitter and Instagram at @circalasvegas to stay up to date.