Insights
Strong Voices, Safe Choices: Construction Safety Week 2023 Is Here
While Construction Safety Week is not an official holiday, our annual Safety Week efforts make it one of the most important and impactful weeks on the McCarthy calendar.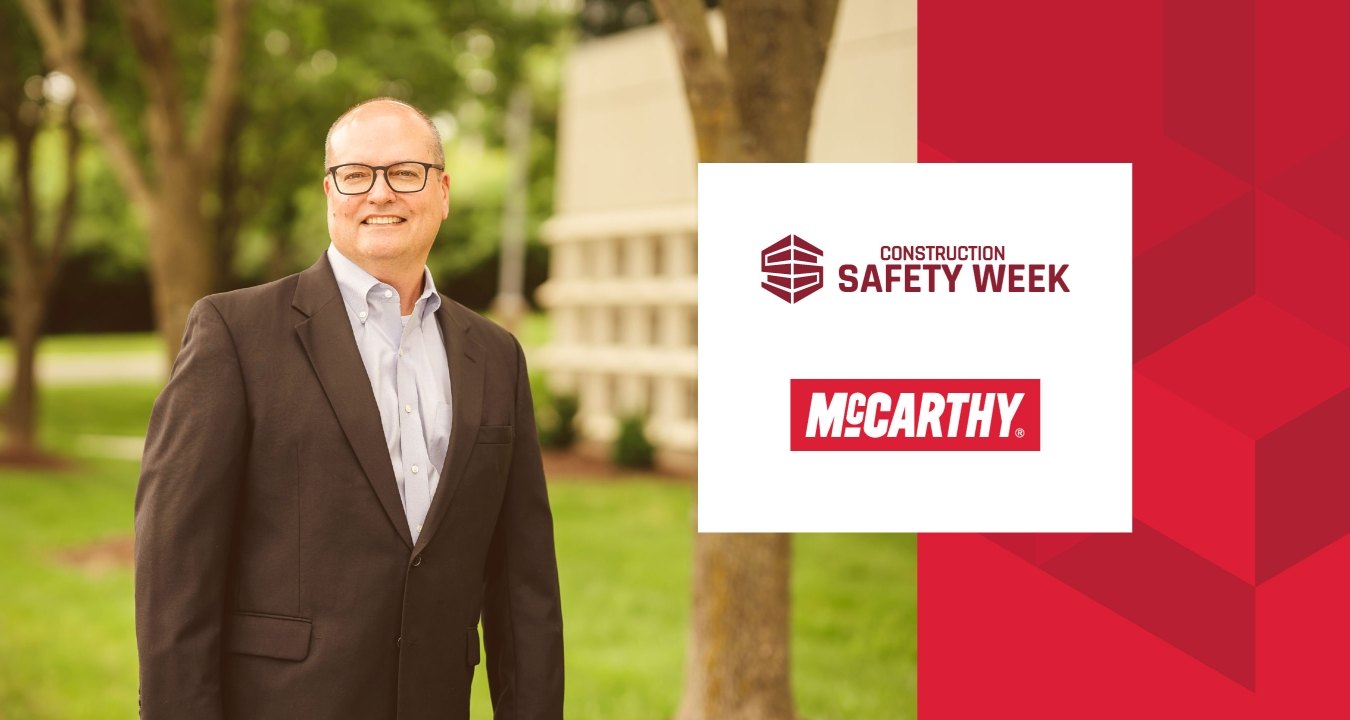 While Construction Safety Week is not an official holiday, our annual Safety Week efforts make it one of the most important and impactful weeks on the McCarthy calendar. 
McCarthy will join with many others across the industry May 1-5 as we participate in both Construction Safety Week and OSHA's National Safety Stand-Down to Prevent Falls. Together, these events offer teams on our project sites and in offices an opportunity to hyperfocus on safety, highlighting our company's proud tradition of continuous safety improvement, empowerment and encouraging everyone to take pride in safety.  
We are builders, and nothing is more important than ensuring everyone on McCarthy jobsites returns home safely to their families every night. The 2023 Construction Safety Week theme of "Strong Voices, Safe Choices" aligns directly with our strong belief that everyone has a role to play in safety. During this week, every McCarthy project and office across the country will be sharing additional resources, providing additional safety training, and celebrating outstanding safety champions.  
In addition to these construction safety resources, McCarthy plans to make this a meaningful and lasting week by placing a continued emphasis on the well-being and overall mental health of our employees. Creating safe worksites must include a broader focus on both physical and mental well-being. 
We urge you to join us by visiting www.constructionsafetyweek.com and www.osha.gov/stop-falls-stand-down to learn more. 
McCarthy 2023 Safety Focus Areas:   
Completing Hard Hat to Helmet Transition for All Trade Partners 
Plastic hard hats have remained the same since 1952. Head impacts can lead to life changing injury or death, with 25 percent of all construction fatalities attributed to traumatic brain injuries. Our transition to helmets, which offer superior head protection, began in 2022 for all employees and McCarthy craft professionals. Starting July 1, all trade partners on McCarthy projects will be required to wear helmets, completing this important PPE transition. 
Proactive Approach to Safety Planning and Reporting 
A near miss is an unplanned event that has the potential to cause serious injury or death. By definition, this does not actually result in human injury, environmental, or equipment damage, or an interruption of normal operations — but given a slightly different scenario could have led to something more serious. McCarthy is continuing our shift from event-based to potential-based tracking. As a result, we will be expanding our proactive approach through Near Miss and Serious Injury or Fatality (SIF) Potential identification Near Miss Reporting & Serious Injury reporting. 
Expanding Mental Health Resources and Support 
The importance of both physical and mental health cannot be overestimated. Our jobsite teams begin each day by conducting physical stretching before work activity. Annual health physicals are another essential part of reducing risk of disease and identifying potential issues for early treatment. As an industry leader in focus on mental health, we have further strengthened our overall approach with the addition of Lyra Mental Health Support and Employee Assistance Program. This broad program for employees and their families can help with issues such as stress, anxiety, depression, substance abuse and more.      
Safety Week offers a powerful opportunity for our industry to work together to continue to improve construction safety. We owe this to one another, our workforce today and in the future. Make Safety Week even more impactful by staying focused on safety every day throughout the year. The key to a successful Safety Week and beyond is our participation – all of us.    
About the Author 
As Senior Vice President, National Safety, Kevin Maitland is responsible for overseeing the development and implementation of McCarthy's national safety program and document administration function to maintain all company policies and procedures. With more than 30 years of construction experience, Kevin has spent his career in numerous safety roles overseeing safety policies and procedures while working closely with trade partners, clients and OSHA to ensure jobsites are safe. Kevin is a member of the Associated General Contractors of Missouri Executive Safety & Health Committee, a member of the Safety & Crime Prevention Committee for Southern Illinois Builders Association, board member for the Safety Council of Greater St. Louis, company representative with the National Construction Safety Executives and a long-time member of the American Society of Safety Engineers. Kevin graduated from Illinois State University with a Bachelor of Science, Industrial Technology, Safety & Construction.