Insights
M
c

Carthy Earns Highest Safety ADOSH Distinction on Construction of Vantage Data Centers Project in Goodyear, Arizona
VPP STAR designation is the Occupational Safety and Health Administration's (OSHA) highest program of safety recognition across all federal OSHA and state plan state OSHA offices.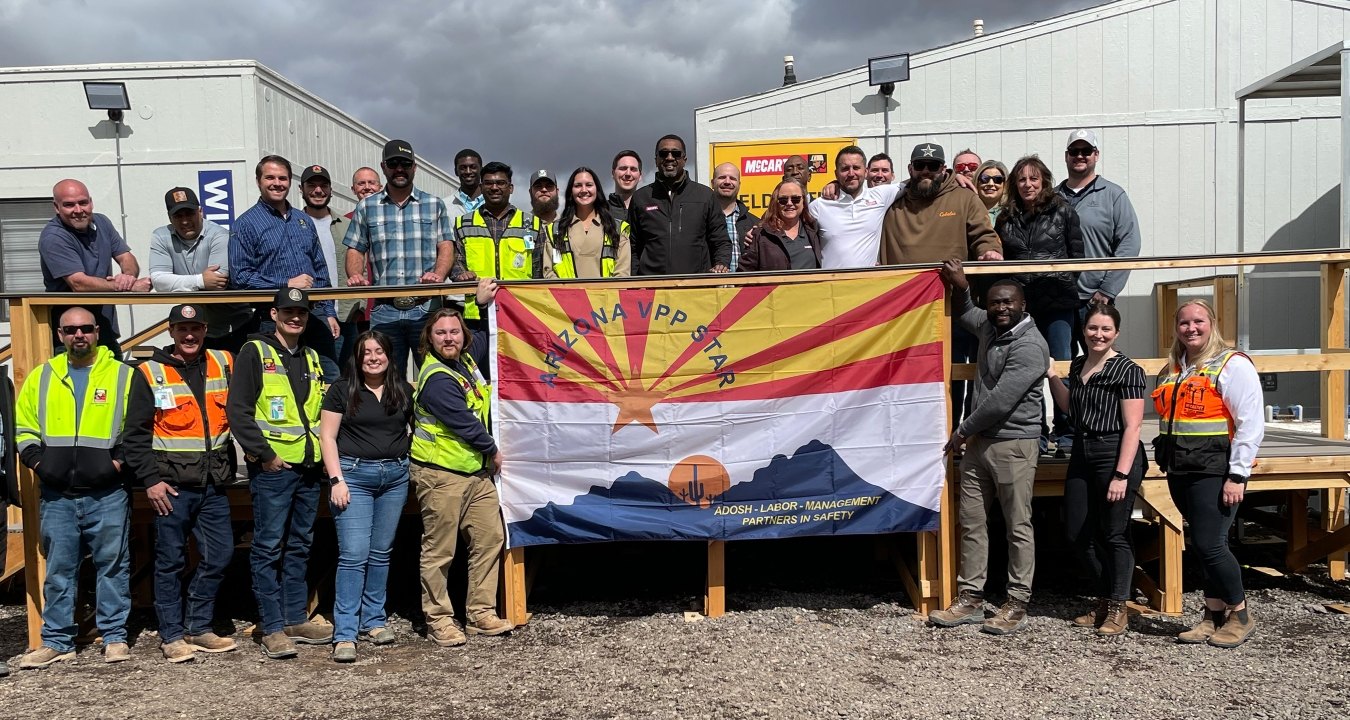 McCarthy Building Companies' Vantage Data Centers project was recently awarded a "STAR Site" through the Arizona Division of Occupational Safety and Health's (ADOSH) Voluntary Protection Program (VPP). Jobsites that are awarded the STAR designation demonstrate exemplary and comprehensive safety and health management systems. 
McCarthy's Mission Critical team is leading the Vantage Data Centers phase two, design-build construction project in Goodyear, Ariz. The project includes a mega-scale campus expansion for hyperscalers and large cloud providers with 176MW of IT capacity across three facilities totaling more than one million square feet. Vantage is investing more than $1.5 billion into the development.
"Safety is our number one priority with every job, whether we're building hospitals, airports, schools or data centers," said Ryan Ferguson, vice president and project executive with the Mission Critical team at McCarthy. "At the end of the day, we want our employees to go home safely and we want our jobsites to be secure, which is why we implement rigorous safety standards and practices on each project and are bringing them to our clients in the data center industry. Receiving this honor demonstrates for our team and client how much we care about them."
VPP STAR designation is the Occupational Safety and Health Administration's (OSHA) highest program of safety recognition across all federal OSHA and state plan state OSHA offices. It recognizes employers and workers in private and federal workplaces who have exemplified effective safety and health management systems that achieve injury and illness rates more than 50% below the national average.
"Employers who strive for and achieve Voluntary Protection Program (VPP) Star status have injury and illness rates far below the averages for their industries, have significantly increased employee morale and productivity, and see far fewer workplace injuries and illnesses," said Steve Morgan, assistant director, ADOSH. "This is not an easy task, and it requires both top down and bottom up support from management and the workforce. In short, a site must truly live an exemplary safety culture every single day to be considered among the elite VPP employers in the State of Arizona. Our partners at McCarthy exemplify this standard. We value their partnership with ADOSH and the Industrial Commission and commend them on their commitment to the safety and health of their employees."
McCarthy's Southwest division is currently managing numerous projects throughout Arizona in renewable energy, education, healthcare, aviation and private-sector industries. Over the past 10 years, numerous McCarthy projects have been visited by ADOSH and awarded the "STAR Site" designation.   
About McCarthy
McCarthy Building Companies, Inc. is the oldest privately held national construction company in the country – with nearly 160 years spent collaborating with partners to solve complex building challenges on behalf of its clients. With an unrelenting focus on safety and a comprehensive quality program that span all phases of every project, McCarthy utilizes industry-leading design phase and construction techniques combined with value-add technology to maximize outcomes. Repeatedly honored as a Best Place to Work and Healthiest Employer, McCarthy is ranked the 19th largest domestic builder (Engineering News-Record, May 2022). With approximately 6,000 salaried employees and craft professionals, the firm has offices in St. Louis; Atlanta; Collinsville, Ill.; Kansas City, Kan.; Omaha, Neb.; Phoenix; Las Vegas; Denver; Austin, Channelview, Dallas, and Houston, Texas; and San Diego, Newport Beach, Los Angeles, San Francisco, San Jose and Sacramento, Calif. McCarthy is 100 percent employee owned. More information about the company is available online at www.mccarthy.com or by following the company on Facebook, Twitter, LinkedIn and Instagram.
About Vantage Data Centers
Vantage Data Centers powers, cools, protects and connects the technology of the world's well-known hyperscalers, cloud providers and large enterprises. Developing and operating across five continents in North America, EMEA and Asia Pacific, Vantage has evolved data center design in innovative ways to deliver dramatic gains in reliability, efficiency and sustainability in flexible environments that can scale as quickly as the market demands.