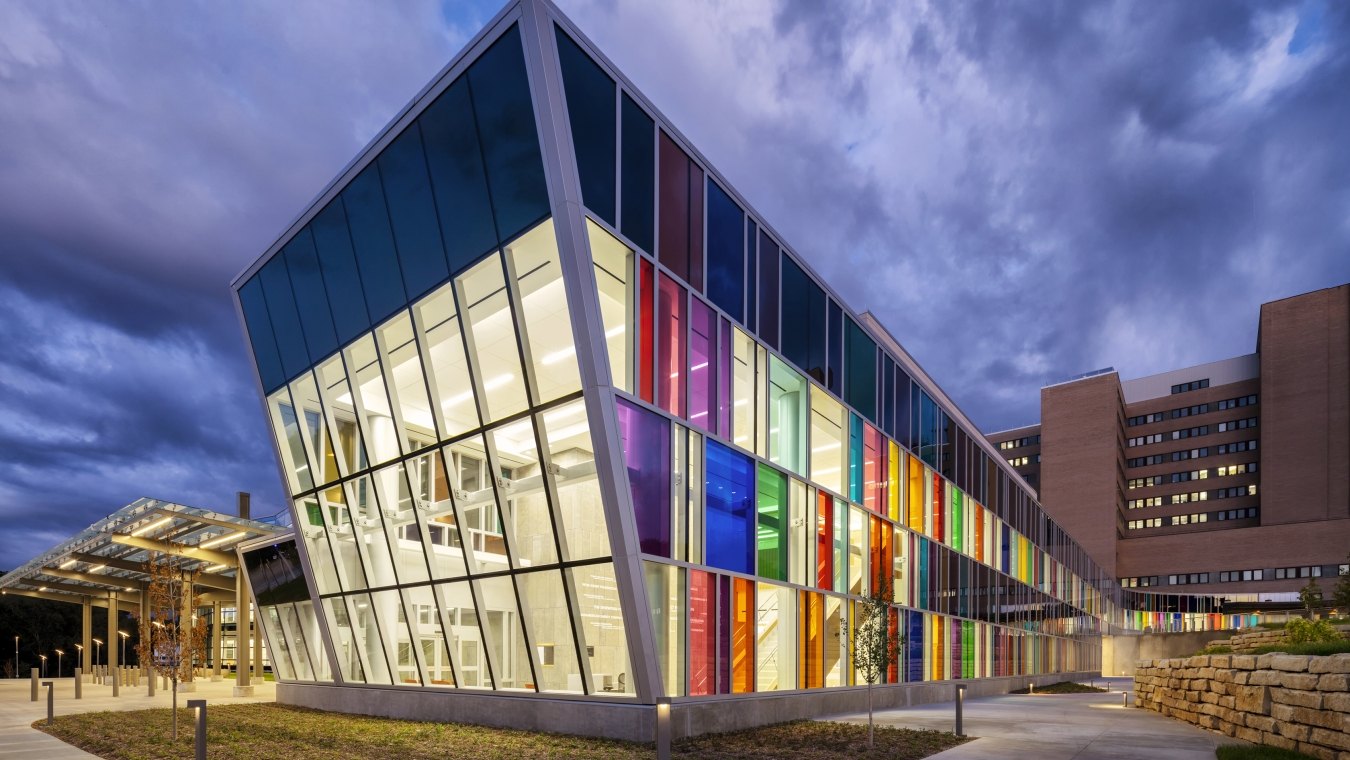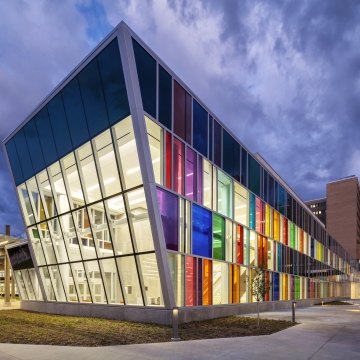 Our Work
Omaha VA Ambulatory Care Center
Omaha, NE
Project Stats
Client
Heritage Services
Markets
The Omaha VA Ambulatory Care Center is a three-level, 157,000-square-foot outpatient facility connected to an existing 12-story VA hospital completed in 1950. The first Public Private Partnership (P3) project in the history of the VA system, the project team, which included design partner LEO A. DALY, overcame COVID-19 and substantial weather delays, ultimately opening on time and on budget in August 2020.
The Ambulatory Care Center has capacity to serve approximately 400 patients per day, helping relieve the main Omaha VA Medical Center of most outpatient services. The facility includes eight primary-care clinics, a first-of-its-kind women's health clinic, one specialty-care clinic, a surgical suite with five operating rooms including pre/post-op space, radiology, on-site lab and a satellite pharmacy with retail.
The new $86 million facility was a trailblazing project for the VA as the first in the nation to take advantage of the C.H.I.P.I.N. for Vets Act. This federal law passed by Congress in 2016 allows the VA to accept private donations to complete construction projects, also requiring the builder to use innovative delivery techniques that fall outside federally prescribed specifications and methods.
Design started in 2017 and unlike previous VA healthcare projects, McCarthy was selected concurrent to design with site work commencing simultaneously. Ultimately, the P3 delivery method drove a highly effective and collaborative team that accelerated completion time from 52 months to 36 months, also reducing the total project cost from an estimated $120 million through traditional delivery to the final $86 million. The project has become a model for future P3 veteran healthcare projects.
McCarthy's approach included innovative construction delivery methods that enabled this complex, one-of-a-kind project to meet its ambitious budget and schedule expectations. This ensured the project would be viewed as a success by the Veterans Administration, veterans and their families, and the surrounding Nebraska region. Initiatives such as subsurface utility mapping, virtual design and construction, and other advanced technology — as well as using a design assist subcontracting approach instead of a hard-bid approach — enabled the complex project to maintain the overall budget and schedule needs of the project.
Using McCarthy's in-house subsurface McCarthy Mapping team prior to excavation, the project team quickly identified unmarked utility lines that would have created significant cost implications during construction, as well as challenging topography that ultimately resulted in the facility being constructed at a lower elevation. Instead of traditional excavation, a soil nail wall made it possible to remove soil vertically on a shorter schedule and without interrupting entry or exit to the existing hospital. This innovation saved time and money by negating the need for a temporary main entry and exit during construction.
The project team also used advanced virtual design & construction (VDC) technology applications throughout the design and construction process to facilitate collaboration and enabled the team to maximize budget and schedule efficiencies. Building information modeling (BIM) was used to continuously review and compare design updates and adjust the cost model accordingly. Conceptual cost modeling aligned the project's budget and program early in the design. Laser scanning confirmed as-built conditions with 3D coordination to not only increase layout precision, but also ensure project controls for scopes such as self-perform concrete.
Honoring America's Armed Forces
Intended to honor the men and women who bravely serve their country, the facility's design incorporates symbols of freedom, honor and duty while creating a wellness-centered atmosphere for patients, staff and loved ones.
The facility's northern façade is a 50-foot high, 235-foot-wide undulating glass curtain wall representing freedom in the form of the American flag rippling in the wind. The folded appearance of the curtain wall needed to meet high architectural and engineering standards. The wall's high aesthetic value and precise structural requirements led to a joint contractor-and-designer-led selection process to ensure the bidding contractors could provide adequate tooling and expertise to manufacture the wall, on schedule and within budget. Early engagement of this subcontractor helped facilitate precision and efficiency on this challenging glass installation. The large curtain wall system features 12-inch-deep mullions, with eighth-inch thick extrusions to meet federal blast load requirements, while also mating precisely with the facility's underlying steel superstructure.
The hued glass design of the western curtain wall represents honor and evokes ribbon bars awarded to service members. The stunning façade incorporates colored film between panes of blast-resistant glass rather than a conventional surface-mounted film. This unique application ensures the film can't be scratched or defaced while maintaining the blast rating required by federal guidelines. Before moving forward with this innovative solution, design and construction team members toured other project installations to ensure the material could achieve the intended design aesthetic.
Inside the facility, a 365-foot symbolic limestone wall representing duty separates the public spaces from secure clinical areas. The wall is composed of layers of sediment, which symbolize the foreign soil tracked home from conflicts and alternating eras of peace and war.
After opening in August 2020, the facility is prepared to help the Omaha community treat more than 40,000 veterans annually. In December 2020, the U.S. Government Accountability Office released a report recommending the VA share lessons learned from the Omaha project, as they could help guide similar ventures in the future.
Awards & Recognition
2021 Best of the Best Projects

Healthcare 
Engineering News-Record

2021 Procore Groundbreaker Award Finalist

Project Excellence
Procore
2020 Best of Year Award