Insights
Building a Safer Industry
How safety helps overcome challenges and improve every project.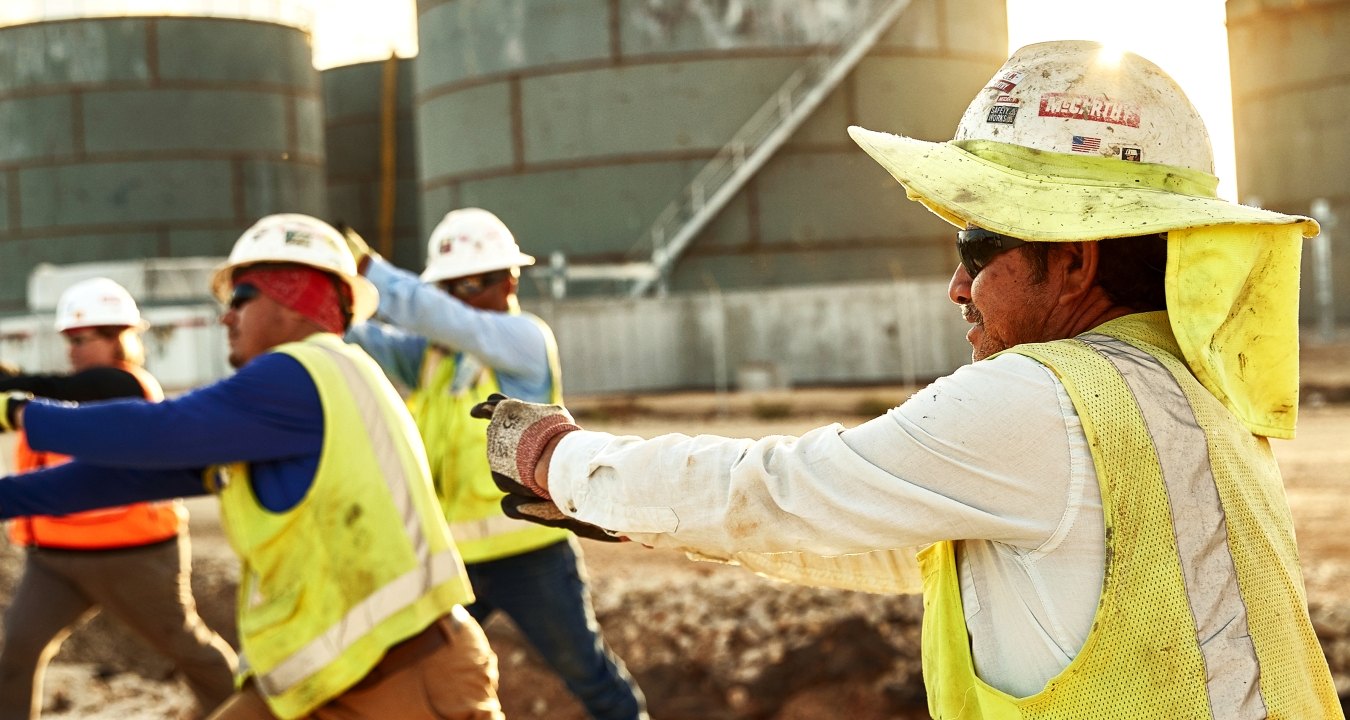 A Call to Action
Each year, more than 70 construction companies across the country and around the world join together to observe Safety Week. This week, from Sept. 14-18, offers an opportunity to join together as an industry to renew our commitment to the most important thing we do each day: building safely. McCarthy is a proud sponsor and supporter of Safety Week — and during the COVID-19 pandemic our commitment has never been stronger.
Having a true safety culture makes it possible for builders like McCarthy to adapt to any challenge, including COVID, for the benefit of all stakeholders. Indeed, our safety culture empowered us to quickly adapt to the challenges of COVID and to implement policies and procedures that workers have readily adopted to help keep them safer.
What best practices do we follow to create and sustain such a strong culture of safety?
Building a True Safety Culture
Safety should be the most important thing your builder does on every project, every day. When work is performed safely, morale is high, the owner's business goals are achieved — and, most importantly — everyone goes home to their families each night.
A true safety culture is built on a foundation of several key attributes:
Ownership: Safety is an enterprise-wide commitment, from the top leadership to the newest hire. It's about leading by example and encouraging others to follow your direction.
Accountability: Peers should hold each other accountable for keeping each other safe. Safety is everyone's responsibility.
Execution: Developing safety procedures and preplanning work is just the beginning. Following through is imperative to improving and maintaining safety on the jobsite.
Positive Reinforcement: Recognize workers for following safety procedures and they will keep the positive momentum going. Because our craft workers recognized the importance of new COVID protocols, we have actually improved our safety performance — even during a global pandemic.
Make it Personal: When workers get involved and take pride in promoting safety, you build a strong foundation for maintaining a healthy safety culture.
How a Safety Focus Helps You Overcome Challenges
Builders that make safety a core value learn how to quickly address new challenges. The more experience a builder has adapting and integrating a safety program, the faster their teams will embrace change and adopt new safety procedures. That enables builders to continue working through COVID-19 safely, while still delivering the results that owners expect.
For example, through McCarthy's combination of focus and due diligence on safety we've maintained safe jobsites despite the challenge of COVID-19, while improving our overall safety results. A true, safety-first culture makes this possible. We're constantly developing, improving and adopting best practices, which in turn makes navigating the ever-changing COVID pandemic more manageable. 
When everyone is all-in on safety, no one views new procedures as, "OSHA says we have to." Instead, everyone recognizes that safety is something that requires individual accountability, which leads to improved team success — and a safer working environment for everyone. The result is a project free of injuries and associated delays, benefiting owners, builders and families everywhere.
Safety is also a mindset. Every new safety hurdle should be viewed as an opportunity to improve. Builders should look for the positives when they encounter new safety challenges. At McCarthy, it's everyone's responsibility to learn from the solution and improve safety in the future.
Sourcing Safety from the Ground Up
At McCarthy, we've overhauled more than two dozen safety processes in response to evolving COVID-19 challenges, and many of these are resulting in improved safety numbers. This progress is only possible by embracing new, innovative solutions — many of which were created directly by those doing the work. That's why open communication with workers on the jobsite is crucial – when everyone takes ownership of safety, they can share their personal experiences and ideas for solutions.
Embracing a company-wide innovation platform was a game-changer as COVID-19 began spreading across the country. Through this platform, our trade partners, project leadership and office teams posted the processes they were using to stay safe and address this historic challenge. We continue to use many of these innovations today, and many will remain permanent processes once the pandemic has abated.
What's NEXT?  
Above all, safety isn't just about individual builders or projects. It's improving safety across our industry for the benefit of all. That's why we joined together with a coalition of leading critical infrastructure and construction companies to launch the NEXT Coalition for promoting safety best practices. By working together, we can better identify and advance processes and technology most likely to enhance safety and project outcomes.
A safer industry also helps address the ongoing craft labor shortage. By building a true safety culture and demonstrating that construction can be done safely, McCarthy is helping the next generation of builders see the value of a career in construction.
The need for rapid innovation and implementation of new health and safety processes has never been greater. As an industry, it's important that we work together to make safety a core value on construction sites across the country. Long after Safety Week is over, we need to remain vigilant — embracing innovation and sharing new ways to build safely for every worker, every day.
# # #
About the Author
As McCarthy's Vice President of Safety, Kevin Maitland is responsible for overseeing the development and implementation of McCarthy's national safety program and document administration function to maintain all company policies and procedures. With more than 30 years of construction experience, Kevin has spent his career in numerous safety roles overseeing safety policies and procedures while working closely with trade partners, clients and OSHA to ensure jobsites are safe. Kevin is a member of the Associated General Contractors of Missouri Executive Safety & Health Committee, a member of the Safety & Crime Prevention Committee for Southern Illinois Builders Association, board member for the Safety Council of Greater St. Louis, company representative with the National Construction Safety Executives and a 23-year member of the American Society of Safety Engineers. Kevin graduated from Illinois State University with a Bachelor of Science in Industrial Technology, Safety & Construction.