Insights
HOK and M
c

Carthy Chosen for UCLA Health Neuropsychiatric Hospital Project
The renovation will transform four disparate and dated hospital buildings.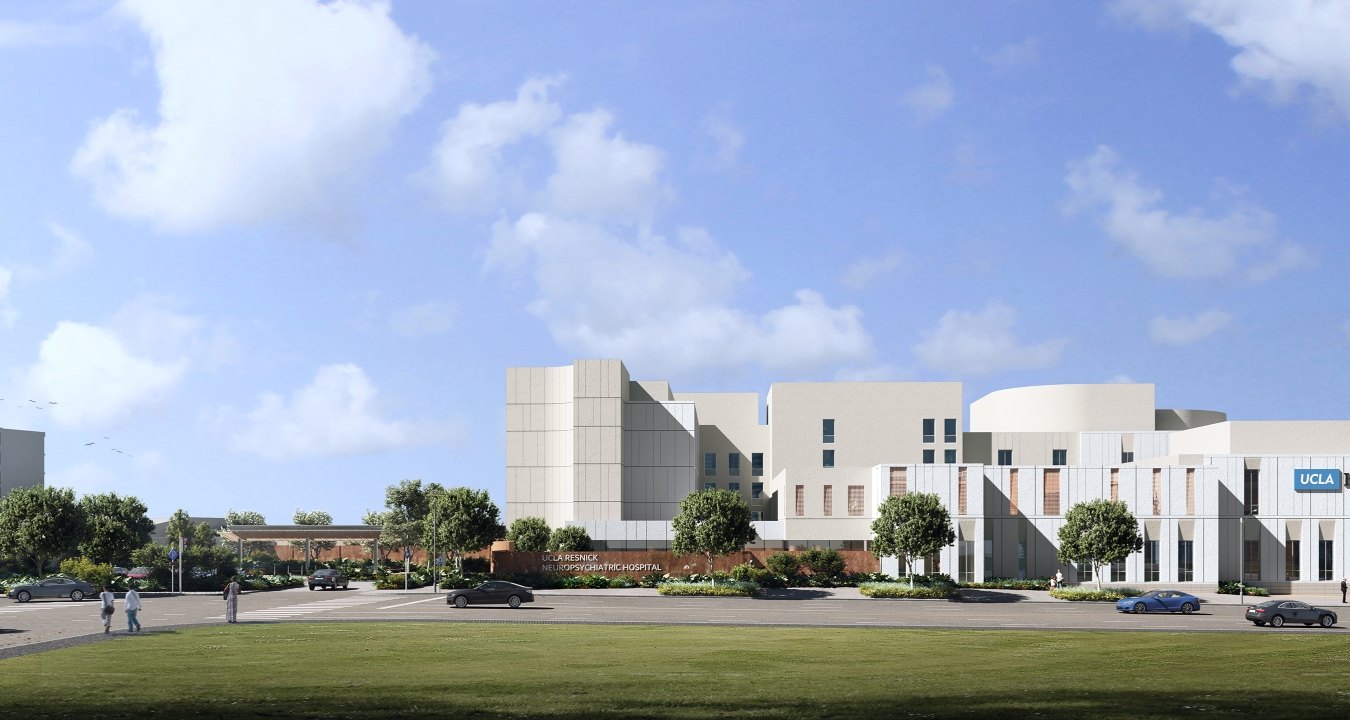 UCLA Health has selected HOK and McCarthy to transform the former Olympia Medical Center in the Mid-Wilshire area of Los Angeles into a state-of-the-art neuropsychiatric hospital. The renovation will transform four disparate and dated hospital buildings into a unified care facility for patients experiencing mental and behavioral health challenges.  
Meeting the Need for Inpatient Psychiatric Care
UCLA Health's inpatient neuropsychiatric program is currently housed in the Stewart and Lynda Resnick Neuropsychiatric Hospital, located within UCLA Ronald Reagan Medical Center on UCLA's Westwood campus. It is recognized among the nation's top psychiatric care facilities. The move to the Mid-Wilshire location will allow UCLA Health to help address the region's unmet need for behavioral health services. All 74 inpatient psychiatric beds will be relocated to the Mid-Wilshire location, with space for up to 30 percent more beds.
The hospital will meet California's Office of Statewide Health Planning and Development OSHPD 5 classification for acute psychiatric hospital buildings and include comprehensive behavioral health care services for adult, geriatric, child, adolescent and intensive care patients, including crisis care. Support spaces will include food service, imaging, pharmacy, lab areas and administrative offices. Trauma-informed design features will include distributed therapy spaces on each floor and rooftop terraces and grade-level gardens for patient and staff respite.
UCLA Health acquired the closed Olympia Medical Center in early 2021.
A Strong History of Healthcare Construction Expertise
The McCarthy + HOK team underwent a five-month procurement process for the progressive design-build project. Additional enhancements to the scoping documents included restacking patient units based on more operational efficiencies and patient safety and full exterior recladding to upgrade the facility. The project will benefit from McCarthy+HOK's history of close collaboration, as well as McCarthy's depth of healthcare construction experience. 
"We are thrilled to be part of this important project with UCLA Health and McCarthy," said Hunvey Chen, leader of HOK's Healthcare practice in Los Angeles. "This new acute psychiatric care facility addresses a huge need we have in Los Angeles for expanded behavioral health services." 
"Creating a healing and recovery environment was one of the main stated goals of this project," said Erik Chessmore, McCarthy Vice President of Operations, Los Angeles. "The atmosphere will be inviting, and patients, family members and caregivers will have ample daylight and amenities to make for a healthful recovery. We are so grateful for this opportunity to team with HOK and UCLA Health to build this new hospital, setting a new standard for a modern-day neuropsychiatric hospital."
University of California Board of Regents approval of designs is required before renovation of the 170,000-sq.-foot facility can begin. Based on current timetables, the project is expected to be completed no sooner than spring 2026.
With offices around the globe, HOK designs buildings and spaces that respond to the needs of people and the environment. HOK designers are rooted in technical excellence, driven by imagination and focused on a solitary goal: to deliver solutions that inspire clients and communities.
About McCarthy
McCarthy Building Companies, Inc. is the oldest privately held national construction company in the country – with nearly 160 years spent collaborating with partners to solve complex building challenges on behalf of its clients. With an unrelenting focus on safety and a comprehensive quality program that span all phases of every project, McCarthy utilizes industry-leading design phase and construction techniques combined with value-add technology to maximize outcomes.