Insights
M
c

Carthy Building Companies — Building Nevada for 40 Years
Community builder marks 40-year milestone of shaping the skyline in Nevada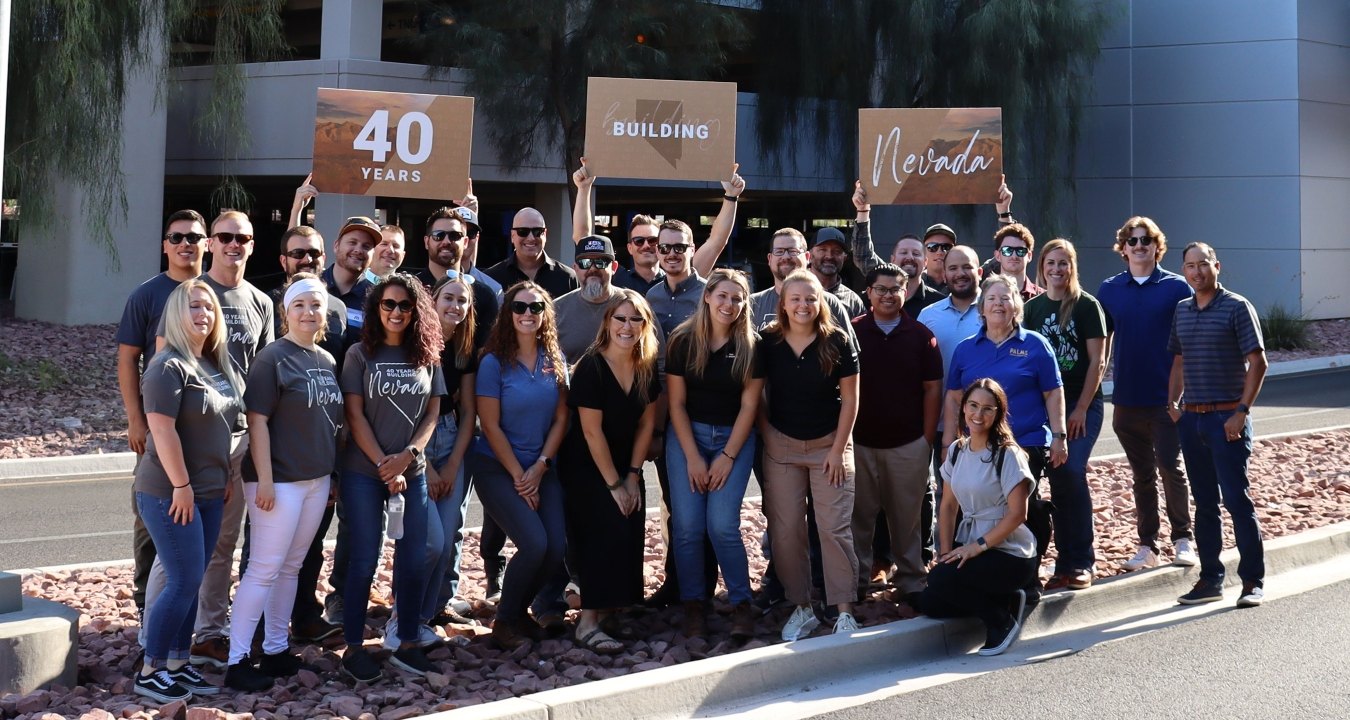 From putting in place more than $500 million at Harry Reid International Airport, including the original FAA Control Tower, to more recent high-profile projects including Allegiant Stadium, Circa Resort and Casino, Virgin Hotels and so many more, McCarthy Building Companies has proudly been building Nevada for 40 years. Consistently named among the top places to work, McCarthy has a rich history in the Silver State and a well-earned reputation for developing not only structures, but genuine relationships with clients and the community.
McCarthy's award-winning work can be spotted throughout Nevada from Mesquite to Winnemucca, and many communities in between. The projects, and stories behind them, represent a variety of markets, including aviation, education, hospitality, gaming, entertainment, parking, water, wastewater, renewable energy, and healthcare.
Then and Now – The Evolution of a General Contractor and Community Builder
During the course of 40 years, much has changed in the role of a General Contractor/Community Builder. Gone are the transactional construction opportunities in which every job was priced off of blueprints as the industry has evolved to a more relationship-driven approach that promotes early collaboration and partnership between client, industry, and community.
Services provided have also progressed from hard bid to a more holistic approach that engages different teams and integrates technology with their respective expertise during the design phase. Teams can now collaborate within digital models to illustrate expectations and provide immersive virtual experiences that consider the end-user and life-cycle of a structure.
While the changes didn't happen overnight, McCarthy has always been at the forefront of technology. Not just for the sake of using technology, but for adding value to their clients. While constructing the first ground-up casino in Downtown Las Vegas since McCarthy entered this market, they relied on technology to guide efficiencies during construction. Teams leveraged the visualization and collaboration of a cloud-based model to drive dialogue and productivity to deliver a hotel tower, casino resort, pedestrian bridge, central utility plant, and parking garage in just 22 months.
The Changing Client Experience and Gauge of Satisfaction
Throughout its many years in Nevada, McCarthy has solidified its dedication to providing the best client experience. Through that course, the company discovered its clients want a long-term partner they can count on — one who will work closely with them to achieve not just their construction goals, but also broader business and community objectives.
Historically, client expectation was rooted in the notion of completing a project at the lowest cost and as fast as possible. Today, clients place more value on the qualifications of team members and the contributions they have provided on similar projects. McCarthy's diverse portfolio over the years ensures their ability to provide a team whose talent and experience can be leveraged, starting with the planning stage, and continuing through construction, turnover, and well into the operating life-cycle of a project.
By understanding each clients' business, engaging earlier with more cost certainty, providing the best value, focusing on safety, and delivering the highest quality, McCarthy has transformed the client relationship and the measurement of client satisfaction.
A True Community Builder
The notion of being a true community builder has also changed over the past four decades. McCarthy recognized that building stronger communities goes beyond constructing buildings. In 2005, McCarthy formalized its Heart Hat program, a national community outreach program, to build on its long legacy of giving back. Since then, McCarthy and its employees in Nevada have donated thousands of hours giving back to the communities where their employees live, work, and play.
The Heart Hats approach is personal. It's more than writing a check and calling it a day – it's about time, passion, and a commitment to making a difference. A number of Nevada organizations have benefitted from McCarthy Heart Hats' activities including Nevada Childhood Cancer Foundation, Shade Tree, Nevada Partnership for Homeless Youth, St. Jude's Ranch for Children, C.A.R.E. Complex, American Heart Association, Rebuilding Together, American Cancer Society, Toys for Tots, CORE, and the Route 91 Healing Garden in Las Vegas.
Improving the Construction Industry
As a 100% employee-owned firm, McCarthy is represented by a diverse group of owners who are proud to enrich local communities through the work they do. Community outreach and economic inclusion are recognized by the firm as business imperatives that directly benefit Nevada communities by creating more opportunities and a stronger pipeline of talent.
The firm also invests internally through resource groups like their McCarthy Partnership for Women which supports the recruitment, development, and retention of the best women in the industry to broaden diversity of perspective. Over the past forty years McCarthy has mobilized to ensure they are cultivating a workplace where every partner can grow and thrive. McCarthy is also proudly committed to fair and equitable pay for all employees.
McCarthy has also developed a focus on securing the integrity of the construction industry not just for today but for years to come. Developing talent and fostering an interest in the construction industry is much more prevalent now than it had been in the early years. McCarthy team members actively engage with students in high school, college, and beyond to help educate them about opportunities within the construction industry and McCarthy. Classroom visits, project site tours, recruiting events and career fairs are just some of the ways McCarthy has engaged with students across Nevada.