Insights
M
c

Carthy To Build First Ismaili Center in the United States
The Ismaili Center was designed with environmental sustainability in mind and will seek LEED Gold certification.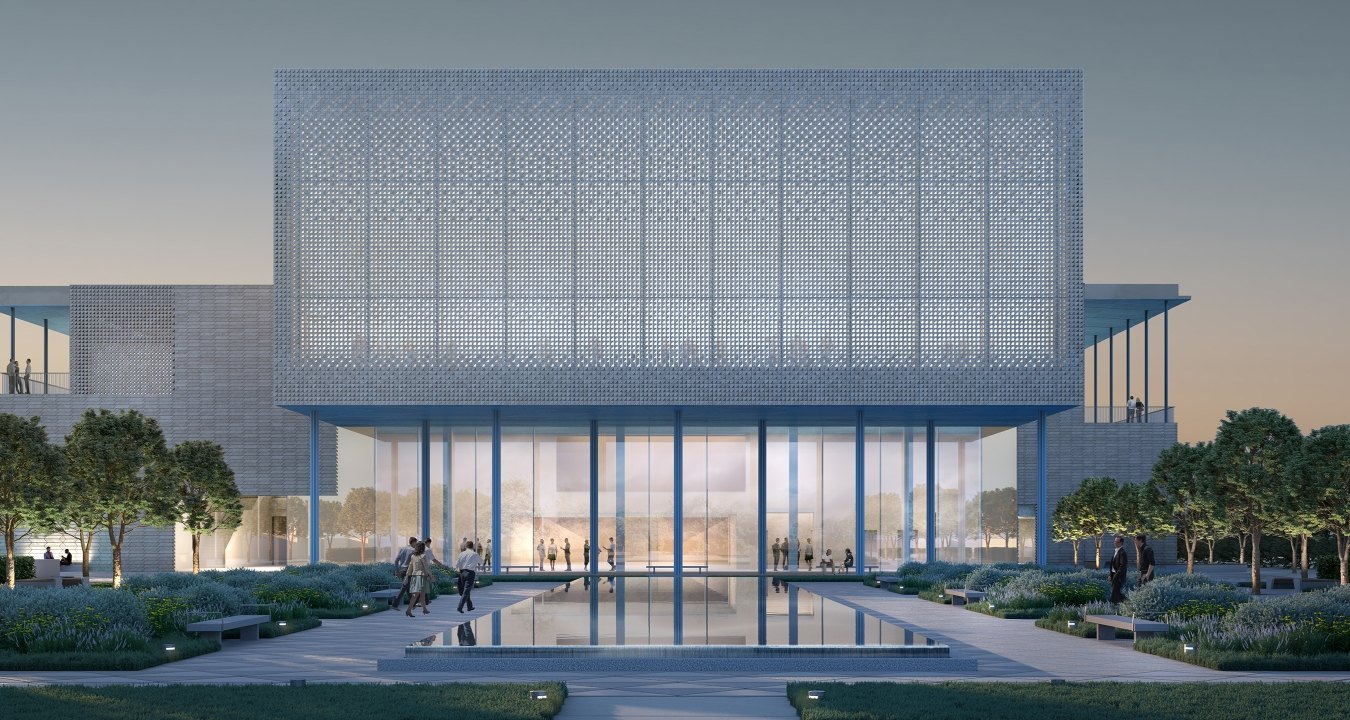 Rendering courtesy FMA Building and NBW Garden.
Ismaili Center Construction Project Is Underway
McCarthy Building Companies, Inc. has begun construction on the Ismaili Center in Houston. The first Ismaili Center in the United States, it joins six other centers in Dubai, Dushanbe (Tajikistan), Lisbon, London, Toronto, and Vancouver. With roughly 15 million Ismaili Muslims around the world, Texas has the largest concentration in the United States with over 40,000 members, the majority of which live in and around Houston. Spearheaded by the Aga Khan, the spiritual leader of the Shia Ismaili Muslims, the cultural center will serve as a gathering space open to all faiths.
"We hope that this center will serve as a gathering place for all who call Houston home," said Al-Karim Alidina, President of the Ismaili Council for the United States. "It will also serve as a place where our community can come together for prayers, spiritual search, and contemplation."
Ismaili Center Takes Root In Houston
Located at 2323 Allen Parkway along Houston's Buffalo Bayou, the Ismaili Center will consist of eleven acres of gardens, courtyards, and terraces and a 150,000-square-foot, five-story, tripartite building featuring three eivans, or elevated open terraces. Inside the building, there will be a main atrium, interior courtyards open to the sky, a prayer room or jamatkhana, library, social hall, exhibit hall, council chamber, black box theatre, classrooms, administrative offices, and a café and kitchen for catering events. The center also features a 155,000-square-foot, 600-car garage underneath the gardens.
Every detail of the center reflects Islamic design and its historically rooted, rich architectural heritage, combined with Western design that fits Houston's climate. The building's exterior is made of matte, sand-colored marble, crafted to create a clean patchwork of tessellated patterns. Ultra-high-performance concrete panels from Monterrey, Mexico make up the atrium, while light-colored stone from Turkey is meant to mimic the look of Texas limestone. Perforated concrete with German glass glazing behind it allows natural light to pour in while keeping the building cool. The result will allow the building to glow at night, lit from within. All concrete on the project, including sidewalks, feature custom finishes.
The center's prayer hall, measuring 115 by 115 feet, features a perforated metal ceiling, with three layers of millwork along the walls. The lobby features board form walls, where custom-cut strips of wood are installed at 29-degree angles to create a unique pattern. The eivans are supported by 49 star-shaped columns, the tallest of which is 50 feet.
The Ismaili Center was designed with environmental sustainability in mind and will seek LEED Gold certification. The campus is located adjacent to the Buffalo Bayou and within a flood zone therefore the overall site is shaped by a possible water event.  While the building itself is above the flood plain, the privacy wall that surrounds the gardens allows water in to mitigate flooding in the surrounding area. Landscaping is designed for a flood and native plants in the garden will work to filter stormwater.
Learn more about sustainable construction practices. 
"We're thrilled to be constructing the Ismaili Center, in what we hope will be a future Houston landmark and icon of cultural connection," said Winston Hesch, project senior superintendent for McCarthy. "The center offers unique construction challenges, not limited to the site itself along with intricate design details and extremely high-end finishes, but McCarthy has proven experience in providing state-of-the-art construction solutions to meet those challenges."
McCarthy is the general contractor on the project but is also self-performing all the concrete work, which is significant.
"There is a lot of concrete on this job from concrete floors, concrete encased steel to concrete form walls. It was important to McCarthy to do the concrete for quality control purposes especially as there are custom architectural concrete topping slabs and various colors, textures, and designs within the concrete work. None of the concrete work is standard, they all have custom finishes," said Hersch.
Multiple technology innovations are being used on the site, including building information modeling (BIM) for mechanical, electrical, and plumbing work. A 3-D model of the building was created to ensure each part of the construction process comes together at the right time, and a robotic total station created the layout of the jobsite, removing user error and ensuring all aspects of the site are accurate.
McCarthy broke ground on the project in October of 2021, with completion expected in the fourth quarter of 2024. The center is designed by U.K.-based Farshid Moussavi, the architect of record is Paul Westlake, and the gardens are designed by Thomas Woltz of Nelson Byrd Woltz Landscape Architects.
McCarthy has a long-standing history of building award-winning, complex, architecturally significant projects in the entertainment and arts industry. In addition to the Ismaili Center, McCarthy's Texas portfolio of entertainment and institutional projects includes the Museum of Fine Arts, Houston Kinder Building and the Glassell School of Art, the Holocaust Museum Houston, Kinder High School for Performing and Visual Arts, as well as the AT&T Performing Arts Center Dee and Charles Wyly Theatre in Dallas, Dallas' Klyde Warren Park located over Woodall Rogers Freeway and the Dallas City Performance Hall, among others.
Keep on the Ismaili Center project and other exciting McCarthy projects from across the country. Get our Insights newsletter delivered directly to your inbox. 
###
About McCarthy
McCarthy Building Companies, Inc. is the oldest privately held national construction company in the country – with more than 150 years spent collaborating with partners to solve complex building challenges on behalf of its clients. With an unrelenting focus on safety and a comprehensive quality program that span all phases of every project, McCarthy utilizes industry-leading design phase and construction techniques combined with value-add technology to maximize outcomes. Repeatedly honored as a Best Place to Work and Healthiest Employer, McCarthy is ranked the 9th largest domestic builder (Engineering News-Record, May 2020). With approximately 5,000 salaried employees and craft professionals, the firm has offices in St. Louis, Atlanta; Collinsville, Ill.; Kansas City, Kan.; Omaha, Neb.; Phoenix; Las Vegas; Denver; Dallas, Houston; and San Diego, Newport Beach, San Francisco, San Jose and Sacramento, Calif. McCarthy is 100 percent employee owned. More information about the company is available online at www.mccarthy.com or by following the company on Facebook, Twitter, LinkedIn and Instagram.