Insights
Renewable Opportunity: Solar Energy Reignites American Ingenuity
While generating carbon-free power through nature is nothing new, shifting to cleaner renewable energy sources has been a relatively slow and steady process — perhaps until now. 
By

Justin Kelton
President, Southwest Region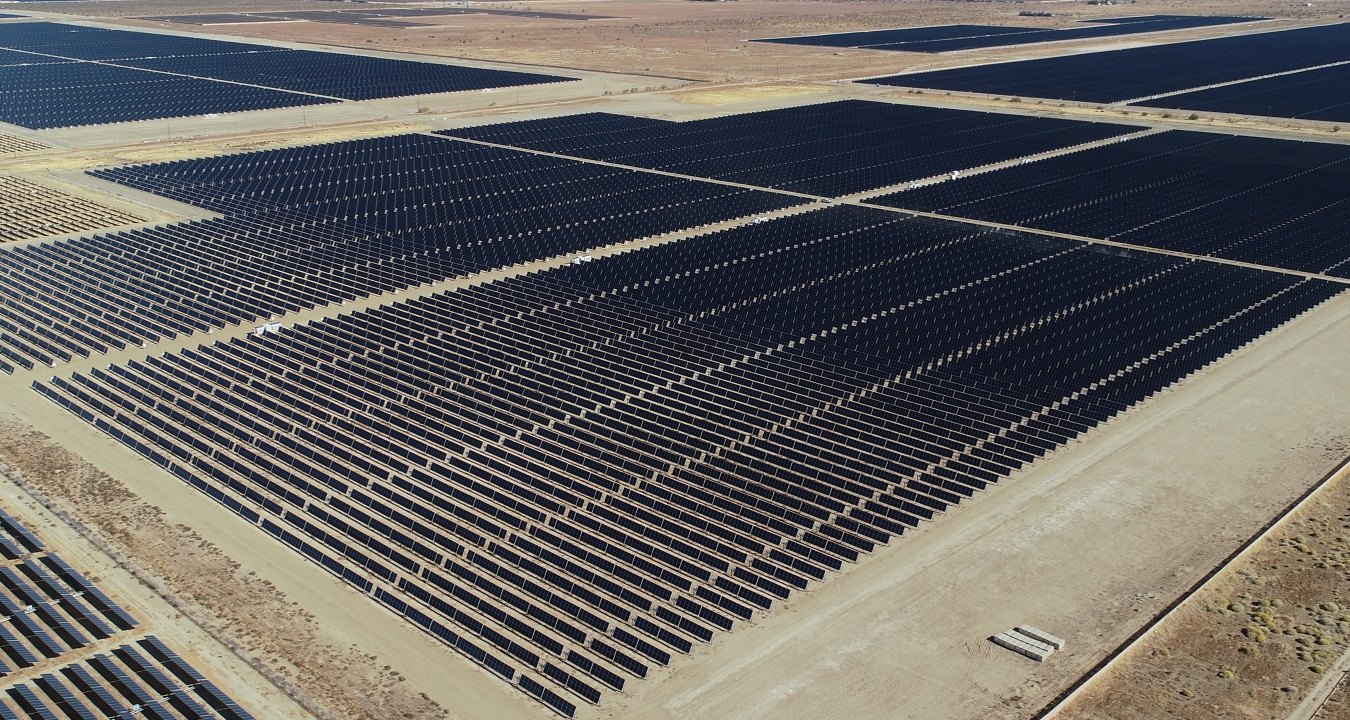 I can recall the first time I visited the Hoover Dam.
Shortly after ending my tour of duty with the U.S. Marine Corps, I moved to Arizona to join McCarthy and was driving from Phoenix to Las Vegas. Like most who see the dam, I was awestruck and inspired by the engineering marvel before me and drawn to take a closer look at its magnificence.
If you haven't seen it yourself, the enormous concrete structure is daunting and thoroughly inspiring. While I was relatively new to my career in construction, I could still comprehend the vast complexities required to build the dam and appreciated the determination of the engineers and construction workers who harnessed the power of the Colorado River.
The Hoover Dam still generates an average of approximately 4 billion kilowatt-hours of hydroelectric power each year, which is enough carbon-free energy to serve 1.3 million Americans. Completing the dam in 1936 was a pivotal point in American history and contributed significantly to the growth and development of communities across the west.
Now, we find ourselves with another opportunity to transform our nation's power infrastructure even faster and more profoundly through the development of solar power.  
The same principles that motivated the construction of the Hoover Dam nearly a century ago resemble the forces behind today's renewable energy power generation: economic growth, ingenuity, efficiency, excellence and determination.
While generating carbon-free power through nature is nothing new, shifting to cleaner renewable energy sources has been a relatively slow and steady process — perhaps until now. Over the past decade, the demand for renewable energy and the number of gigawatts (GW) from solar that have come online each year has grown rapidly. From just 0.34 GW in 2008, U.S. solar power capacity has grown to an estimated 97.2 gigawatts today.
Solar Energy Investment – Private and Public Sectors Back Renewable Energy
In the last ten years, U.S. businesses and top global brands have made historic investments in solar energy. As noted by solar industry trade association Solar Energy Industries Association (SEIA), the annual growth rate of the solar market is 33%, with many industry-leading brands – including Facebook, Apple, Google, Kaiser Permanente, Amazon and Walmart – investing in solar energy to predictably and cost-effectively power their operations.
Renewable Energy Is Sparking Economic Development
In the U.S., economic development organizations and forward-thinking legislators are recognizing the commitment to renewable energy made by businesses. These organizations and leaders are taking proactive steps in their communities to invest in utility-scale solar and renewable energy to attract these brands and stimulate new economic growth with jobs in the technology, manufacturing, retail and logistics fields, as well as the myriad industries that serve these business sectors.
As the cost to generate solar power continues its decline and our country is working through the economic challenges brought about by the pandemic, renewable energy investment couldn't come at a more critical time. 
Energy Advancements Through Ingenuity, Efficiency and Excellence
Since 2010, there has been an 82% decrease in the cost of utility-scale PV systems. Efficient solar energy is the reality today, not a future goal.
At McCarthy, we're embracing this opportunity by partnering with utilities, developers, businesses, other industry leaders and local communities to help make new energy infrastructure a reality. Key factors contributing to the success of this initiative are human contributions: ingenuity, efficiency and excellence. 
These characteristics have long been elements behind great innovations and progress. They remain essential drivers within the solar and renewable energy industry for building better energy generation and energy storage facilities because of the impact on cost-containment and more predictable energy costs.
Many expect the solar industry to realize exponential growth in the foreseeable future. With this continued expansion, it will be no surprise to see technological innovations continue to be developed and introduced at a rapid rate and positively impact costs, efficiency and quality.
At McCarthy, we've implemented five key practices to better ensure our partners and the life cycle of the facilities we build reap the benefits of new and innovative technology:    
1. Solar Site Evaluation and Planning
Early site evaluation and analysis provide a clear picture of the site conditions, as well as design and engineering limitations or impacting parameters of a project before construction begins. Investments in early-stage planning provide price and schedule certainty and detect issues that direct the type of products that may be used on a site.
For example, using a ground-penetrating laser on a rocky site helps us identify whether a traditional pile machine and tracking system are usable. The information helps us decide whether we need to shift our design to construct the project with a product like the fixed-tilt racking system using ground screw technology developed by Terrasmart, our partners on the Turquoise Solar plant located outside of Reno. This racking system is making previously undevelopable sites available for utility-scale solar projects, with appropriate design and planning.
Explore our renewable energy construction capabilities
2. Production Quality Improvements
Selecting the right components for a utility-scale solar or energy storage facility plays a critical role in energy production, storage and the life cycle of a facility, impacting the bottom line for owners and developers. Our teams have a system for evaluating the components we plan to use on every solar and energy storage project we build to ensure we're using the components that are the right fit for the project.
For example, the use of a GPS pile driving machine provides exact alignment of piles while helping lower costs. Similarly, new solar panel designs and control systems allow developers to fine-tune the type of PV to best suit the terrain and meteorological characteristics of the region. Every element – from nuts to bolts, to the type of tracker and beyond – affects energy production, quality and cost of a project. One of the most significant innovations developed by our in-house team is the string inverter, which allows for more consistent power production and ease of installation and replacement, lowering costs for our clients and future facility operators.
3. Third-Party Testing
Our project teams employ third-party consultants who work with our in-house design and engineering team during a project's planning phase. They thoroughly test every product's components before it is used to ensure it works for the project. In addition, a forensic structural engineer reviews all tracker data on a site and conducts a sensitivity analysis and report on each element before purchasing. This is a collaborative process, allowing us to customize our product/component selection to the project while addressing any design, engineering or site challenges. This process has a significant impact on the solar projects we build because we often discover efficiencies that can be incorporated into the project by selecting only the most ideal energy production components, resulting in increased quality and cost savings over the life of the project and beyond.
4. Design Optimization of Storage
Combined solar and storage facilities work more efficiently by using an algorithm to control the timing of the system.  This practice not only increases energy storage and lowers maintenance costs, but it also has a positive impact on schedule, profitability, quality and energy production, providing additional benefits to the owner and the communities served by utility-scale solar and energy storage projects.
5. Expansive Workforce Growth – Renewable Energy Jobs
Just as the construction of the Hoover Dam contributed to the west, the solar industry is creating clean energy infrastructure for the entire country. Perhaps the greatest hurdle to achieving this massive energy transformation is rooted in the recruitment and training of a talented craft workforce.
Current industry analysis confirms the US is on the right path, with more than 255,000 full-time workers employed by the solar industry. IEA careers and employment data offer an exciting look at employment forecasts for the next decade. SEIA's jobs report projections from July 2020 estimate that more than half a million workers will find jobs in renewable energy by 2025, doubling the number employed in 2020.
Industry advocates are working to achieve a projected investment of $200 billion into the economy over the next five years with the implementation of smart federal and state policies. These efforts couldn't come at a more opportune time for individuals and families who find themselves struggling to find work after being displaced from jobs in sectors most heavily impacted by the pandemic and subsequent economic downturn.
McCarthy's Commitment to Solar Energy Job Training
At McCarthy, we have a long history of developing award-winning training programs. We've established a nationally accredited Solar Training and Mentoring Program and are partnering with various groups to attract and train workers in solar construction across the country. Together, we're working with the Solar Foundation, community organizations, trade schools, community colleges and veterans organizations to provide training and job opportunities that can open the doors for new and rewarding careers in one of the fastest-growing industries in America.
Renewable Energy Jobs with McCarthy
We plan to hire thousands of workers in the coming years as our solar teams prepare to meet the country's growing demand for solar energy. Thanks to the effectiveness of McCarthy's certified training program, those who enter our Solar Training and Mentoring Program will receive training in solar construction and have the opportunity to grow into leadership roles through our journeyman apprentice programs.
Several years in the works, McCarthy's Solar Training and Mentoring Program is producing great results on projects in Michigan, California, Georgia, Nevada and Colorado while being introduced in other states as well, including Texas, Illinois and Arizona.
Our program works at the individual's pace through a methodology of "learn, perform and repeat," as task implementation and quality are mastered. Career advancement opportunities are a major focus. Teams are seeing great results not only in the overall project construction but also in the form of project morale and leadership development of craft workers as individuals rise to project challenges, take on new responsibilities and share in recognition as project milestones are achieved.  
The recruitment and training of crews on our Assembly solar project in Michigan have inspired strong morale across the job site. This was achieved through team building, incentive-based initiatives, Lean Construction tutorials and themed days such as "Western Wednesdays" and "Freedom Fridays".  We recognize craft achievements, keeping everyone engaged. Because of the effective processes for training craft workers, developing leaders and establishing a work environment where everyone feels a sense of accomplishment in their role of building our country's new clean power infrastructure, our teams have a true sense of the contributions they are making to the success of the industry. They also are building a new clean power infrastructure, helping their community grow and succeed.
A Historic Opportunity to Build a More Resilient Future
Just as the workers who built the Hoover Dam were instrumental in developing the west so many years ago, today's solar construction craft workers are building our entire country's clean energy future. When I visit solar farms and energy storage facilities, I'm reminded of the impact our projects and people have on future generations.
Thanks to the ingenuity and dedication of so many in the solar energy industry, the impact of work being done today will transform the energy future of our country for years to come. As an industry partner, McCarthy is working diligently to support and bring new innovations to market and enhance the quality and performance of our nation's power infrastructure while also investing in people's careers that further their growth and the economic development of communities across the country.
###
About the Author
Justin Kelton leads all company operations within McCarthy's Southwest Region, including Arizona, Nevada, New Mexico and Colorado. His career with McCarthy began as a laborer on a hospital construction project. After several years in the trades and service in the United States Marine Corps, Justin became a project engineer with McCarthy in 2001. He served in numerous leadership roles prior to his current position, including project director, vice president, senior vice president and executive vice president. He has been instrumental in developing and expanding the region's education services, including the launch of Job Order Contracting, and McCarthy's national solar, healthcare, municipal and commercial market sectors. He serves as a board chair of the American Heart Association's Greater Phoenix Chapter and the Support Sky Harbor Coalition, and is a member of the Arizona Builder's Alliance, American Society of Civil Engineers and WESTMARC. Justin earned a civil and environmental engineering degree from Vermont Technical College.