Insights
Phoenix-Mesa Gateway Airport's $28 Million, 5-Gate, 30,000-SF Terminal Addition Reaches Topping-Out Milestone
General contractor McCarthy and DWL Architects + Planners recently celebrated the topping-out milestone at Phoenix-Mesa Gateway Airport's (Gateway Airport) new 30,000-square-foot, five-gate terminal modernization project.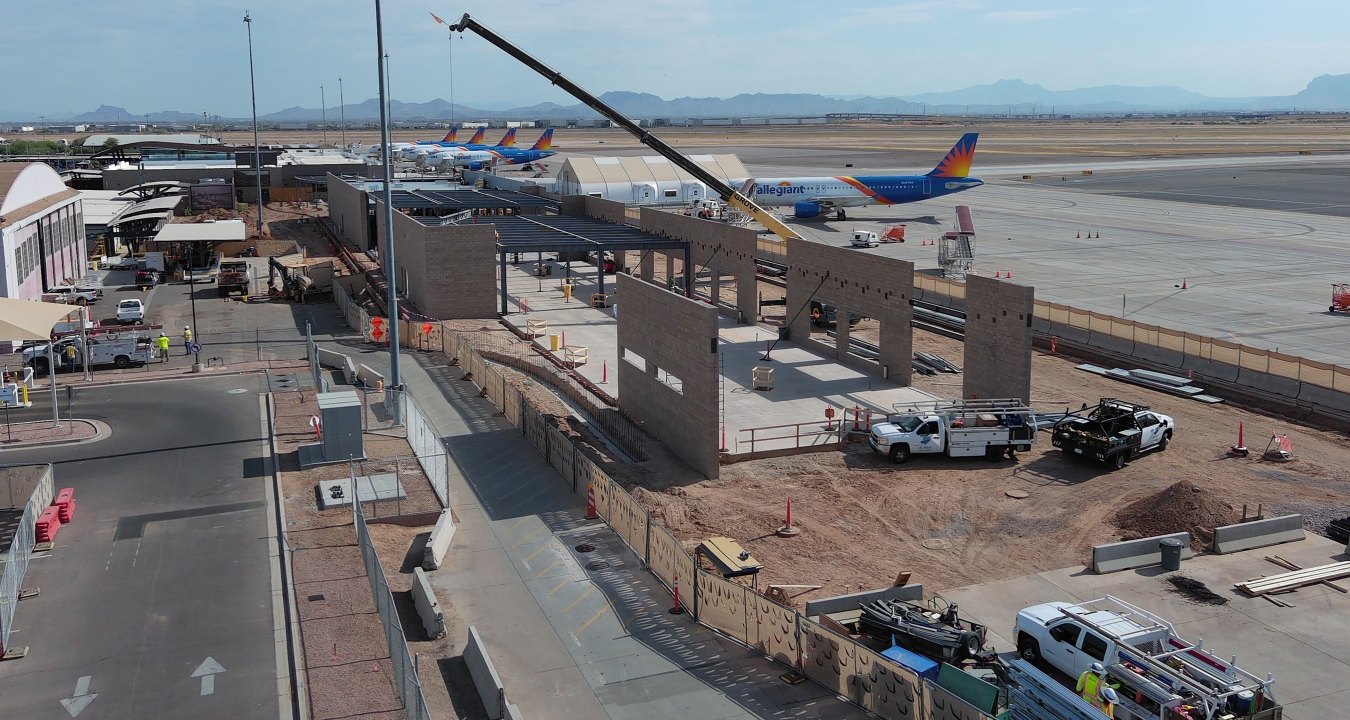 The approximately $28 million project, which is being partially funded by a federal grant from the Bipartisan Infrastructure Law (BIL), replaces a 13-year-old temporary structure and, once completed, will provide Gateway Airport with a larger, modern, energy-efficient, and ADA-enhanced commercial passenger facility designed to accommodate future growth. 
Gateway Airport has become a hub for economic development in metro Phoenix, bringing an estimated $1.8 billion annually to the Valley. The airport saw double-digit passenger growth in fiscal year 2023 (FY23) with 1.9 million passengers, a 5.6% increase over FY22 (a previous high). Seven of the 12 months had record-setting passenger activity.
Currently, Gateway Airport has nine gates, including three that were added in late 2022 as part of a temporary prefabricated addition that McCarthy completed late last year to handle increased capacity during the busy holiday travel season. New airlines, new flights, and record-setting passenger activity require the airport to expand its terminal to keep up with its growing popularity.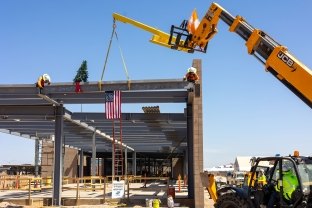 "This terminal addition is critically important as Gateway Airport continues to set new commercial passenger growth records," said Gateway Airport Executive Director/CEO J. Brian O'Neill, A.A.E. "The topping-out ceremony means we're that much closer to opening our new terminal space." 
The new terminal expansion will be connected via an impressive pedestrian glass walkway connecting the airline ticket counters to the TSA Security Screening Checkpoint. It will also include new retail and concession space. The project is expected to be completed in February 2024, in time for the busy spring travel rush. 
"Celebrating the topping-out for this important economic engine in the East Valley was a special milestone for our team members, many of whom live in the East Valley," said Thomas Assante, a Mesa resident and project director for McCarthy Building Companies. "We remain focused on eliminating disruption of airport operations to ensure an uncomplicated passenger experience throughout this construction project, and we look forward to completing the project on time and on budget." 
Gateway Airport is currently served by two domestic airlines offering nonstop jet service to more than 45 popular destinations across the U.S. and Canada. The airport welcomes approximately 2 million passengers each year and contributes more than $1.8 billion annually to the regional economy. 
For more information about Phoenix-Mesa Gateway Airport, please visit gatewayairport.com.
About McCarthy 
McCarthy is the oldest privately held national construction company in the country – with nearly 160 years spent collaborating with partners to solve complex building challenges on behalf of its clients. With an unrelenting focus on safety and a comprehensive quality program that span all phases of every project, McCarthy utilizes industry-leading design phase and construction techniques combined with value-add technology to maximize outcomes. Repeatedly honored as a Best Place to Work and Healthiest Employer, McCarthy is ranked the 19th largest domestic builder (Engineering News-Record, May 2023). With approximately 6,000 salaried employees and craft professionals, the firm has offices in St. Louis; Atlanta; Collinsville, Ill.; Kansas City, Kan.; Omaha, Neb.; Phoenix; Las Vegas; Denver; Austin, Channelview, Dallas, and Houston, Texas; and San Diego, Newport Beach, Los Angeles, San Francisco, San Jose and Sacramento, Calif. McCarthy is 100% employee owned. More information about the company is available online at www.mccarthy.com or by following the company on Facebook, Twitter, LinkedIn and Instagram.