Insights
Phoenix-Mesa Gateway Airport Flies On During Expansion
When the terminal addition is complete in February 2024, the structure will be repurposed for continued airport use.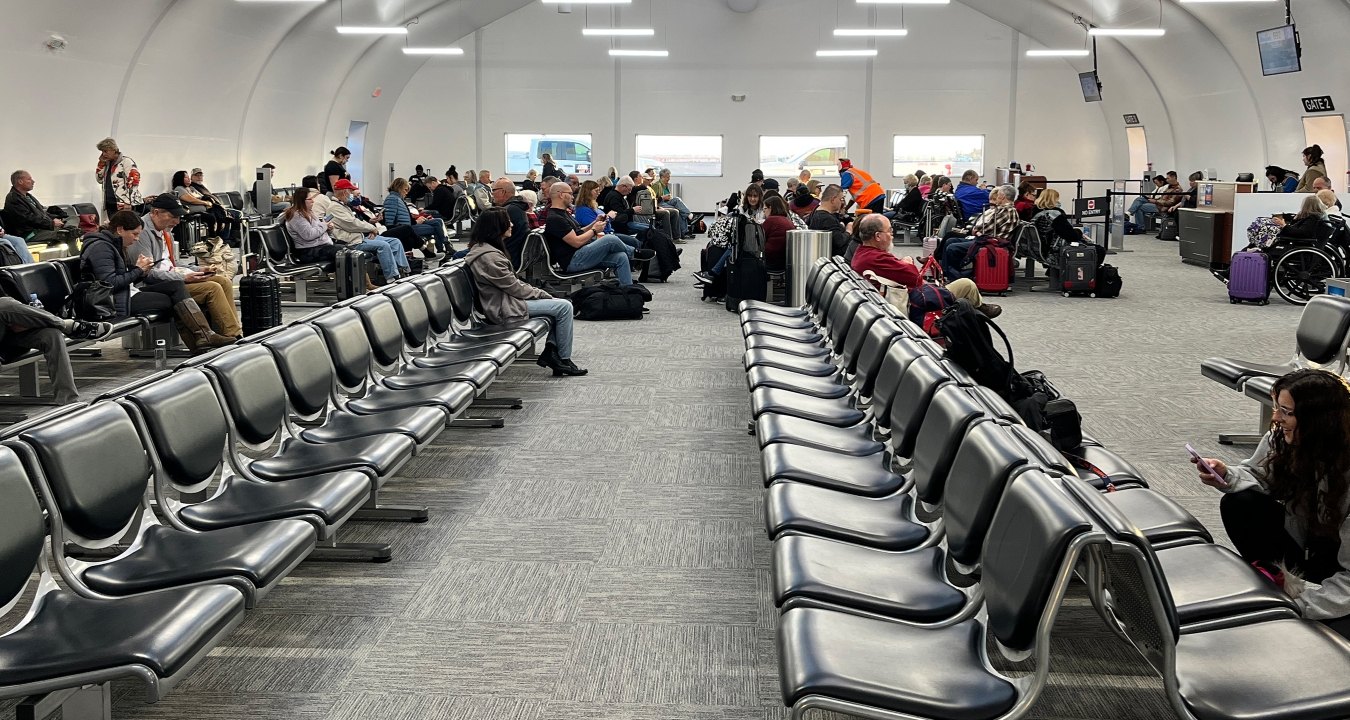 Just in time for the busy winter/spring travel season when hundreds of thousands of visitors descend upon the Valley for vacation, the WM Phoenix Open and Super Bowl 2023, Phoenix-Mesa Gateway Airport (Gateway Airport) and local general contractor McCarthy Building Companies have constructed a temporary tension fabric structure to accommodate an increasing number of passengers at the growing airport during its terminal expansion project. The structure provides passengers with comfortable space for efficient travel and allows Gateway Airport to maintain normal operations during construction.
Temporary Prefabricated Facility Keeps Flights On Time
The new, three-gate, 6,300 square-foot temporary prefabricated facility includes security access controls, free Wi-Fi, a PA system, HVAC, flight information displays, charging stations, and seating for over 300 air travelers. The facility was constructed in less than two months and in advance of the busy holiday travel period. It's part of the approximately $28 million terminal expansion project, partially funded by a federal grant from the Bipartisan Infrastructure Law (BIL).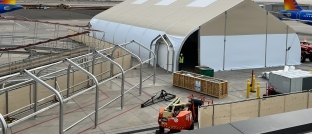 Gateway Airport is experiencing record passenger activity and welcomed approximately 2 million total passengers through its doors in 2022. This new temporary structure will provide Gateway Airport's airlines with the space necessary to maintain operations and minimize disruptions while the airport's terminal expansion project is underway. When the terminal addition is complete in February 2024, the structure will be repurposed for continued airport use.
"We are excited to begin construction of our new, modern, five-gate, 30,000-square-foot terminal addition," said Airport Director J. Brian O'Neill, A.A.E. "This much-needed project replaces a substandard, 10,000-square-foot portable facility and will allow the airport to keep pace with continued record growth in the future."
"The expansion project is a complex expansion with airside work, and the temporary structure is an integral part of the project strategy. Our Terminal Modernization project team was able to build the temporary holding room structure in a short timeframe within the fully operational Gateway Airport, which necessitated that our team execute it seamlessly and operate within stringent safety guidelines," said Thomas Assante, project director for McCarthy Building Companies. "Our goal is to execute our construction strategy for the modernization while ensuring non-disruption of airport operations and an uncomplicated passenger experience, and successfully completing the temporary holding structure was an initial part of the plan." 
Gateway Airport is currently served by five domestic and international airlines offering nonstop jet service to more than 50 popular destinations across the U.S. and Canada. The airport welcomes approximately 2 million passengers annually and contributes more than $1.8 billion to the regional economy.
For more information about Phoenix-Mesa Gateway Airport, please visit gatewayairport.com.
About McCarthy 
McCarthy Building Companies, Inc. is the oldest privately held national construction company in the country – with nearly 160 years spent collaborating with partners to solve complex building challenges on behalf of its clients. With an unrelenting focus on safety and a comprehensive quality program that span all phases of every project, McCarthy utilizes industry-leading design phase and construction techniques combined with value-add technology to maximize outcomes. Repeatedly honored as a Best Place to Work and Healthiest Employer, McCarthy is ranked the 19th largest domestic builder (Engineering News-Record, May 2022). With approximately 6,000 salaried employees and craft professionals, the firm has offices in St. Louis; Atlanta; Collinsville, Ill.; Kansas City, Kan.; Omaha, Neb.; Phoenix; Las Vegas; Denver; Austin, Channelview, Dallas, and Houston, Texas; and San Diego, Newport Beach, Los Angeles, San Francisco, San Jose and Sacramento, Calif. McCarthy is 100 percent employee owned. More information about the company is available online at www.mccarthy.com or by following the company on Facebook, Twitter, LinkedIn and Instagram.