Insights
M
c

Carthy Mobilizes Workforce for New Agave Solar Project for APS in Southwest Maricopa County
Workers will assemble, install and wire horizontal Nextracker single axis trackers supporting approximately 424,000 First Solar Series 6 modules.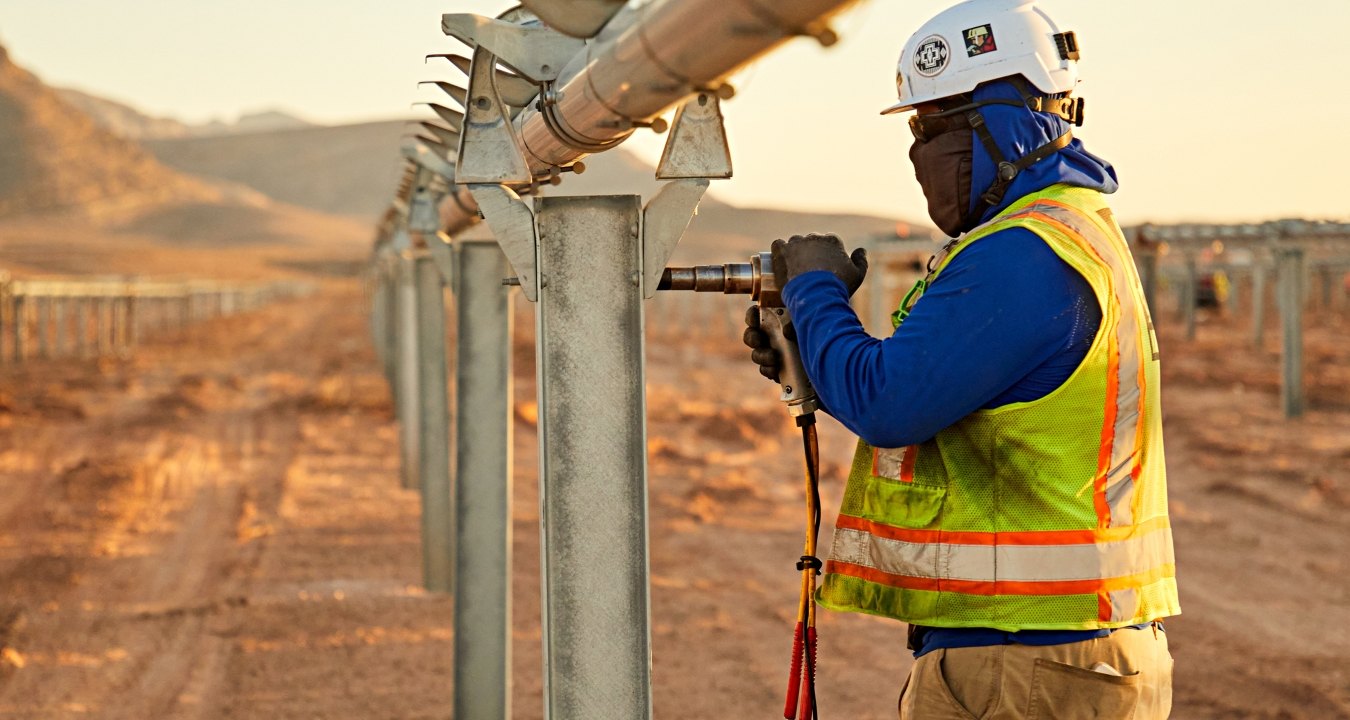 McCarthy Building Companies Inc. is mobilizing its workforce on the new Agave Solar Plant, a 150-megawatt (MWac) solar facility located in Arlington, Ariz., in the southwestern part of Maricopa County. Secured as the EPC (Engineering, Procurement and Construction) contractor by Arizona Public Service Company (APS) to construct the 1,423-acre project, the project team is scaling up its workforce and will peak at approximately 200 local workers.
"As a nationally ranked solar leader, we're taking advantage of Arizona's sunshine and making important investments in our system to serve our fast-growing communities with affordable, reliable and clean energy now and well into the future," said APS Director of Renewable Generation Jim Piotrowski. "Partners like McCarthy Building are helping us expand our existing portfolio of 10 utility-scale solar plants and harness the close to 300 sunny days a year in our state to make progress on our commitment to power homes and businesses with 100% clean, carbon-free electricity by 2050."
Bringing Renewable Energy Jobs to Maricopa 
The Agave Solar project brings far-reaching economic benefits to the local craft workforce. The McCarthy team is prioritizing recruiting local workers and U.S. veterans for positions by recruiting at "Hiring Our Heroes" events organized by the Solar Energies Industry Association. Area residents and military veterans interested in working on one of these solar projects should visit www.McCarthy.com/careers/search-careers, and search "solar and renewable" and the project's city to find job postings for positions ranging from entry-level to experienced, including laborer, installer, operator, crew lead, electrician and journeyman electrician.
Workers will assemble, install and wire horizontal Nextracker single-axis trackers supporting approximately 424,000 First Solar Series 6 modules. U.S. solar tracker manufacturer Nextracker recently expanded and reconfigured a facility from Atkore in Phoenix with a production line dedicated to Nextracker. The facility is producing steel tracker components for utility-scale solar projects, including for the Agave Solar Plant. In addition, the Agave Solar project is using Sungrow Inverters, ABB inverter transformers and working with trade partners at Blount Contracting for civil work and American Fence for fencing the project.  
"McCarthy is proud to be assisting APS in expanding solar infrastructure in Arizona while providing jobs, training and workforce development for hundreds of local individuals within the metro Phoenix area," said McCarthy Renewable Energy & Storage project director Steve Gotschall. "We have a long history of delivering renewable energy projects within Arizona for APS, as well as for utility-scale projects across the country. It is extremely rewarding to help develop and train the future workforce in the fast-growing solar energy field right here in our own backyard."  
In addition to recruitment and on-site skills training, McCarthy's training emphasizes a culture of safety and is developed with an eye toward fostering a long-term career path – an approach and philosophy that is shared by all project partners.  
Agave Solar Plant By The Numbers
When fully operational, in the summer of 2023, Agave Solar Plant will be capable of generating enough clean energy to meet the consumption of up to 24,000 average Arizona homes. This is equivalent to avoiding more than 194,970 metric tons of CO2 emissions annually, representing the greenhouse gas emissions from 42,010 passenger vehicles driven over the course of one year.  
McCarthy's Renewable Energy and Storage group also completed the 40 MW Red Rock Solar Plant, 10 MW Desert Star Solar Plant, 10 MW Luke Air Force Base Solar Plant, 14 MW Hyder II Solar Plant, 18 MW Cotton Center Solar Station and the 21.7-MW Chino Valley Solar Plant for APS in Arizona. The group is currently constructing or has completed nearly 80 utility-scale clean energy projects in communities across the country since 2010, delivering a combined capacity of more than 8.8 gigawatts (GW) of clean energy production and over 775 MW of energy storage. Nationally, McCarthy provides EPC services on utility-scale solar projects for private solar developers and utilities, helping them deliver cost-effective clean energy to the communities they serve.   
About McCarthy
McCarthy Building Companies Inc. is the oldest privately held national construction company in the country – with nearly 160 years spent collaborating with partners to solve complex building challenges on behalf of its clients. With an unrelenting focus on safety and a comprehensive quality program that span all phases of every project, McCarthy utilizes industry-leading design phase and construction techniques combined with value-add technology to maximize outcomes. Repeatedly honored as a Best Place to Work and Healthiest Employer, McCarthy is ranked the 19th largest domestic builder (Engineering News-Record, May 2022). With approximately 6,000 salaried employees and craft professionals, the firm has offices in St. Louis; Atlanta; Collinsville, Ill.; Kansas City, Kan.; Omaha, Neb.; Phoenix; Las Vegas; Denver; Austin, Channelview, Dallas, and Houston, Texas; and San Diego, Newport Beach, Los Angeles, San Francisco, San Jose and Sacramento, Calif. McCarthy is 100 percent employee owned. More information about the company is available online at www.mccarthy.com or by following the company on Facebook, Twitter, LinkedIn and Instagram.