Insights
UC Davis Health Inaugurates State-of-the-Art Eye Institute
The Ernest E. Tschannen Eye Institute Building will accelerate UC Davis Eye Center's achievements in leading-edge vision research and clinical applications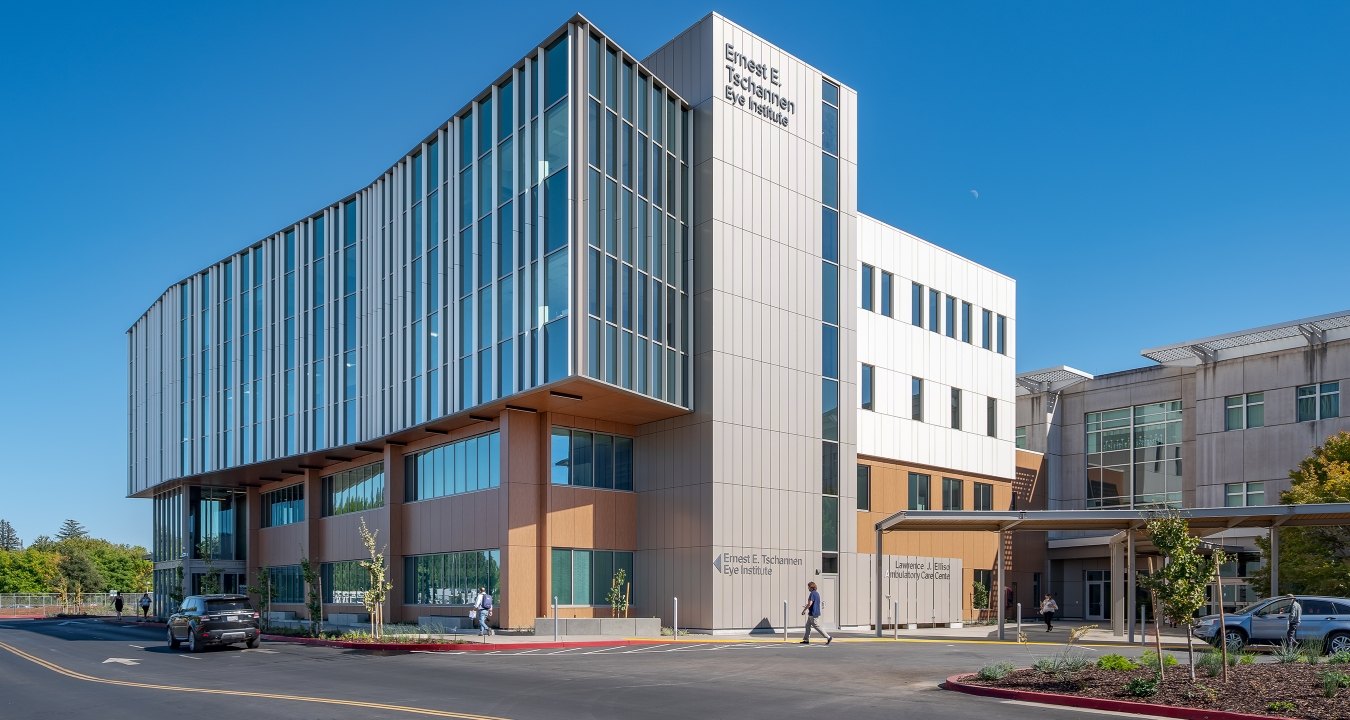 The Ernest E. Tschannen Eye Institute Building will accelerate UC Davis Eye Center's achievements in leading-edge vision research and clinical applications 
UC Davis Health celebrated the opening of the new Ernest E. Tschannen Eye Institute Building and expansion of the Ambulatory Care Center on Dec. 5, 2022. The facilities are providing hope to the vision-impaired for sight restoration through advanced technology, pioneering research and some of the world's best eye care clinicians. Designed by the national multi-disciplinary firm, HGA, in partnership with San Francisco design firm TEF — the facility consolidates all of the nationally ranked UC Davis Health Eye Center's strengths under one roof, including optometry and ophthalmology patient care, clinical research and training, and departmental offices. The project was delivered under a design-build model led by McCarthy Building Companies, Inc. and supported by Vanir Construction Management.
Eyeing the Future: Ernest E. Tschannen Eye Institute Building Bring Ocular Care to UC Davis
The project was launched with a substantial gift from Ernest E. Tschannen, who had his sight restored by a clinician from the center, and additional funding from UC Davis Medical Center and other generous donors. The Ernest E. Tschannen Eye Institute Building now offers state-of-the-art facilities in which the Eye Center's world-class clinicians can provide transformational eye care, as well as train future ophthalmologists to treat generations of patients. Furthermore, the building provides the Eye Center's leading vision scientists — 100 percent of whom are funded by the National Eye Institute — the ability to increase capacity for clinical trials by 50 percent.
Located in Sacramento, California, the Ernest E. Tschannen Eye Institute Building is a carefully balanced integration of a partial renovation of the existing Ambulatory Care Center (ACC) with a major new addition. The 78,500-square-foot building reserves a floor of clinics for general medical center use as an expansion of the ACC. It includes 64,160 square feet of space dedicated to Eye Center operations, including physician offices and conference areas.
"With this magnificent new institute, the Eye Center will continue to transform vision care for our patients by combining leading-edge vision research and groundbreaking clinical care under one roof," said Mark Mannis, the Fosse Endowed Chair in Vision Science Research and professor and chair of the UC Davis Department of Ophthalmology. "We are thankful for the generous donations, hard work and dedication that made the vision a reality."
Bringing Inspired Vision to Life
The design approach for the Ernest E. Tschannen Eye Institute Building started with close collaboration with the Eye Center's clinicians and scientists to understand their unique needs and to establish critical criteria for designing the space. The team of consultants included architect Chris Downey, who lost his sight in 2008 and has since dedicated his career to enriching the environment for the vision impaired. Downey's insights were key to HGA's and TEF's implementation of empathic design principles, as he shared important information with the team on how the vision impaired engage with spaces, evaluating the design from a perspective similar to many who will ultimately interact with it. The resulting patient-focused design for the new Eye Center offers a comfortable and intuitive experience for all.
"Bringing UC Davis Health Eye Center's new facilities to life has truly been a fulfilling experience for all of the consultants involved," said Greg Osecheck, HGA's principal-in-charge. "From day one, we knew the spaces we were creating had the potential to dramatically improve the lives of clinicians, patients and vision scientists alike, and it was an honor to work closely with all of our project partners to ensure their usefulness long into the future. We're hopeful that the new Ernest E. Tschannen Eye Building and its supporting spaces will give rise to some of medicine's most transformational eye care solutions."
"Working with the medical leadership of the Eye Center was one of the most challenging and rewarding experiences of my professional life. Emulating the passion and dedication of the medical team, their patient-first approach, and the care with which they considered every detail of the clinical setting made our contributions to the quality of the patient experience meaningful and rewarding," added Alyosha Verzhbinsky, FAIA, TEF's principal-in-charge.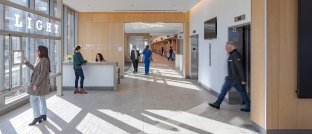 From the exterior, the design establishes a strong identity for the Ernest E. Tschannen Eye Institute Building, unique within the medical campus context and distinct from the adjoining ACC. Striving to balance both comfort and inspiration, the warm, nature-toned exterior materials at the base and dynamically folding clear glass curtainwall above create a welcoming and uplifting environment. Intuitive design solutions start with the arrival experience at the Eye Center's multi-story glass entry, located on the prominent building corner.
Inside the Eye Center, all clinic waiting and reception areas are located off of a unified circulation spine running the length of the building, aiding with wayfinding and seamlessly connecting the clinics in the new building with those in the renovated areas. This solution also takes advantage of the access to nature with the circulation spine running parallel to an exterior landscaped promenade. This strong spatial organization strategy — along with the use of standardized, multi-functional room sizes — provides the additional benefit of total flexibility for the Eye Center's clinics, allowing the particular program extents to be reconfigured to their needs over time.
The Ernest E. Tschannen Eye Institute Building maintains a variety of other patient-centered components designed to both soothe and support patients, including:
High-contrast colors and textures throughout the building to support better wayfinding
Common spaces that radiate comfort and inspire patients throughout their visit, including home-like furnishings
Biophilia, such as natural diffused daylighting, as well as patterns and views that connect patients with nature, as the use of filtered daylighting is particularly critical for the sight-impaired patient population, some of whom have their eyes dilated during their visit
Wayfinding elements including natural materials and daylighting contribute to the legibility of the Eye Center's patient and physician circulation, reducing patient anxiety and measurably improving health outcomes
Amenities include an optical shop, outdoor terrace and exterior promenade connected to the parking structure with artwork, wall seating and lighting
The collaborative design-build project brought together HGA as the executive architect, managing the project and leading architectural design, TEF's committed involvement in early overall project conceptualization, as well as leading the programming and interior planning, and design, and McCarthy as the general contractor facilitating cross-team collaboration throughout the duration of the pre-construction and construction process.
"As we continue to collaborate with the UC Davis Health System to create spaces that help improve patient outcomes and better the community, we're especially proud of the work that our teams have achieved together to create the new Ernest T. Tschannen Eye Institute," says Ian McQuoid, Senior Vice President of Operations at McCarthy Building Companies, Inc. "The new building will not only enable the Ophthalmology Department at UC Davis Medical Center's Sacramento campus to achieve patient care excellence and improve the patient experience, but it will also increase operational efficiency for UC Davis Health."
HGA's project team included Greg Osecheck, principal-in-charge; Kevin Day, design principal; Philip Johnson, project manager; Ashley Hiers, interior designer; and Jimmika Johnson, interior designer.
TEF's project team included Alyosha Verzhbinsky, FAIA, principal-in-charge; Bobbie Fisch, interiors consulting principal; Patrick Rakszawski, project architect and lead planner; and Paul Loeffler, project interior designer.
McCarthy's project team included Ian McQuoid, senior vice president operations; Kevin Black, vice president operations; Jeff Dill, project director; Naomi Whitesel, vice president integrated design; Nate Edwards, project superintendent.
Additional partners included Vanir, construction management services; Siegfried Engineering, civil engineering; Buehler, structural engineering; Quadriga, landscape architecture; Guttman & Blaevoet, mechanical, engineering and plumbing; and The Acoustics and Vibration Group, Inc., acoustics consulting.
The Ernest E. Tschannen Eye Institute Building is currently targeting LEED Gold certification.
About UC Davis Eye Center — The Eye Center provides world-class eye care, pioneers collaborative vision research, and trains the next generation of specialists and investigators to become leaders in the Sacramento region and beyond. The Eye Center team aims to transform vision care and develop cures for blinding eye diseases, from cornea to cortex. For more information, visit UC Davis Eye Center.
About HGA — A national interdisciplinary design firm committed to making a positive, lasting impact for our clients and communities through research-based, holistic solutions. We believe that great design requires a sense of curiosity — forming deep insight into our clients, their contexts, and the human condition. We are a collective of over 1,000 architects, engineers, interior designers, planners, researchers, and strategists. Our practice spans multiple markets, including corporate, cultural, education, local and federal government, healthcare, and science and technology. For more information, visit HGA.com
About McCarthy Building Companies, Inc. — The oldest privately held national construction company in the country – with nearly 160 years spent collaborating with partners to solve complex building challenges on behalf of its clients. With an unrelenting focus on safety and a comprehensive quality program that span all phases of every project, McCarthy utilizes industry-leading design phase and construction techniques combined with value-add technology to maximize outcomes. For more information, visit mccarthy.com
About TEF Design — Celebrating 25 years, the San Francisco–based architecture and interior design practice serves clients throughout California. Their diverse portfolio encompasses projects for healthcare, education, government, housing, commercial, and corporate clients. Through authentic collaboration and a commitment to craftsmanship, value, and environmental responsibility, the firm's staff of 35 creates caring design solutions that deepen human connection, strengthen community, and advance the purpose of their clients. For more information, visit www.tefarch.com.