Insights
M
c

Carthy Completes Mirabella at ASU on the Arizona State University Tempe Campus
Mirabella at ASU is a Life Plan Community, providing residents with an on-site healthcare continuum designed to meet their needs as they age, including Assisted Living and Memory Support programs.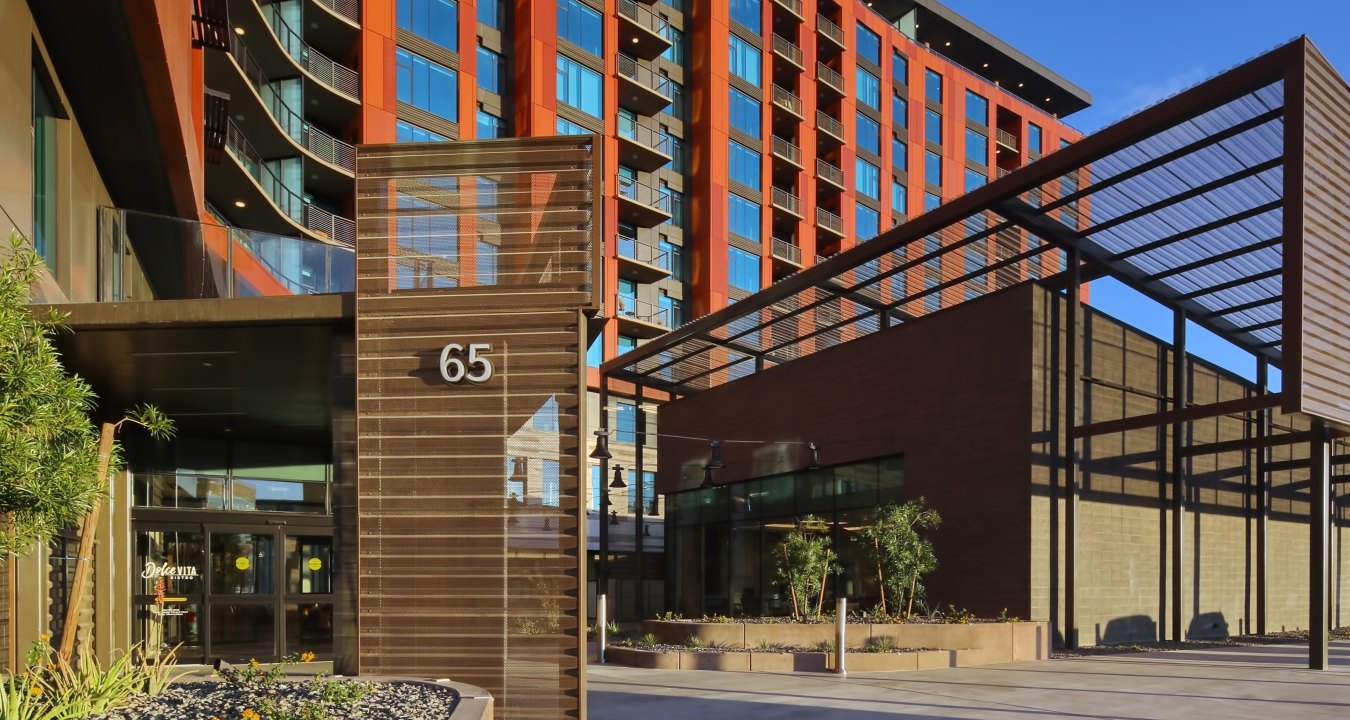 McCarthy Building Companies recently completed Mirabella at ASU, a first-of-its-kind intergenerational community for older adults, on the campus of Arizona State University in Tempe, Arizona. Founding members are moving into the 20-story residence in phases now through the spring.
The Next Chapter in Senior Living
Mirabella at ASU is the culmination of an innovative partnership between Pacific Retirement Services, Arizona State University and University Realty LLC. Representing a paradigm shift in senior living, this groundbreaking community provides residents with resort-style services and amenities along with personalized access to lifelong-learning opportunities, mentorships and integration with the ASU Community. ASU students will also engage with the residents and activities at Mirabella.
"Mirabella at ASU represents a dynamic new chapter in senior living," said Eric Sholty of Pacific Retirement Services. "We're thrilled to welcome our Founding Members to their new homes, and can't wait to see all the ways they take advantage of life at this exciting new member of the Pacific Retirement Services family of communities."
Designed by Ankrom Moisan Architects and built by McCarthy, this $252 million, 613,000-square-foot community includes approximately 250 independent-living residences, four restaurants, healthcare facilities, common spaces and more.
At the heart of the Mirabella at ASU experience is the access that residency provides to ASU academics and campus amenities. Living right on campus means residents have a finger on the pulse of university life while sharing knowledge, energy and experiences with the students who call ASU home. Opportunities to elevate the continued-learning experience abound, from access to more than 5 million books in the ASU library system to shows at the historic ASU Gammage theater and beyond.
"ASU wants its students to become master learners, meaning individuals who are capable of learning and adapting throughout their whole lives," said Lindsey Beagley, lifelong university engagement director at Mirabella at ASU. "Our residents are people who know that learning doesn't stop after they graduate, or they've concluded their professional careers. This is an opportunity to integrate master learners into our campus environment, which is a win-win for everyone."
Mirabella at ASU is a Life Plan Community, providing residents with an on-site healthcare continuum designed to meet their needs as they age, including Assisted Living and Memory Support programs. A Skilled Nursing and Rehabilitation Center is also on-site to help residents transition from a hospital stay back home, or for longer-term care, if needed.
"It was a privilege to be involved with the Mirabella partners to build this landmark that will have a significant impact on the Greater Phoenix community and offer lifelong learning opportunities for older generations on ASU's Tempe campus," said Chris Nickle, executive vice president of McCarthy Building Companies' Southwest region. "We are particularly proud of the great work provided by our team members and trade partners who worked tirelessly and safely to ensure the vision that was set forth through this dynamic collaboration would become a reality for residents, welcome to your new home!"
Major trade partners include Buesing Corp., Castle Contracting LLC, Delta Diversified Enterprises Inc., ISEC, inc., KT Fabrication Inc., Berg, E&K and Schuff Steel. For more information, visit www.retirement.org/mirabella-asu.
COVID note: As a part of the ASU Community, Mirabella at ASU will closely follow public health and safety recommendations, and opens with a number of safeguards and policies in place to prevent the spread of COVID-19. Masks are mandatory for all staff, as well as for residents when outside of their residences. Additionally, social distancing protocols are in place, including limited occupancy in common areas, meal delivery service, and capacity limits in elevators. Mirabella at ASU offers residents on-site COVID-19 testing, saving them a trip to an outside clinic or other facility.
About McCarthy Building Companies: McCarthy is the oldest privately held national construction company in the country – with more than 150 years spent collaborating with partners to solve complex building challenges on behalf of its clients. With an unrelenting focus on safety and a comprehensive quality program that span all phases of every project, McCarthy utilizes industry-leading design phase and construction techniques combined with value-add technology to maximize outcomes. Repeatedly honored as a Best Place to Work and Healthiest Employer, McCarthy is ranked the 9th largest domestic builder (Engineering News-Record, May 2020). With approximately 3,700 salaried employees and craft professionals, the firm has offices in St. Louis, Atlanta; Collinsville, Ill.; Kansas City, Kan.; Omaha, Neb.; Phoenix; Las Vegas; Denver; Dallas, Houston; and San Diego, Newport Beach, San Francisco, San Jose and Sacramento, Calif. McCarthy is 100 percent employee owned. More information about the company is available online at www.mccarthy.com or by following the company on Facebook, Twitter, LinkedIn and Instagram.
About Pacific Retirement Services: Headquartered in Medford, Oregon, Pacific Retirement Services develops, operates, and manages a growing family of more than 50 organizations, including 12 continuing care retirement communities and 25 affordable housing communities in six states. Our mission is to provide exceptional leadership to our family of organizations, working together to enhance the aging experience and provide every person with a healthy, stable, and secure retirement experience. 
About University Realty: University Realty is a subsidiary of ASU Enterprise Partners, an independent nonprofit organization dedicated to generating resources for the benefit of Arizona State University. www.asuenterprisepartners.org
About Arizona State University: Arizona State University, ranked No. 1 "Most Innovative School" in the nation by U.S. News & World Report for six years in succession, has forged the model for a New American University. ASU is a comprehensive public research institution, measured not by whom it excludes, but by whom it includes and how they succeed; advancing research and discovery of public value; and assuming fundamental responsibility for the economic, social, cultural and overall health of the communities it serves. Through innovation and a commitment to accessibility, ASU has drawn pioneering researchers to its faculty even as it expands opportunities for qualified students, attracting some of the highest caliber students from all 50 states and more than 130 nations.