Insights
Design-Build Chandler Regional Medical Center Patient Tower Completed
Hospital responds to growing community's increasing healthcare demands.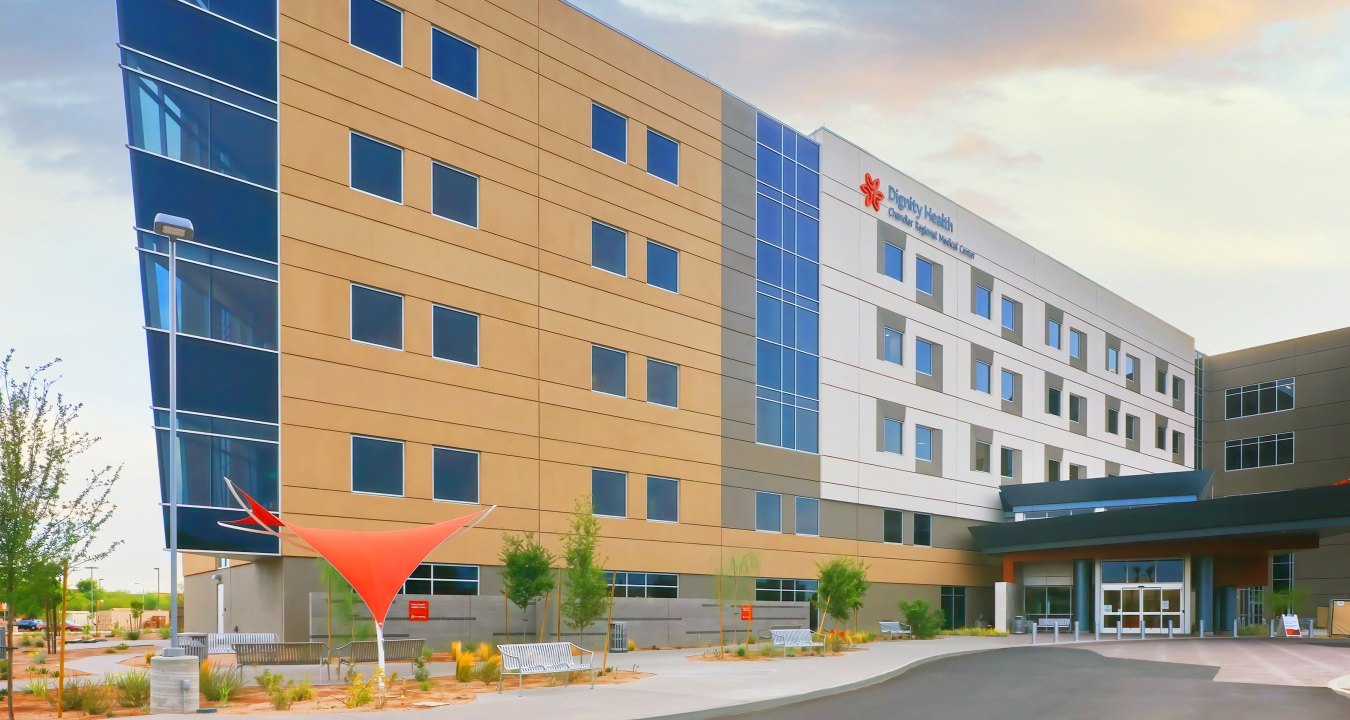 McCarthy and Devenney Group Architects recently completed Dignity Health Chandler Regional Medical Center's new patient-care tower, Tower D. Designed to respond to the East Valley community's growing healthcare needs, this is the hospital's second major expansion in less than a decade. Tower D is scheduled to open to patients in early August 2021.  
"This expansion project is very exciting for all of us at Chandler Regional, and for the community at large," said Mark Slyter, president and CEO of Dignity Health Chandler Regional and Mercy Gilbert Medical Centers. "It is a direct result of the outstanding care our team provides. Their hard work and dedication are why people seek services at Chandler Regional and why the hospital has continued to undergo tremendous growth."
About the Expansion Project
Tower D will serve as the hospital's main entrance and include 96 additional patient care beds. This will bring Chandler Regional's total bed count to 429, providing greater access to excellent, and compassionate care. The impressive structure includes:
First floor: a new main hospital entrance and lobby, patient admitting, cardiac rehabilitation, ambulatory therapy unit, gift shop and chapel
Second floor: a surgery registration area, pre-operation and post-anesthesia care units and 24 thoracic patient rooms
Third floor: 36 intensive care unit patient rooms
Fourth floor: 36 standard patient rooms
Fifth floor: shell space for future beds
Basement: new pharmacy, materials management department and a new loading dock
In addition to the new five-story Tower D, the construction project also includes a new parking structure with additional surface parking to accommodate more than 1,100 vehicles and renovations to existing space that will allow for eight new surgical suites, and the expansion of key outpatient services and operational departments.
"We began this major hospital construction expansion project in the summer of 2019 not knowing that a global pandemic was just around the corner," said Nick Pearce, project director with McCarthy. "We were honored to help support and give back to our healthcare partners during the pandemic. We not only made patient safety a top priority but also prioritized the health and safety of the crews, who completed more than 500,000 labor hours on the project without incident. Our team is exceptionally proud of our teamwork with our design-build partner Devenney Group Architects and our many trade partners. Teamwork is what made this project so successful."
The design-build construction team will remain on site through the spring of 2022 as they complete the renovations of the existing spaces as well as the garden that serves as a connector of the growing healthcare campus.
Chandler Regional History
Chandler Regional first opened in 1961 as a true community hospital with only 42 beds but has steadily grown over the last 5 decades. In the summer of 2014, Chandler Regional opened the first of its major expansions of the last decade, Tower C, which provided space for the hospital's Level One Trauma Center and 96 additional patient beds.
"It's been really exciting to be able to support the hospital in the steps towards their strategic vision and commitment to the community," said Eric Ubersax, architect and project manager at Devenney Group Architects. "The collaboration between the facility, the City of Chandler, and the overall design-build team has made for an amazing project that will serve the community for decades to come."
Devenney Group Architects and McCarthy served as the project's design-build team. Other partners on the project include WSP, Stantec, RVi, Buehler Engineering, Cannon & Wendt Electrical Co., TDIndustries, The Berg Group, and Schuff Steel Management Company.
About McCarthy
McCarthy Building Companies, Inc. is the oldest privately held national construction company in the country – with more than 150 years spent collaborating with partners to solve complex building challenges on behalf of its clients. With an unrelenting focus on safety and a comprehensive quality program that span all phases of every project, McCarthy utilizes industry-leading design phase and construction techniques combined with value-add technology to maximize outcomes. Repeatedly honored as a Best Place to Work and Healthiest Employer, McCarthy is ranked the 13th largest domestic builder (Engineering News-Record, May 2021). With approximately 5,000 salaried employees and craft professionals, the firm has offices in St. Louis; Atlanta; Collinsville, Ill.; Kansas City, Kan.; Omaha, Neb.; Phoenix; Las Vegas; Denver; Dallas, Houston; and San Diego, Newport Beach, San Francisco, San Jose and Sacramento, Calif. McCarthy is 100 percent employee owned. More information about the company is available online at www.mccarthy.com or by following the company on Facebook, Twitter, LinkedIn and Instagram.