Insights
Insiders Reveal What Comes Next for Healthcare Construction
How COVID-19 is reshaping the future of healthcare design and construction.
By

Mike Stapf
Vice President, Design Integration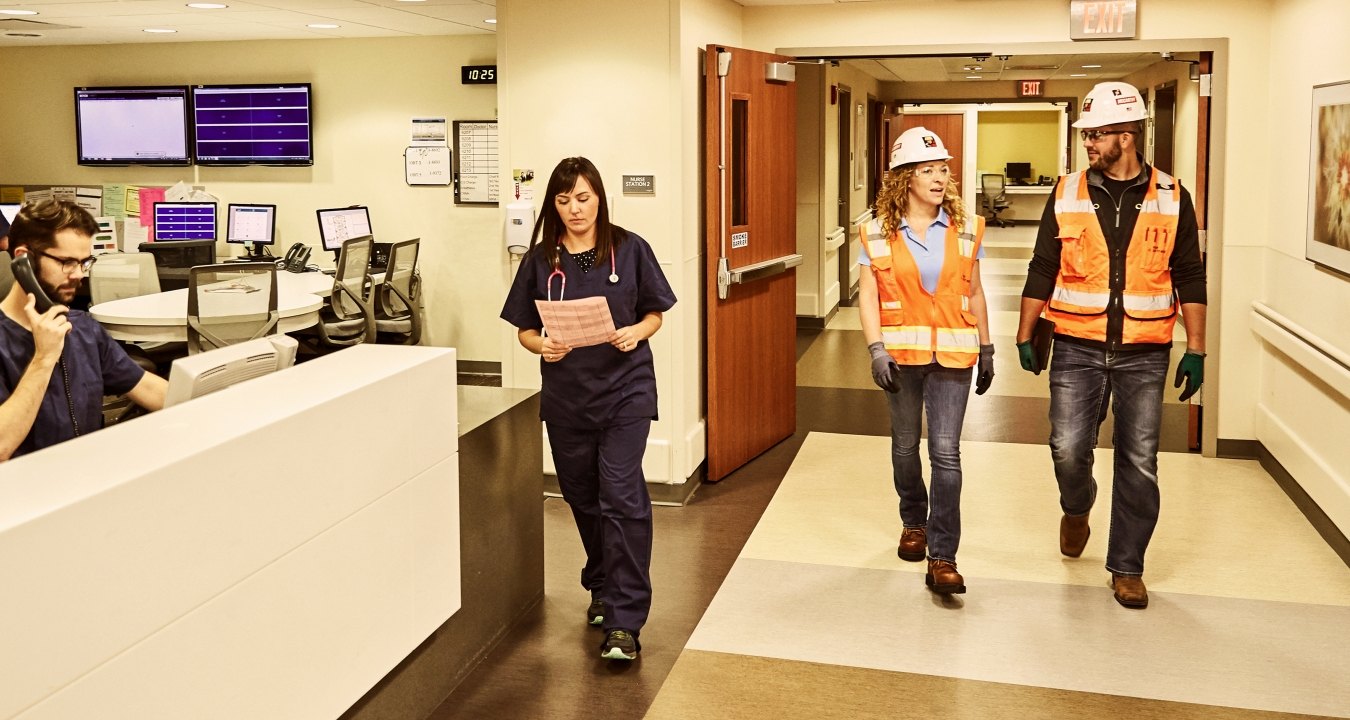 The COVID-19 pandemic has had a sweeping impact across every individual and industry in America. Healthcare is no exception, as providers have been the first line of defense in combatting the coronavirus. As one of our nation's leading healthcare builders, McCarthy is heavily invested in supporting providers and the communities they serve during this challenging time and into the future.
To manage the impact of COVID-19 and proactively prepare for future outbreaks, McCarthy created a task force to study temporary facility design strategies and products as well as monitor U.S. Army Corps of Engineers (USACE) COVID-19 response needs across the country. A key focus was reaching out to our nationwide network of healthcare clients, trade and design partners to better understand their immediate and long-term needs — and more importantly, how McCarthy could help support them. 
Many of America's largest healthcare systems, MEP trade partners and engineering firms participated in this survey. Their comments can be best summarized in the words of one healthcare system executive, "Flexibility is going to be the name of the game in healthcare." Here's more of what they told us.
Lessons learned
Overwhelmingly, survey respondents are asking for and implementing simple, easily integrated solutions to help mitigate the risk of infection. Because COVID-19 can be transmitted by small airborne droplets1, improving HVAC systems are top-of-mind. Strategies include:
Modifying or augmenting existing air filtration systems
Systems that allow for temporary isolation of supply and return air (portable or permanent)
UV or thermal sterilization techniques
Equally important is preventing contact transmission. Many healthcare providers are using touchless screening platforms to allow employees to self-assess before entering facilities. Providers also noted a surge in touchless device retrofits for high-risk areas such as doors, elevators and bathroom fixtures. In addition, healthcare providers are using antimicrobial coatings in and around patient areas. McCarthy anticipates these simple, cost-effective preventative measures will become staples of future healthcare facilities. 
Providers are also taking steps to reduce the need for movement in and out of patient rooms. To avoid compromising containment, healthcare workers remain in the hallway and communicate with patients and providers in their rooms via windows and audio systems. 
For regions of the country that have the greatest number of infections, hospital space can be at a premium. Providers are creating temporary spaces for screening, intake and ambulatory care. These spaces can be augmented with mobile power, medical gas systems in concert with wireless communications, records management and instrumentation. 
The value of offsite production
According to our survey—and based on our experience—offsite production will play an important role during the pandemic and beyond. The reason is that this approach moves what can be substantial portions of a project offsite and into a controlled, factory-like environment where it's easier to manage the risk of infection.
Indeed, McCarthy has long employed offsite production and prefabrication techniques for healthcare owners across the country to streamline efficiencies, control quality and improve safety by reducing work on a busy active jobsite. In a COVID-19 environment, the benefits are even more pronounced. 
For example, offsite production reduces the number of workers on the jobsite, thereby decreasing the possibility of infection and subsequently contact tracing. Fewer workers on the jobsite also reduces the need for additional shifts, which otherwise would be required to ensure a safe working environment. Another important benefit of offsite production is reducing travel and congestion on and around the jobsite.
Beyond the benefits of offsite production in response to COVID-19, the strategy also benefits healthcare owners by increasing flexibility and providing greater certainty. Projects are more likely to be completed on-time and as specified. In addition, construction is often faster because offsite production can occur in parallel with activities on the jobsite. For example, McCarthy used offsite production on a hospital project that ultimately completed four months ahead of schedule.
The key is flexibility
As healthcare providers plan the building of their next facilities, they are focusing on flexible design that allows for rapid reconfiguration in response to the current COVID-19 pandemic—and whatever the next crisis may be. In particular, providers are examining various options for creating space flexibility, such as:
Reimagining space to allow for multiple uses, such as the expedient conversion of Surgery Preparation and Recovery areas and Intensive Care Bed Units.
Revisiting "universal patient room" concepts which can be converted for multiple uses including ICU bed spaces. 
Increasing the separation of outpatient services from main hospital facilities and medical office buildings – programmatically, including building systems.
Developing more designs for temporary triage spaces, such as parking structures in particular. 
When developing these structures, HVAC systems are a critical focus due to their role in infection control. Plans include having a better ability to isolate airflow from area to area to help prevent the spread of infection—and  having floor-to-ceiling (vs. overhead) air circulation designs, which can reduce the potential for contamination. 
Design and construction techniques commonly utilized in high containment research spaces (Biosafety Level 4) will now be considered for implementation in more traditional acute care environments. These laboratories are built to handle the most infectious diseases safely.  Some of the core principles from high-containment labs that directly support the infection-control priorities of hospitals and other healthcare facilities include:
Building flexible infrastructure for responding to future crises.
Separate and safely managed waste streams.
Containment-specific strategies and protocols to protect healthcare workers.
Rethinking patient flows to stop disease at the door.
Ways to reassure patients and visitors they are in a safe environment. 
Into the future
When the pandemic hit, McCarthy pivoted quickly to address the new needs of healthcare providers. "Contractors are now going to be defined by how fast they can scale up and down when a crisis hits," said an executive of a leading commercial real estate firm serving the healthcare industry. "We need to understand the limitations of the project early and overcome them together." 
Collaboration is key during a crisis, and McCarthy stands ready to lead.
# # #
About the Author
As Vice President Integrated Design Delivery, Mike Stapf brings together people, process and technology to achieve client goals and advance McCarthy's industry leadership within the areas of integrated delivery methods, VDC and BIM. Throughout his career, Mike has helped guide more than $2.5 billion of project work within multiple markets across the country. In his role, he focuses on leveraging people, processes and technology to deliver a fully collaborative preconstruction experience for clients and industry partners. Mike is currently leading the McCarthy-led Design-Build Team on the BJC Healthcare Phase 3 Replacement Tower in St. Louis, which plans to incorporate several pandemic readiness strategies. He was instrumental in the launch of the McCarthy Central Region VDC and Design Integration Group. Mike graduated from Southern Illinois University, Edwardsville with a Bachelor of Science in Construction Management. 
1World Health Organization. "Transmission of SARS-CoV-2: implications for infection prevention precautions." July 9, 2020.