Insights
M
c

Carthy Kicks Off Craft Appreciation Week 2023
This annual company event celebrates the dedicated professionals who are building our communities.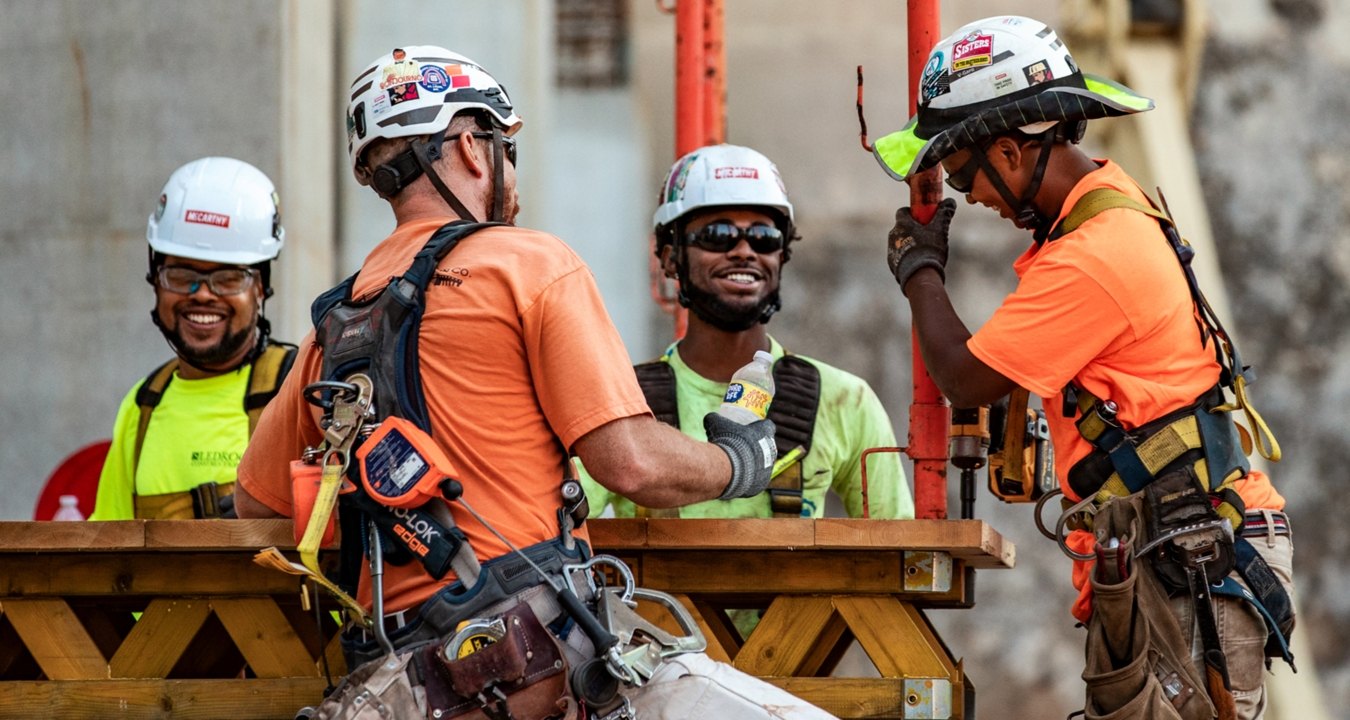 McCarthy Holdings, Inc., one of the nation's premier construction companies and largest self-performing builders, is dedicating this week to celebrating the firm's craft professional workforce. From Aug. 29-Sept. 1, McCarthy will host events on jobsites across the country to recognize the builder's more than 4,000 craft professionals while spotlighting the importance of construction careers to local communities and the nation. 
"Construction is an incredible career, and McCarthy has a long-standing tradition of respect for the art of building and the people who make it happen," McCarthy Chairman and CEO Ray Sedey said. "These dedicated men and women are in the field every day, working together to safely tackle the most complex construction challenges and deliver exceptional results for our clients. As we head into Labor Day weekend, we are proud to celebrate our craft professionals who are building the communities where we all live and work." 
The U.S. Bureau of Labor Statistics reports approximately 168,500 openings for construction laborers are projected each year through 2031, on average. The Associated General Contractors of America (AGC) reports that construction employment increased in 45 states year-over-year in June, with an industry unemployment rate of just 3.6 percent (AGC, July 21, 2023). 
McCarthy employs a broad range of craft professionals, including carpenters, equipment operators, laborers, foremen, plumbers, pipefitters, electricians, ironworkers, millwrights and more. With a vigilant focus on safety, McCarthy craft professionals self-performed more than 25 million labor hours in 2022 and achieved a Total Project Incident Rate of 0.51, the lowest in company history.
Construction Career Development, Support and Outreach
"Construction careers offer many rewarding opportunities," said Erica Gilliland, McCarthy Director, Talent Acquisition. "We are focused on delivering a great experience for everyone who steps onto a McCarthy jobsite. This includes providing a safe workplace where individuals can grow and thrive with us on projects both today and in the future." 
With a team of 15 full-time craft development professionals on staff, McCarthy provides its craft workforce opportunities for classroom and on-the-job training year-round. The craft training department offers approximately 50 courses that are a combination of safety, skills-based and field leadership development to develop a skilled workforce prepared for safe, productive and quality construction. In addition, McCarthy's Registered Apprenticeship Program provides entry-level craft employees the opportunity to progress through a combination of on-the-job learning and classroom instruction. In spring 2023 McCarthy opened its Innovation and Craft Workforce Center in Chandler, Ariz., a multifunctional facility dedicated to McCarthy craft and trade partner training, and to support the development of the region's future construction trade workforce.
McCarthy also is actively engaged in a variety of industry and outreach activities to introduce construction careers to individuals who may not be aware of the opportunities or are unsure how to get started. For example, the firm has a long history of supporting service members of the United States Armed Forces during their service and transition back into the workforce, partnering with national and regional organizations to reach veterans looking for new opportunities.
Given the shortage of skilled craft professionals both now and long-term, McCarthy has also invested in outreach to students of all ages. McCarthy frequently supports in-class presentations, hands-on projects and mentorship experiences to foster an early desire to learn more about construction career paths. 
"Students, even as young as elementary school, should have the opportunity to be able to experience what construction is all about and understand the value of a career in the field," Gilliland said. "We're excited to open their eyes to the possibilities."
For more information on careers at McCarthy for craft professionals, visit mccarthy.com/careers/craft-professionals. 
About McCarthy
McCarthy Holdings, Inc. is the oldest privately held national construction company in the country – with nearly 160 years spent collaborating with partners to solve complex building challenges on behalf of its clients, through all phases of the project life cycle. McCarthy Holdings, Inc. is comprised of McCarthy Building Companies, Inc. and Castle Contracting, LLC. Repeatedly honored as a Best Place to Work, McCarthy is ranked the 19th largest domestic builder (Engineering News-Record, May 2023). With approximately 7,400 salaried employees and craft professionals, the firm has offices in St. Louis; Atlanta; Collinsville, Ill.; Kansas City, Kan.; Omaha, Neb.; Phoenix; Las Vegas; Denver; Austin, Channelview, Dallas and Houston, Texas; and San Diego, Newport Beach, Los Angeles, San Francisco, San Jose and Sacramento, Calif. McCarthy is 100 percent employee owned.