Insights
5 Lessons from the 2022 ENR Project of the Year
While it's impossible to predict all of the obstacles that may arise on a project, the ability to identify and address issues quickly and effectively can keep it on track.
By

Ryan Sawall
Sr. Vice President, Operations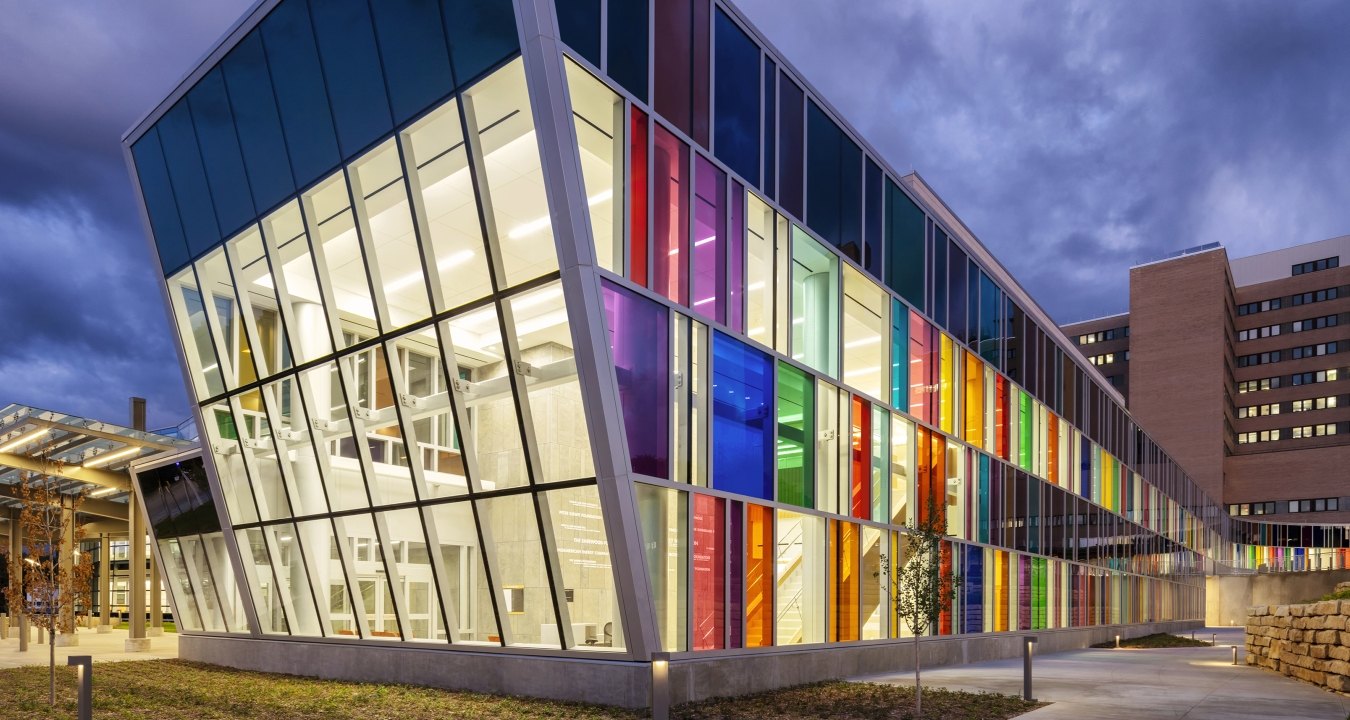 Photo Credit: Leo A. Daly
When Engineering News-Record (ENR) selected the Omaha VA Ambulatory Care Center as its 2022 Project of the Year, the award recognized the expertise, diligence and sacrifice of every team member who helped bring this extraordinary building to life.
Winning awards is never our primary goal, but we're honored to earn third-party recognition of our work. This award, in particular, is meaningful because the project was evaluated by fellow building professionals, using rigorous criteria established by the ENR Best Projects Awards program.
WHAT WE LEARNED FROM THE 2022 ENR PROJECT OF THE YEAR
In thinking back on our team's experience of managing the construction of this building, several important lessons come to mind that not only contributed to our success, but can also be applied to other building projects. Especially with projects this dynamic and this collaborative, every challenge is an opportunity to make incremental improvements that improve outcomes. 
LESSON #1: MAKE IT PERSONAL.
During the project kickoff, we asked every team member to identify a specific veteran who they wanted to honor through their work. It might have been a family member, a friend or just someone whose personal story inspired them.
Personalizing the project helped ensure that none of us lost sight of the building's ultimate mission: to deliver a first-class healthcare experience to veterans in the Omaha region. We needed to remember that this wasn't just any hospital…it was a space to honor and care for the brave men and women who were willing to risk it all for our country. 
I firmly believe that this simple exercise added an extra layer of accountability that empowered each team member to commit at a level that exceeded everyone's expectations.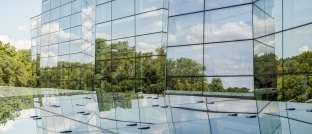 Photo Credit: Leo A. Daly
LESSON #2: EMBRACE COLLABORATION.
As the first VA healthcare project completed using a public-private partnership (P3) funding model, the entire project was built on a foundation of collaboration.
Throughout each phase, the design and construction teams united around a shared vision: efficiently creating an inspirational, healing environment for the region's veterans.
Because of close coordination between the design and construction teams, the final project cost was within 1 percent of the original conceptual budget estimate provided during the project's design phase. And lean construction practices such as the Last Planner System (LPS) and pull planning process scheduling techniques enabled the team to meet the contractual completion date, despite experiencing 43 days of weather impacts during one of Omaha's harshest winters.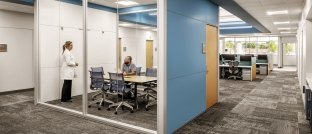 Photo Credit: Leo A. Daly
LESSON #3: ENGAGE END USERS.
Doctors, nurses and administrators were engaged throughout design and construction to ensure the spaces would fully meet their needs and preferences.
Veterans themselves also had opportunities to leave their mark. Outside the construction fence, our team displayed a white signing beam and invited all visiting veterans to sign it. During a topping-out ceremony, the beam—adorned with hundreds of veteran signatures—was hoisted onto the structure and will remain there throughout the building's lifespan.
And inside the building, an art gallery features nine art pieces created by local veterans; two additional works were created by local artists with strong connections to veterans.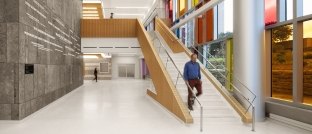 Photo Credit: Leo A. Daly
LESSON #4: THINK ON YOUR FEET.
Knowing that the steel erection would occur during the winter of 2018-2019—one of the coldest on record—structural designers from LEO A DALY collaborated with the McCarthy team to identify an innovative strategy for connecting the lateral moment frame structural members.
Welding the moment connections in the cold would have required additional metal-heating procedures or risked leaving the welds brittle. Instead, the team developed an alternative approach that allowed for the fabrication of steel beams and columns with precision-placed holes for bolting the moment connections. This allowed beams and columns to be bolted in the field in sub-freezing temperatures, all without impacting the design or scheduled completion of the facility.
LESSON #5: PREPARE TO PIVOT.
Every project team faces unexpected challenges. Ours experienced a pandemic, materials shortages and severe weather events that added complexity to an already complicated assignment.
While it's impossible to predict all of the obstacles that may arise on a project, the ability to identify and address issues quickly and effectively can keep it on track.
It's also wise to enlist strategies that mitigate potential risk. We conducted a subsurface utility mapping analysis of the 70-year-old campus to identify discrepancies between assumptions about the existing below-grade infrastructure and actual, as-built conditions. Early communication of these issues to the design team enabled designers to update documents prior to construction—preventing unforeseen schedule and cost impacts as the project progressed. Accurate utility mapping of the site also allowed our team to complete the project with zero utility strikes.
From the earliest days of this project, our team knew that the stakes were high, and success wasn't guaranteed. But we resolved to not only succeed, but to provide our client with an exceptional experience unlike anything they had previously experienced.
We fought hard as a team to maintain that client focus and to weave it into our project culture—from senior project leadership down to the craftspeople executing the work.
And our team defied the odds.
Not only does the project meet vital healthcare needs in Omaha's veterans community, but it's also serving as a model for future VA projects—including a second P3 project currently underway in Tulsa, Oklahoma.
The Omaha VA Ambulatory Care Center will always hold a special place in all of our hearts. Not because it won awards, but because it achieved its full potential.