Insights
5 Questions to Ask Your Contractor about Mock-ups
Mock-ups are typically full-size representations of proposed construction, built in order to evaluate proposed design and construction details or to test for performance.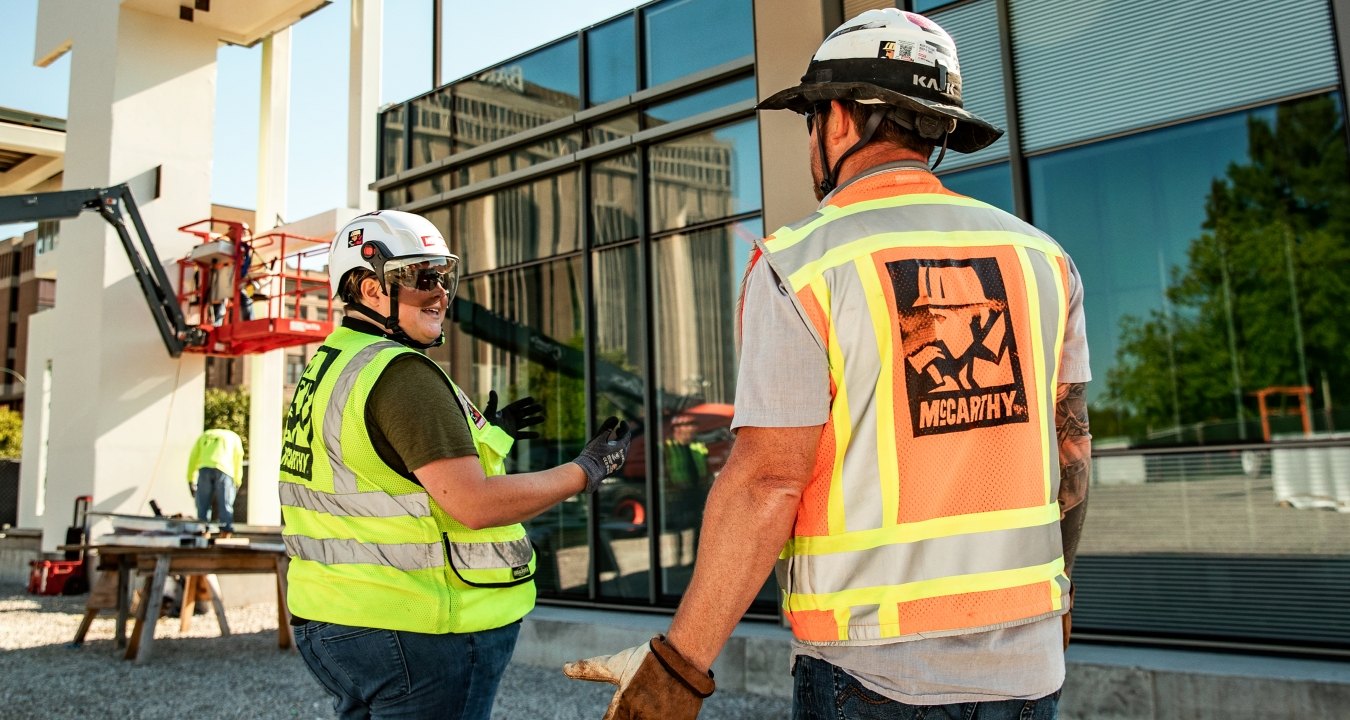 When planning for a new construction or renovation project, cost, schedule and long-lasting quality are always top of mind. In choosing a design and construction team, you will certainly be selecting those team members you believe able to satisfy your end-use goals while also achieving cost, schedule and quality requirements. One important step your contractor should take to ensure these goals are met is to use mock-ups during the project. 
What are mock-ups?
Mock-ups are typically full-size representations of proposed construction, built in order to evaluate proposed design and construction details or to test for performance. Utilizing mock-ups can help prevent rework and keep a project both on time and on budget.
These five questions to ask your contractor about mock-ups will help maximize their value and ensure success:
How will you use mock-ups? 
How do you know which mock-ups are right for our project? 
How will you engage with various user groups to ensure ultimate success on our project? 
How will you help us meet our quality goals?
What steps will you take to make sure my building doesn't leak?
How will you use mock-ups? 
The goal on any construction project should always be to build it right the first time. Rework is the result of not building it right the first time and is always more expensive and time-consuming. Intricate design requirements, fast schedules and evolving end-user requirements in response to new technologies can make this goal a challenge. However, planning for quality through the utilization of mock-ups will help clarify end-user requirements and identify potential design and constructability issues early, enabling the team to address and resolve them before any significant impact on cost or schedule occurs. 

A sophisticated contractor should be engaged with the project owner, end-user groups, architect and key subcontractors immediately upon selection (or even before) to evaluate those areas right for mock-ups. In addition to identifying high-risk areas, the contractor should tell you who will be constructing the mock-ups. Bringing in the actual crews who will be repeating the steps in the field is critical. A subcontractor utilizing their top performers to do the mock-up but who will then be assigning others to complete the process in the field will not be creating repeatable results for a true evaluation. 
How do you know which mock-ups are right for our project? 
Not everything requires a mock-up. Costly or highly repeatable aspects of your project (i.e., mechanical systems, lab casework, patient headwalls, bathrooms, interior finishes, exterior skin details, window penetrations) should be considered. Exterior mock-ups may be concerned with the appearance of materials in natural daylight or how certain constructed details align and hold up to the weather. Interior mock-ups may explore various options for texture or color of a surface, the interrelationship of different finishes, or how the transitions between materials are achieved.
There are three common types of mock-ups: stand-alone mock-ups, in-place mock-ups and virtual mock-ups. Not all mock-ups need be large and costly, and a contractor should have experience with all three as they serve different purposes.
Stand-alone mock-ups can be constructed very early before any significant construction begins (even during the design phase) and are commonly used by end-user groups, in collaboration with the architect and contractor, to refine project requirements and identify and resolve issues. For example, a hospital patient room or science laboratory may be mocked up for end-user review. 
In-place mock-ups are those incorporated into the actual final structure. These are mock-ups that would be impractical to complete as a stand-alone structure or where cost is an issue. Below-grade waterproofing, drywall finish, caulking, etc. are common examples. Caution should be taken when considering in-place mock-ups as they need to be carefully scheduled to allow for issues to be addressed and resolved prior to proceeding with production work. A limitation of in-place mock-ups is that they still may be completed too late in the process to garner the full cost and schedule savings. 
Virtual mock-ups are digital models created in situations where very early input is desired, it is impractical to complete a physical mock-up, or as a precursor to creating a physical mock-up. More than a review of aesthetics, you should also look for a true builder who maximizes the use of virtual mock-ups to identify and evaluate potential building performance issues, while still understanding their limitations. Virtual mock-ups are extremely helpful but are not the silver bullet. Is the system actually buildable as shown? Will it actually function as intended? Will end-users be comfortable in the space? Are the finishes and colors shown in the digital model true? An experienced contractor will raise and address these issues as well.
How will you engage with various user groups to ensure ultimate success on our project? 
Engaging key stakeholders should begin early to ensure all user-group needs are represented and to avoid costly changes later. The result of this early collaboration should be the owner team, designer, contractor, subcontractors and consultants all agreeing on and clearly documenting what is acceptable quality, determining the process for achieving this, and clarifying how team members will be held accountable. 
As design progresses, 3-D conceptual designs in conjunction with physical mock-ups should be reviewed by key user groups for feedback. All feedback should be thoroughly documented and vetted through the process agreed to by all team members above. Throughout construction, user groups may also be brought on-site for further input if necessary. Finally, if equipment is involved, the vendor representatives should also review and evaluate mock-ups and participate in any jobsite walk-throughs. 
How will you help us meet our quality goals?
Quality should be something embedded in your contractor's process and culture, not something tacked on as an afterthought. The first question should always be how will you define acceptable "quality" on your project? Your team should answer this question and discuss the potential use of mock-ups to help achieve this very early in the planning process, even before you have selected your builder. Including the cost of mock-ups in the bidding process shows the contracting community that you are serious about quality on your project and expect necessary steps to be taken to achieve your goals. Contractors serious about quality will respond and support this approach.
A contractor with a thorough and formalized approach to mock-ups should be able to outline their approach to documenting each of the following steps:
     Planning the mock-up
    Completing the mock-up
    Testing the mock-up 
    Resolving issues
    Repeating the steps in the field
It is critical that results be documented in order to enable better planning and sequencing of construction. If a contractor does not have a well-established documentation process, it is unlikely you will see the full benefit of completing the mock-up down the road.
What steps will you take to make sure my building doesn't leak?
Potential water infiltration is one of the most significant concerns voiced by owners. Ensuring your contractor has a formalized, proven approach to planning for, testing and evaluation of building enclosure performance is an absolute must. This should be a long-term approach to ensuring your building is watertight well after occupancy. Ask to see their program in writing. Does the contractor utilize an independent third-party reviewer from the earliest stages of preconstruction through field inspection? Does the contractor always complete building enclosure performance mock-ups, whether stand-alone or in-place, as a common course of work? 
Virtual building enclosure mock-ups are an initial way to evaluate and solve construction issues in advance of building it, and they have certainly proven to be very effective in solving construction issues. These mock-ups should always be followed by a physical performance mock-up to view and test building enclosure components and assemblies. Water and negative air pressure testing will provide maximum value, and the owner, architect/engineer, inspector and independent third-party design/testing professionals should all participate in the mock-up testing and review. Make sure the contractor has a plan.
Conclusion
The effective use of mock-ups on your next construction project can significantly impact final cost, schedule and quality results. In addition to aesthetic considerations, mock-ups provide the entire team with an opportunity to plan for and ultimately deliver the highest quality construction results that truly meet end-user needs. Ask you builder these five questions and you should feel comfortable that you have the right player on your team.