Insights
Are You Missing Out on a Career in Construction?
There's never been a better time to consider joining the construction industry.
By

Erica Gilliland
Craft Recruiting Director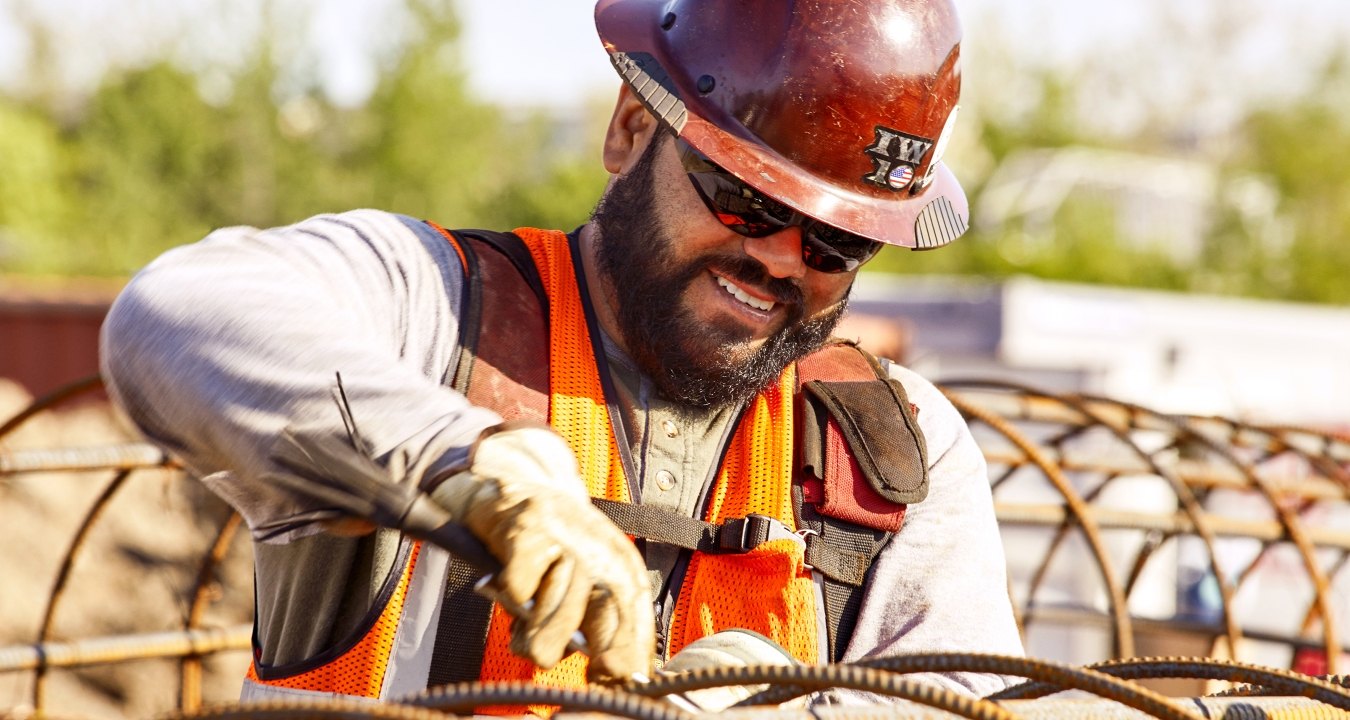 It is a common misconception that only certain industries are capable of providing high-quality benefits, strong wages and rewarding career opportunities. If 2020 has revealed nothing else, it has shown the power and impact of a construction career.
Construction is one of today's fastest growing industries. Maintaining and expanding the infrastructure that drives our communities has never been more important. Sophisticated improvements in jobsite safety and technology, a non-traditional "office" for those who may not want a desk job, and an industry-wide commitment to diversity and inclusion are attracting the best and brightest in all stages of their careers. A construction career can meet all your expectations and more – often with low or no cost of entry. How is that possible? Here's a quick breakdown:
Wages
A career as a craft professional, like pipefitters, carpenters, electricians, and many others on thousands of jobsites across the country, offer daily challenges on an ever-changing jobsite. Craft professionals typically start with wages comparable or higher than recent college graduates and the pay grows significantly with experience. In fact, according to the US Bureau of Labor Statistics, the median annual wage for all construction and extraction occupations was more than $47,000 in May 2019. The best part? Being a highly paid craft professional doesn't require a college degree.
For project management team members, construction offers a wide range of opportunities — from engineering to estimating, virtual design, marketing and more — to ensure project teams exceed client expectations.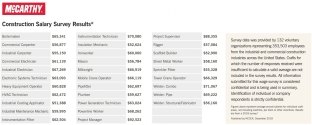 Career Growth
A career in construction offers almost unlimited career potential. Whether you start in the field or an office, every project gives you a chance to learn new skills and grow. There is a career path for everyone — whether you want to lead the business, lead a project, or lead a team of high-performing specialists on a jobsite.
Career opportunities are especially prevalent for craft professionals. Despite the construction industry's expansion, experts estimate more than 1 million new craft professionals are needed by 2023 to help fill the workforce shortage. These professionals are being rewarded for their efforts — and that deficit is projected to keep growing. Forty-one percent of current craft professionals are expected to retire by 2031. Those entering construction now are in prime position to take advantage of these expanding opportunities.
Experienced leaders and professionals increase jobsite safety, construction quality, and workforce productivity, which is why construction firms invest heavily in developing and retaining talent. Regularly recognized as the construction industry's No. 1 company for training, McCarthy has seen the benefits of investing in the personal and professional development of our employees firsthand. McCarthy's current CEO began his career as an engineer fresh out of college. The previous CEO, who served in the role more than 20 years, began his McCarthy career as a carpenter.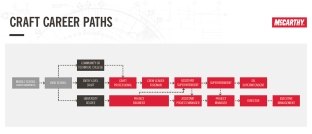 Diversity & Inclusion
Construction continues to evolve to better harness the benefits and solutions derived from diverse thinking. Industry leaders are working together to build an industry and work environment that is diverse, safe, welcoming, inclusive and empowering for all. Our jobsites reflect the communities where we live and work, which creates more opportunity and a stronger pipeline of talent within our industry.
At McCarthy, we know diverse perspectives drive better outcomes. For example, the McCarthy Partnership for Women is an employee-driven group that supports the recruitment, development and retention of women in our industry. By representing the communities and clients we serve, we continue to push the industry to include and support everyone interested in a construction career.
Internships & Getting Started
Whether you're interested in a craft position or project management role, there are many ways to get started. Accredited training or assessment is the first and best step for a new craft professional. At a fraction of the cost compared to college and with a small amount of time invested, you can become an accredited craft professional and begin your career. Check with potential employers — many will be interested in supporting you during training!
If you're interested in becoming an engineer or supporting projects from the office, get in on the ground floor with an internship. Unlike many industries, construction internships can offer an opportunity to participate on an active jobsite. The McCarthy Intern Advantage program positions all participants as active team members starting day one. Working with experienced builders to address real construction challenges, you'll learn valuable skills and build crucial relationships that will help you after you graduate. And best of all, McCarthy internships have a proven track record of success. Eighty percent of our interns return to school with a full-time offer to work for us and 96 percent feel our program prepared them to succeed.
This is a great time to consider a construction career. As a growing industry that actively supports your career development, pays well and strives to build an inclusive environment where all perspectives are valued, there's something here for everyone. Next time you think about your future, be sure to think about construction.