Insights
Central Arizona College Celebrates Groundbreaking of New Allied Health and Skilled Trades Buildings
Expansion of CTE workforce training programs in Pinal County begins with design-build partnership between McCarthy and Architekton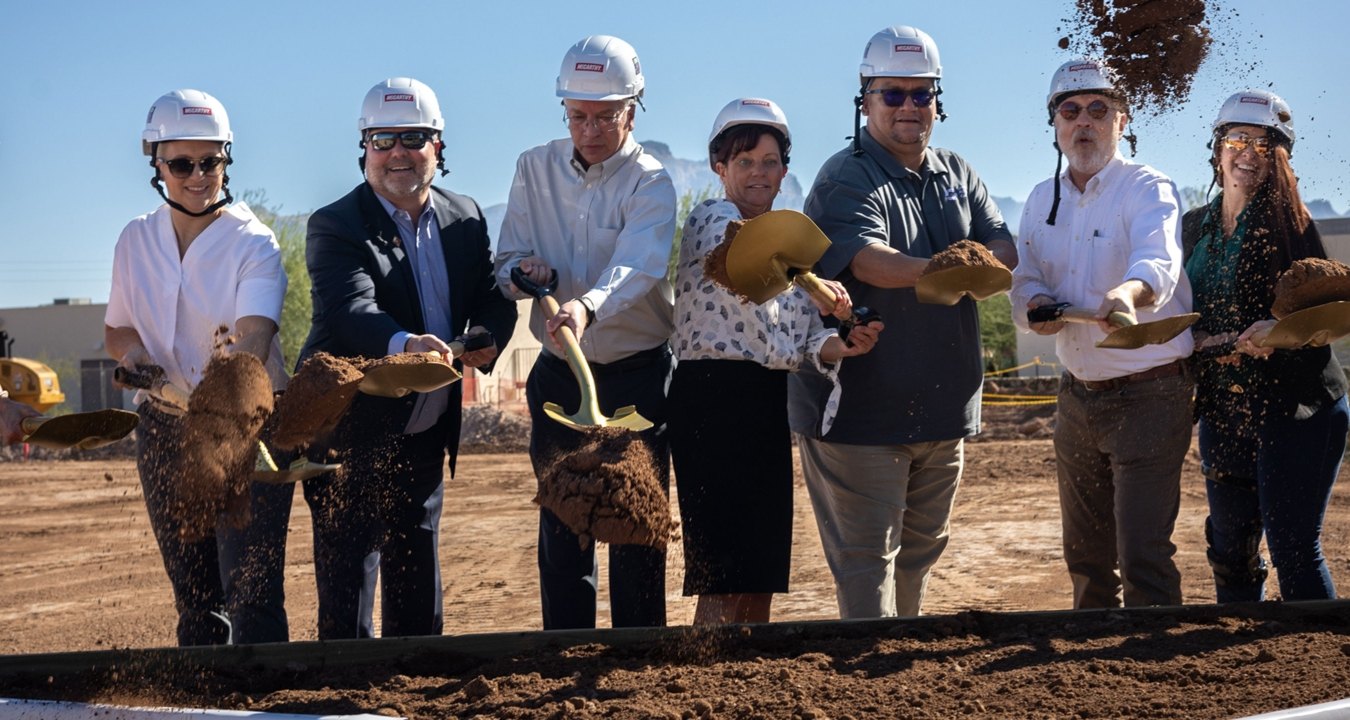 Central Arizona College (CAC) recently celebrated the groundbreaking of the Superstition Mountain Campus expansion project, which will provide new buildings for Allied Health and Skilled Trades, as well as renovations to the college's existing C building.
Design-build partners McCarthy Building Companies and Architekton are teaming up with CAC to complete the $40 million, 51,620-square-foot expansion located at 805 S. Idaho Road in Apache Junction, Ariz.
"Central Arizona College is pleased to be working with McCarthy and Architekton to create a world-class learning experience for the residents of Apache Junction and Pinal County," said Dr. Jackie Elliott, president of CAC. "These new facilities will allow the college to prepare students for the workforce and assist in providing economic growth for the region."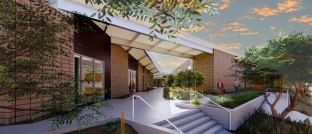 Central Arizona's Allied Health Building Expands Course Offerings
The Allied Health building will provide integrated learning classrooms and labs for Massage Therapy, Aesthetician, Nursing Assistance, Pharmacy, Phlebotomy, Medical Assistant, Radiology and Sonography. Additionally, simulation centers will replicate realistic healthcare environments, including hospital and operating rooms, and clinical settings equipped with advanced simulation technologies such as computerized patient simulators, high-fidelity mannequins and more. The Massage Therapy and Aesthetician programs will offer a "Superstition Spa" experience for local residents to utilize. Students will gain critical-thinking, decision-making and patient-care skills in a safe and controlled environment.
Skilled Trades Building Additions
The Skilled Trades building will provide classrooms, labs and exterior yards for Mechanical, Electrical, Plumbing, Ceramics and Arts programming. Workshops will mirror real-world work environments that allow students to develop industry-specific skills and practical experience. 
"McCarthy and Central Arizona College share a priority for advancing career and technical education that promotes and cultivates local talent in skilled trades," said Andrea Ramos, project director for McCarthy. "We are committed to working with the CAC team and Architekton to build an exceptional campus expansion that will play a pivotal role in educating our future workforce in fields that are currently experiencing labor shortages, including healthcare and construction."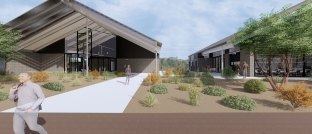 Happening in tandem with the new construction, renovation work on the existing C building will provide a computer lab, virtual reality (VR) lab, an expanded E-Sports Lab, faculty and public safety offices. The existing café, student lounge and student organization space will all remain. Another new addition includes a large exterior canopy allowing for an expanded outdoor seating area that capitalizes on views of the surrounding Superstition Mountains. The VR lab and computer lab will provide students access to industry-standard equipment, software and simulation tools, fostering innovation and problem-solving skills.
"These facilities will be designed with a strong emphasis on sustainability and energy efficiency. Incorporating efficient HVAC systems, natural lighting, rainwater collection and water conservation measures. These sustainable design elements will help in the education and integration of sustainability into CAC's curriculum to promote environmentally responsible practices," said Daniel Childers, senior associate at Architekton. "By providing cutting-edge education and training opportunities, these facilities will contribute to the growth of the region's emerging technology and healthcare sectors while fostering innovation, collaboration and sustainability in healthcare practices."
Renovation of the C building will be complete by March 2024, and completion of the new Skilled Trades and Allied Health buildings is slated for late 2024 in time for the start of classes in January 2025. Upon completion of the expansion, three existing buildings will be demolished and replaced with landscaping. Major subcontractors on the project include RN Electric, S&H Steel, Stone Cold Masonry and Pete King.
CAC remains poised for growth based on industry needs with available space in each new building for limited future programs.
About Central Arizona College
For 50 years, Central Arizona College has been serving and educating the diverse communities of Pinal County.  With five campuses located strategically throughout the county, CAC provides accessible, educational, economic, cultural, and personal growth opportunities for those of all ages.
CAC is an equal opportunity employer and complies with all applicable federal, state, and local laws regarding equal employment opportunity and anti‐discrimination. CAC strictly prohibits and does not tolerate discrimination on the basis of the following protected classes and/or characteristics, in all of its operations, programs and activities, including but not limited to employment, promotion, admissions and access to all career and technical programs: race, color, religion, creed, national origin or ancestry, ethnicity, sex (including sex assigned at birth, pregnancy, sexual orientation, and gender identity or expression), age, physical or mental disability, citizenship, past, current, or prospective service in the uniformed services, genetic information, or any other characteristic protected under applicable federal, state, or local law. For more information contact:  Laura Shepherd, Title IX Coordinator at 480‐677‐7853 or titleix [at] centralaz.edu (titleix[at]centralaz[dot]edu); Section 504/ADA Coordinator at 520‐494‐5409 or studentaccessibility [at] centralaz.edu (studentaccessibility[at]centralaz[dot]edu) or Talent Development at talentdevelopment [at] centralaz.edu (talentdevelopment[at]centralaz[dot]edu). 
About McCarthy Building Companies
McCarthy Building Companies, Inc. is the oldest privately held national construction company in the country – with nearly 160 years spent collaborating with partners to solve complex building challenges on behalf of its clients. With an unrelenting focus on safety and a comprehensive quality program that spans all phases of every project, McCarthy utilizes industry-leading design phase and construction techniques combined with value-add technology to maximize outcomes. Repeatedly honored as a Best Place to Work and Healthiest Employer, McCarthy is ranked the 19th largest domestic builder (Engineering News-Record, May 2023). With approximately 6,000 salaried employees and craft professionals, the firm has offices in St. Louis; Atlanta; Collinsville, Ill.; Kansas City, Kan.; Omaha, Neb.; Phoenix; Las Vegas; Denver; Austin, Channelview, Dallas, and Houston, Texas; and San Diego, Newport Beach, Los Angeles, San Francisco, San Jose and Sacramento, Calif. McCarthy is 100% employee owned. More information about the company is available online at www.mccarthy.com or by following the company on Facebook, Twitter, LinkedIn and Instagram.
About Architekton 
Founded in 1989 by four architects--each with their own area of expertise and professional experience--Architekton has grown to a staff of 38. Architekton is known for award-winning, creative solutions to complex projects—projects that balance functionality with aesthetics, and for the firm's ability to manage strict budgets and produce high-quality architecture. In the 34 years since our founding, the firm has completed projects that have been deemed a success by users and the surrounding communities and have gained critical acclaim through over 175 regional and national citations. 2023 marked the firm's 5th year of receiving the Goodwin Award from the AIA, celebrating successful collaboration in the design and construction industry. In 2017 Architekton was ranked as one of the Top Companies to Work For by azcentral.com and was recently honored as Top Design Firm of the Year by Engineering News-Record.