Insights
M
c

Carthy Completes Somerton High School for Yuma Union High School District
The new $68 million school, designed by DLR Group, marks the seventh high school for YUHSD. It positions the district to meet the needs for continued growth in the region.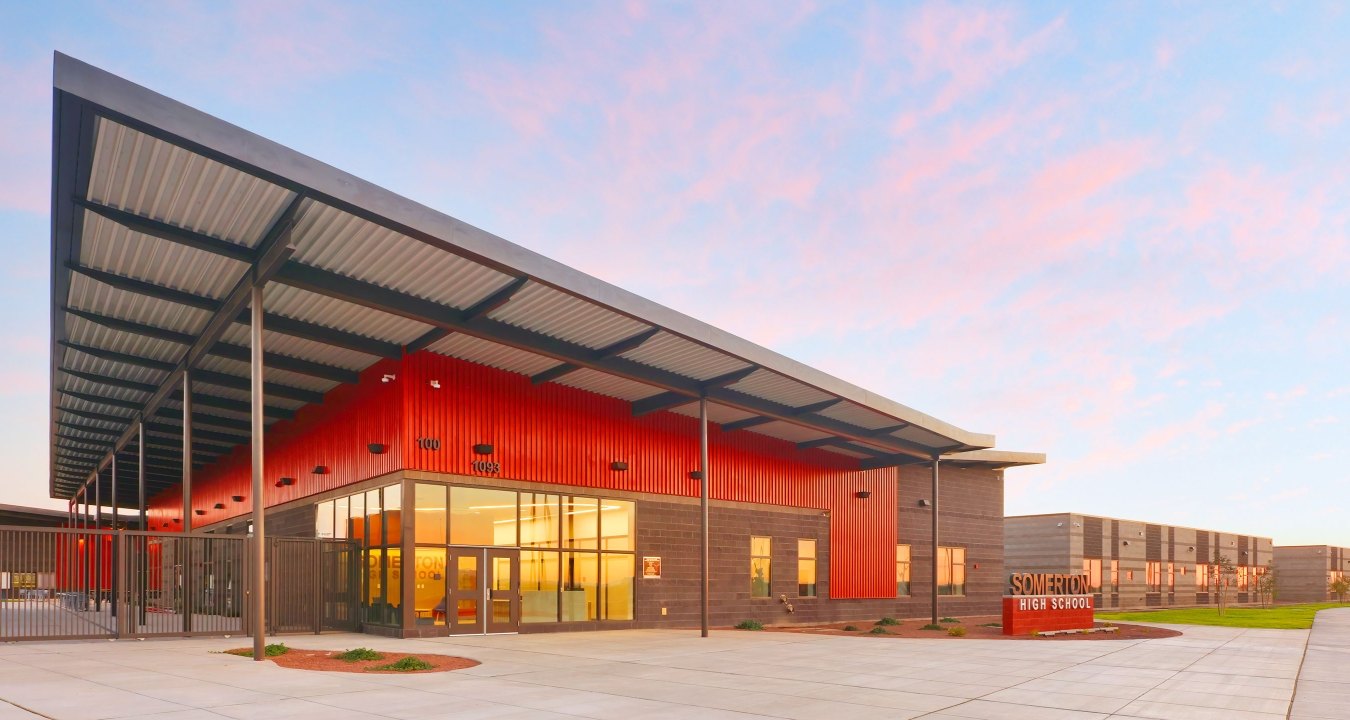 McCarthy Building Companies recently completed construction of Somerton High School, located at 1093 W. Jefferson Street in Somerton, Ariz., which is part of the Yuma Union High School District (YUHSD) and slated to open for the 2023-24 school year on Aug. 3.
The new $68 million school, designed by DLR Group, marks the seventh high school for YUHSD. It positions the district to meet the needs for continued growth in the region. Previously, Somerton was the largest city in Arizona without its own high school. 
"The realization of Somerton High School is an incredible mix of joy, pride, and gratitude," said YUHSD Superintendent Tim Brienza. "After the arduous and lengthy process it took to bring it to life, witnessing its realization is truly a testament to perseverance and determination. Decades after being discussed, the community has this incredible facility to provide the backdrop of graduating EVERY student college, career, and community prepared."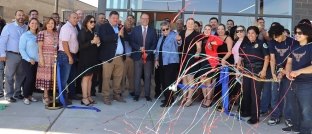 Somerton High School's Design Philosophy
The design for the new high school is heavily rooted in career and technical education (CTE) programs, which include engineering, welding, robotics, culinary, sports medicine, law enforcement as well as additional space for future CTE programs. The overall campus design reflects the agriculture community and prepares students to contribute to their local economy after high school by incorporating the Colorado River Delta, which breathes life into the desert region, through a shaded outdoor courtyard that runs through the heart of campus.
"The design for this high school was inspired by the strong agricultural community in Somerton as well as the nationally recognized CTE programs at YUHSD," said DLR Group principal and K-12 education leader, Carmen Wyckoff, AIA, LEED. "This facility will have an immediate impact on the legacy the Somerton High students will leave in their community."  
The new 150,000 square-foot high school accommodates up to 1,800 students. The campus has four main buildings, which include administrative offices, a cafeteria with seating for 358 and outdoor dining with an additional 432 seats and a snack bar, as well as a drama black box, a media center, 39 classrooms, eight labs, two art studios, choir space, a band room and three self-contained special education classrooms. 
Athletic amenities include an auxiliary gymnasium with seating for 193 spectators, wrestling room, weight room, athletic training facility, football field with lighting and spectator seating for 500, one baseball field, one softball field and 6 tennis courts. Additionally, the campus includes parking for staff and parents with 295 parking spots and an overflow event parking area of approximately 400, which anticipates future student parking needs. 
"The whole project team worked very well together day in and day out. We had our challenges throughout the project, but nothing was going to stop the team from opening Somerton High School. We all knew how important it is to our community," said John Kovesdy, project manager with McCarthy Building Companies. "We feel very fortunate to have had the opportunity to help create this landmark in Somerton."
Project Delivery Beats the School Bell
Due to the timing of the project occurring when supply chain issues were prominent, material procurement was a challenge that the project team addressed in various ways. For example, steel trusses, which carried a very long lead time, were replaced wherever possible with engineered wood trusses, which can be used in the same way as steel trusses for many areas of the school and had a shorter lead time.  For the large open areas in the cafeteria and media center, steel trusses were required due to the span and by adjusting the project sequencing to accommodate the later arrival of the steel trusses there were no project delays. Other challenges involved desert weather conditions that involved high temperatures, consistent heavy winds and dry, dusty conditions, which the project team accounted for to ensure everyone's safety. 
Project Partners
In addition to McCarthy and DLR Group, major trade partners who worked on the project include: DPE Construction, Delta Diversified Enterprises, Dahl Robbins & Associates, Haxton Masonry, JSA Company, Yuma Valley Contractors, Wilbur Drywall, Fencing by SK LLC, Kris Kraft Cabinet Company, Redbuilt, Pacific Steel, Arizona Verde Fire Protection, Walters & Wolf, T-P Acoustics, SGSI Glass & Glazing and Arizona Window Coverings. 
The Somerton community has been anticipating the opening of the new high school since 2019 when formal planning for the facility began. 
About DLR Group
DLR Group is an integrated design firm delivering architecture, engineering, interiors, planning, and building optimization for new construction, renovation, and adaptive reuse. Our promise is to elevate the human experience through design. This promise inspires sustainable design for a diverse group of public and private sector clients; local communities; and our planet. DLR Group is 100% employee-owned and fully supports the initiatives and goals of the 2030 Challenge, and is an initial signatory to the China Accord and the AIA 2030 Commitment.
About McCarthy 
McCarthy Building Companies, Inc. is the oldest privately held national construction company in the country – with nearly 160 years spent collaborating with partners to solve complex building challenges on behalf of its clients. With an unrelenting focus on safety and a comprehensive quality program that span all phases of every project, McCarthy utilizes industry-leading design phase and construction techniques combined with value-add technology to maximize outcomes. Repeatedly honored as a Best Place to Work and Healthiest Employer, McCarthy is ranked the 19th largest domestic builder (Engineering News-Record, May 2023). With approximately 6,000 salaried employees and craft professionals, the firm has offices in St. Louis; Atlanta; Collinsville, Ill.; Kansas City, Kan.; Omaha, Neb.; Phoenix; Las Vegas; Denver; Austin, Channelview, Dallas, and Houston, Texas; and San Diego, Newport Beach, Los Angeles, San Francisco, San Jose and Sacramento, Calif. McCarthy is 100% employee owned. More information about the company is available online at www.mccarthy.com.