Insights
M
c

Carthy Begins Construction of Leeward Renewable Energy's Rabbitbrush Solar Project in Kern County
Project brings 300 jobs to Antelope Valley.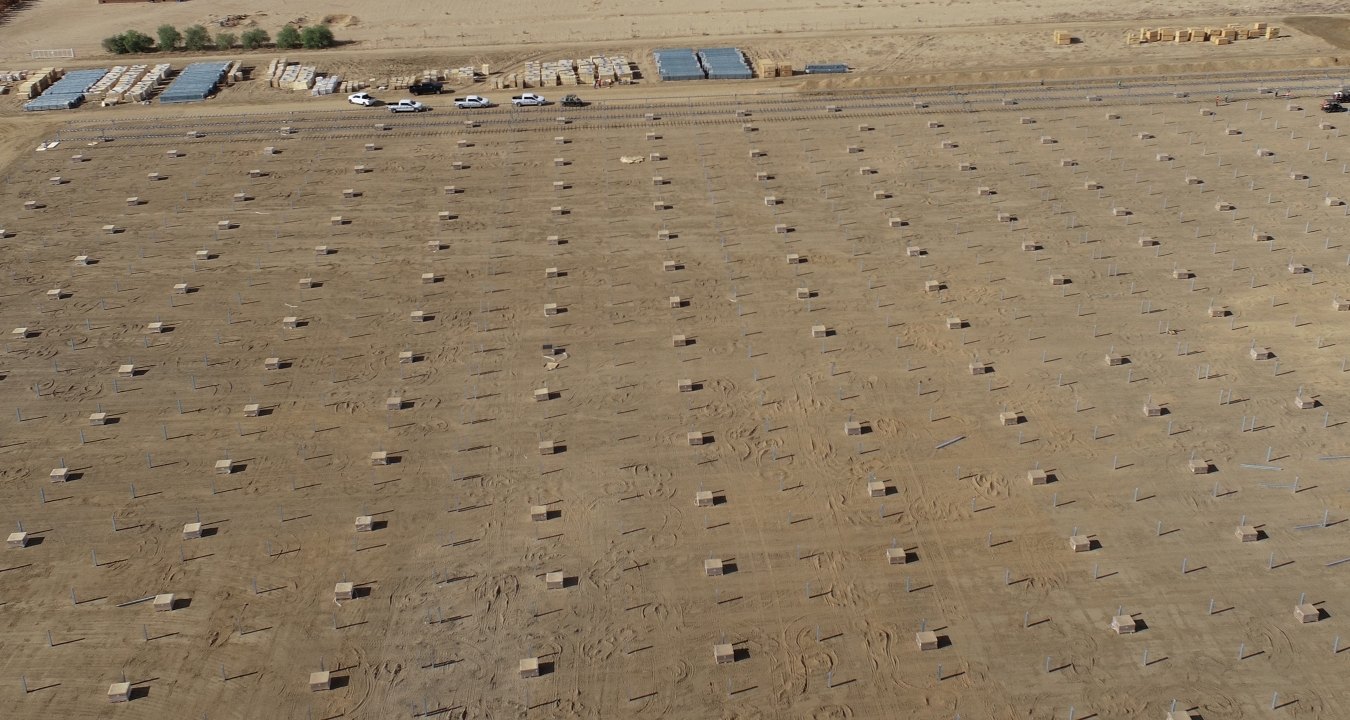 McCarthy was selected to serve as the EPC (Engineering, Procurement and Construction) contractor by Leeward Renewable Energy to construct its Rabbitbrush Solar project, a 100-megawatt (MW) facility, which also includes a 20 MW, 50 MWh battery energy storage system. The project will consist of over 415,000 First Solar thin-film photovoltaic modules, greatly enhancing the resiliency and reliability of the California energy grid, while diversifying California's energy infrastructure.
The Rabbitbrush Solar project will bring substantial economic benefit to Kern County, including job opportunities for the local craft workforce. With the support of its partners at McCalmont Engineering, EVS Inc., Dashiell Corporation, AC Electric, California Compaction Corporation, Powin, Terabase Energy, and vendors at Sungrow, First Solar, NexTracker and General Electric, McCarthy began work at the site in October of this year. At the project's peak, it will employ 300 local union craft laborers. The national renewable energy and storage contractor, with a major presence in Southern California, will seek out Kern County residents to fulfill the work at Rabbitbrush through the project's completion slated for July 2022. In tandem with cultivating jobs for community members, McCarthy and its partners are working closely with area groups, including the native Tejon Indian Tribe, to ensure respect for the area and its people is maintained throughout the process.
"McCarthy is proud to be assisting Leeward Renewable Energy's solar market expansion in Southern California and diversifying the state's critical energy infrastructure, while providing hundreds of jobs within Kern County," said McCarthy Renewable Energy & Storage Project Director David Smith. "Driven by recent legislation, California is at the forefront of developing a clean energy future, and McCarthy is honored to help the state lead the effort here and across America."
When fully operational in August 2022, Rabbitbrush will generate enough solar energy to serve the needs of nearly 40,000 homes per year, displacing approximately 48,000 metric tons of carbon dioxide (CO2) annually — the equivalent of taking 10,500 cars with internal combustion engines off the road.
Leeward Renewable Energy: Bringing Green Energy, Together
Leeward Renewable Energy is a leading renewable energy company that owns and operates a portfolio of 21 renewable energy facilities across nine states totaling approximately 2,000 megawatts of generating capacity. Leeward is actively developing new wind, solar, and energy storage projects in energy markets across the U.S., with 17 gigawatts under development spanning over 100 projects.
Mark Hensley, SVP, Project Execution and Procurement at Leeward, commented, "Leeward is pleased to partner with McCarthy, which shares Leeward's commitment to safety and quality construction, in the development of the Rabbitbrush solar project. We look forward to working closely with them to bring economic benefits to Kern County through our joint commitment to creating local job opportunities, as well as economic investment in the local economy."
McCarthy's Green Energy Team Nears 70 Renewable Energy Projects
McCarthy's Renewable Energy and Storage group is currently constructing or has completed nearly 70 utility-scale clean energy projects in communities across the country since 2010, delivering a combined capacity of more than 6.6 gigawatts (GW) of clean energy production and over 340 MW/770MWh of energy storage. Nationally, McCarthy provides EPC services on utility-scale solar projects for private solar developers and utilities, helping them deliver cost-effective clean energy to the communities they serve.
###
About McCarthy
McCarthy Building Companies, Inc. is the oldest privately held national construction company in the country – with more than 150 years spent collaborating with partners to solve complex building challenges on behalf of its clients. With an unrelenting focus on safety and a comprehensive quality program that span all phases of every project, McCarthy utilizes industry-leading design phase and construction techniques combined with value-add technology to maximize outcomes. Repeatedly honored as a Best Place to Work and Healthiest Employer, McCarthy is ranked the 13th largest domestic builder (Engineering News-Record, May 2021). With more than 6,000 salaried employees and craft professionals, the firm has offices in St. Louis; Atlanta; Collinsville, Ill.; Kansas City, Kan.; Omaha, Neb.; Phoenix; Las Vegas; Denver; Dallas, Houston; and San Diego, Newport Beach, Los Angeles, San Francisco, San Jose and Sacramento, Calif. McCarthy is 100 percent employee owned. More information about the company is available online at www.mccarthy.com or by following the company on Facebook, Twitter, LinkedIn and Instagram.