Insights
M
c

Carthy Breaks Ground on New Outpatient Facility for Children's Hospital of Orange County
Designed to match CHOC's Bill Holmes Tower, completed by McCarthy Building Companies in 2012.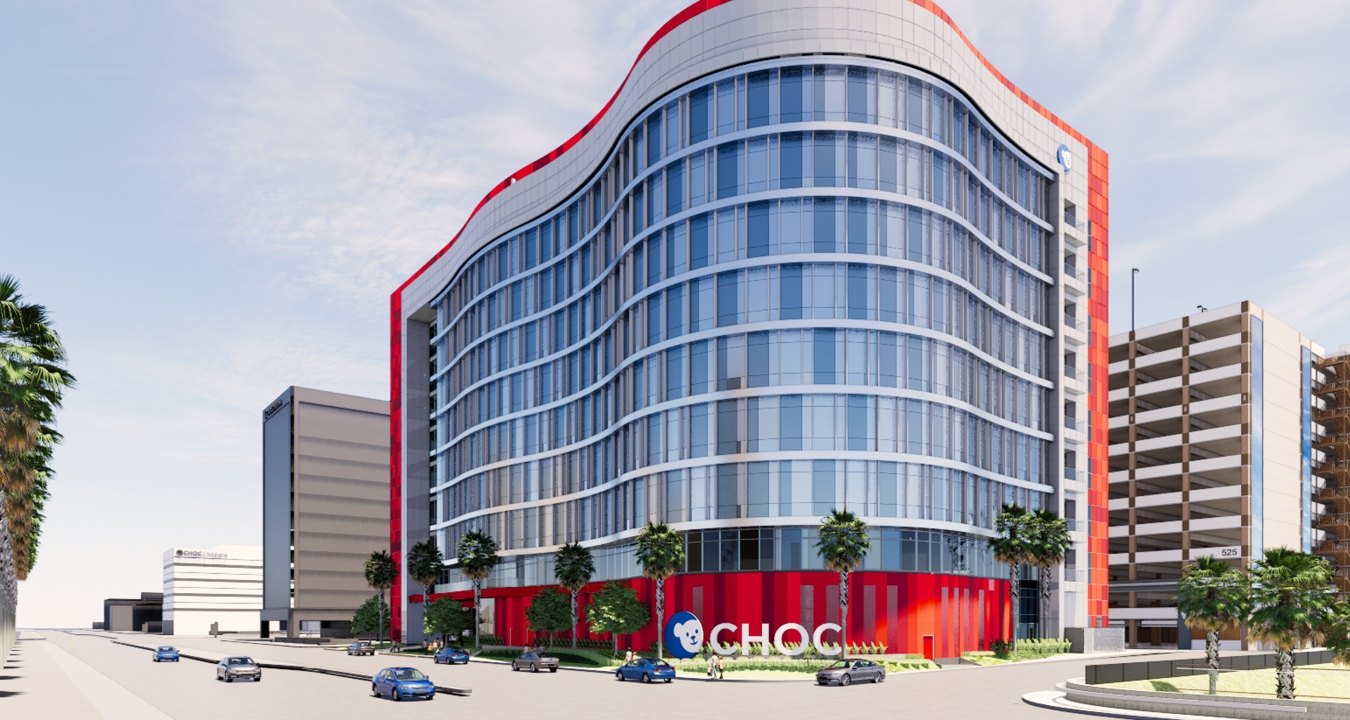 McCarthy Building Companies today announced it broke ground on Children's Hospital of Orange County's (CHOC) Southwest Tower. The new tower, designed by CannonDesign, is a 9-story, 330,000-square-foot outpatient facility that will house five floors of Department of Health Care Access and Information  (HCAI 3) facilities, and four floors of clinics, offices and research areas.
Designed to match CHOC's Bill Holmes Tower, completed by McCarthy Building Companies in 2012, the Southwest Tower boasts bright colors and a kid-friendly feel. It will include a variety of futuristic technical characteristics, with advanced features that enable better telemedicine opportunities, interactive screens for patients and staff, digital check-in kiosks, and wayfinding interior graphics.
"It is an honor to have been voted in by CHOC's board as the contractor of choice for this exciting new Southwest Tower, which will be a transformational project for our area," said Jim Madrid, Executive Vice President of McCarthy Building Companies.  "CHOC is an essential member of the Orange County community, and we have been affiliated with the heroes who lead this pediatric healthcare system for more than a decade. This facility enables McCarthy Building Companies to leverage our deep well of expertise in the healthcare sector that will have a positive impact well beyond the scope of this project."
"The design of the new Southwest Tower emulates that of its adjacent Bill Holmes Tower, integrating it seamlessly into the CHOC campus while offering a variety of unique technology and care features that makes it an inviting and warm environment for children and their families," said Gary Owens, FAIA, FACHA, CannonDesign principal and lead designer of the Southwest Tower. "We relish in the challenge of designing a space that not only meets the stringent requirements of HCAI 3 facilities, but also creates a beautiful and inviting space for the pediatric patient population."
The Southwest Tower is scheduled to be completed in 2025
About McCarthy
McCarthy Building Companies, Inc. is the oldest privately held national construction company in the country – with nearly 160 years spent collaborating with partners to solve complex building challenges on behalf of its clients. With an unrelenting focus on safety and a comprehensive quality program that span all phases of every project, McCarthy utilizes industry-leading design phase and construction techniques combined with value-add technology to maximize outcomes. Building locally in San Diego for over 30 years, McCarthy has repeatedly been honored as a Best Place to Work and Healthiest Employer, McCarthy is ranked the nation's 19th largest domestic builder (Engineering News-Record, May 2022). With approximately 6,000 salaried employees and craft professionals, the firm has offices in St. Louis, Atlanta; Collinsville, Ill.; Kansas City, Kan.; Omaha, Neb.; Phoenix; Las Vegas; Denver; Dallas, Houston; and San Diego, Newport Beach, Los Angeles; San Francisco, San Jose and Sacramento, Calif. McCarthy is 100 percent employee owned. More information about the company is available online at www.mccarthy.com or by following the company on Facebook, Twitter, LinkedIn and Instagram. 
About CannonDesign 
CannonDesign is an integrated Living-Centered Design firm at the nexus of strategy, experience, architecture, engineering and social impact. We leverage the heart, passion and intelligence of our more than 1,000 creative thinkers around the globe to develop solutions for some of the greatest challenges facing our clients and society. In addition to exceptional architecture, engineering and building services, the CannonDesign community includes teams that amplify our impact across many dimensions—strategy, innovation, facilities management, software and prefabrication to name a few — by delivering exceptional intelligence and creativity.