Insights
M
c

Carthy Breaks Ground on North Tower Expansion at Piedmont Cartersville Medical Center
The 43,122-square-foot expansion will make room for short stay general hospital beds and will decrease turnaround time for patients. 
The 43,122-square-foot expansion will make room for short-stay general hospital beds and decrease patient turnaround time. 
McCarthy Building Companies, Inc. has broken ground on the Piedmont Cartersville Medical Center campus for an innovative vertical expansion of the Piedmont Cartersville North Tower Building. The vertical expansion project, which will serve the community of Carterville, GA and surrounding areas, is set to be completed in November of 2023. 
Piedmont Cartersville Medical Center Expansion Scope of Work
The 43,122-square-foot North Tower expansion project will include the vertical expansion of a fourth and fifth floor to the current building and a renovation to the current sterile processing department. Once completed, the fourth floor will provide support space and general storage for hospital staff while the fifth floor of the expansion will make room for 20 CON-approved new short-stay general hospital beds, bringing the total of licensed beds to 139 upon completion. The current sterile processing department will be renovated and expanded by adding over 11,000-square-foot of space, almost doubling the current department. The expansion of the new sterile processing department will allow Piedmont to add additional services available to patients and decrease turnaround time for processing complex instrumentation, resulting in increased treatment of patients and decreased pre-operative waiting times.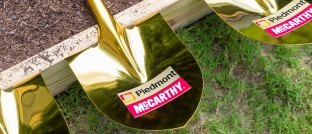 "We're pleased to further our relationship with the construction company that has responsibility for this project; McCarthy Building Companies" stated Chris Mosley, Chief Executive Officer for Piedmont Cartersville, at the groundbreaking ceremony for the North Tower Expansion project earlier this month. McCarthy was selected as the general contractor for the expansion project in early June, with TMPartners taking on the role of project architect. "We're honored to be able to continue our relationship with Piedmont," said Mark Cleverly, Project Director for McCarthy. "McCarthy has extensive local healthcare experience and we're incredibly excited to be able to deliver a first-class facility to the community of Cartersville."  
Though the North Tower expansion project marks the first time McCarthy has worked on Piedmont's Cartersville Medical Center campus, McCarthy has provided state-of-the-art health care projects for Piedmont Healthcare in other areas of Georgia for the past 15 years. McCarthy's extensive portfolio of Piedmont projects includes projects for Piedmont Atlanta, Athens Regional, Columbus, Newton and Rockdale campuses.
###
About McCarthy
McCarthy Holdings, Inc. is the oldest privately held national construction company in the country – with nearly 160 years spent collaborating with partners to solve complex building challenges on behalf of its clients. With an extensive portfolio of complex healthcare projects, McCarthy is ideally suited to take on healthcare projects of any size or complexity, while allowing the facility to remain operational during construction. Some of McCarthy's other healthcare projects include Emory University Hospital Tower J-Wing Expansion, WellStar West Georgia Medical Center South Tower Addition, Grady Emergency Department Renovation & Expansion and Children's Hospital at Erlanger Outpatient Center. 
McCarthy Holdings, Inc. is comprised of McCarthy Building Companies, Inc. and Castle Contracting, Inc. Repeatedly honored as a Best Place to Work, McCarthy is ranked the 19th largest domestic builder (Engineering News-Record, May 2022). With approximately 6,000 salaried employees and craft professionals, the firm has offices in St. Louis; Atlanta; Collinsville, Ill.; Kansas City, Kan.; Omaha, Neb.; Phoenix; Las Vegas; Denver; Austin; Dallas; Houston; and San Diego, Newport Beach, Los Angeles, San Francisco, San Jose and Sacramento, Calif. McCarthy is 100 percent employee owned. More information about the company is available online at www.mccarthy.com or by following the company on Facebook, Twitter, LinkedIn and Instagram.