Insights
M
c

Carthy Completes Largest Public Port Project on Texas Coast
The expansion represents the single largest project built by a public port on the Texas Gulf Coast. McCarthy began construction in 2020 and achieved substantial completion in May 2023.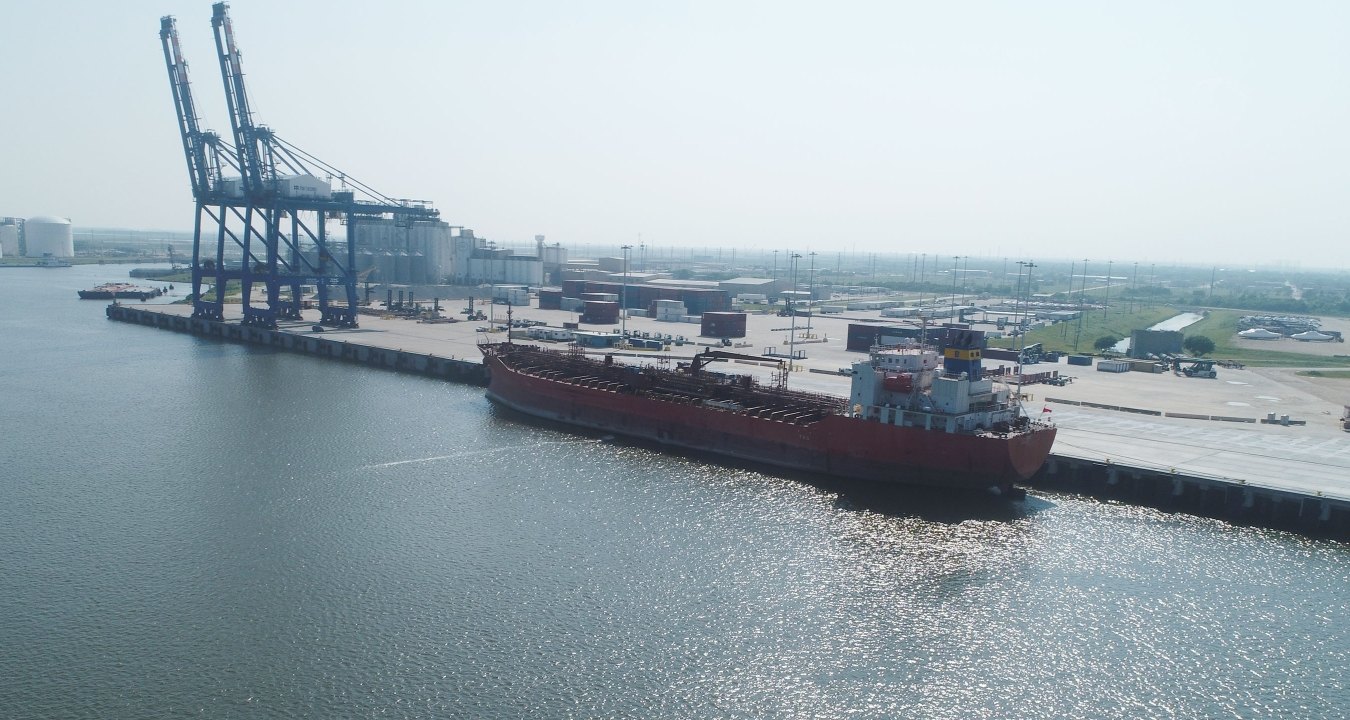 McCarthy Building Companies, Inc. has completed construction of Berth 8 at Port Freeport, Texas. Part of the Velasco Terminal, Berth 8 features over 925 feet of berth and an associated roll-on/roll-off dock extension. The expansion represents the single largest project built by a public port on the Texas Gulf Coast. McCarthy began construction in 2020 and achieved substantial completion in May 2023.
Increasing  Vital Texas Coast Port Capacity
The scope of work included demolition of an existing concrete relieving platform, dry excavation, combi-wall bulkhead installation, construction of the new wharf which included wharf piling, mechanical and hydraulic dredging, mudline/shoreline protection system, and mooring and breasting system, plus the rehabilitation of the existing Berth 7 fender system. McCarthy self-performed all aspects of the project except for hydraulic dredging, electrical and crane rail installation. 
Over 1,400 steel piles were installed on this project. The new berth also had to be constructed without disrupting access to Berth 7, requiring careful coordination while vessels were docked. McCarthy also worked to protect the shoreline, using a grout-filled mattress system in lieu of the originally designed 30-inch riprap, thereby preventing future maintenance dredging obstructions. 
Leveraging McCarthy's Port and Terminal Expertise
For one of the unique aspects of the project, McCarthy built a roll on/roll off (RORO) dock structure which allows for vehicles and large equipment to unload and load from a vessel to the wharf. This structure can be adapted to become a ship-to-shore crane rail berth when post-Panamex gantry cranes are installed. This flexibility ensures the new dock has the ability to meet the diverse needs of Port Freeport. 
"McCarthy has extensive experience in building and rehabilitating port and marine projects on the Texas coast, and this project once again allowed our team to showcase our expertise," said Fitz O'Donnell, senior vice president of operations for McCarthy. "We were honored to work with Port Freeport on such an important project as they work to support commerce in the region." 
Berth 8 was dredged to minus 51 feet, matching the depth of the Freeport Harbor Channel Improvement Project, allowing it to handle newer, larger container vessels transiting the expanded Panama Canal. 
Expanding Port Freeport's Capacity
Port Freeport is ranked nationally 6th in chemicals, 19th in total tonnage, and 26th in containers. The Freeport Harbor Channel serves Alliera, Atlantic Container Lines, AMPORTS, BASF, Chiquita Fresh N.A., Dole Fresh Fruit, The Dow Chemical Company, Enterprise Products Partners, ExxonMobil, Freeport LNG, Ford Motor Company, General Motors, Glovis, Grimaldi Lines, Hoegh Autoliners, Kirby Marine, Liberty Global Logistics, Mammoet, MEGlobal, NYK RORO, Oceanus Line, Phillips 66, Riviana Foods, Inc., Sallaum Lines, Tenaris, U.S Department of Energy, Volkswagen Group of America, and Vulcan Materials Company.
McCarthy has worked at various ports along the Gulf Coast for more than 30 years. McCarthy's experience in marine construction spans a diverse array of project types including petrochemical liquid terminal facilities, bulk cargo handling terminals, to deep water container terminals and ship docks. McCarthy undertakes complex projects for public clients such as Port Freeport, Port Beaumont and Port Houston, as well as private mid-stream clients and is partner of choice for EPC firms servicing oil and gas and petrochemical clients. 
Learn more about McCarthy's Marine Construction services. 
###
About McCarthy
McCarthy Building Companies, Inc. is the oldest privately held national construction company in the country – with more than 150 years spent collaborating with partners to solve complex building challenges on behalf of its clients. With an unrelenting focus on safety and a comprehensive quality program that span all phases of every project, McCarthy utilizes industry-leading design phase and construction techniques combined with value-add technology to maximize outcomes. Repeatedly honored as a Best Place to Work and Healthiest Employer, McCarthy is ranked the 19th largest domestic builder (Engineering News-Record, 2022). With approximately 5,000 salaried employees and craft professionals, the firm has offices in St. Louis, Atlanta; Collinsville, Ill.; Kansas City, Kan.; Omaha, Neb.; Phoenix; Las Vegas; Denver; Dallas, Houston; and San Diego, Newport Beach, San Francisco, San Jose and Sacramento, Calif. McCarthy is 100 percent employee owned. More information about the company is available online at www.mccarthy.com or by following the company on Facebook, Twitter, LinkedIn and Instagram.