Insights
M
c

Carthy Joins More Than 2,000 Firms Registered to Participate in 2nd Annual Construction Inclusion Week
Content for 2022 includes robust curriculum resources, facilitator tools, trainings, and discussion guides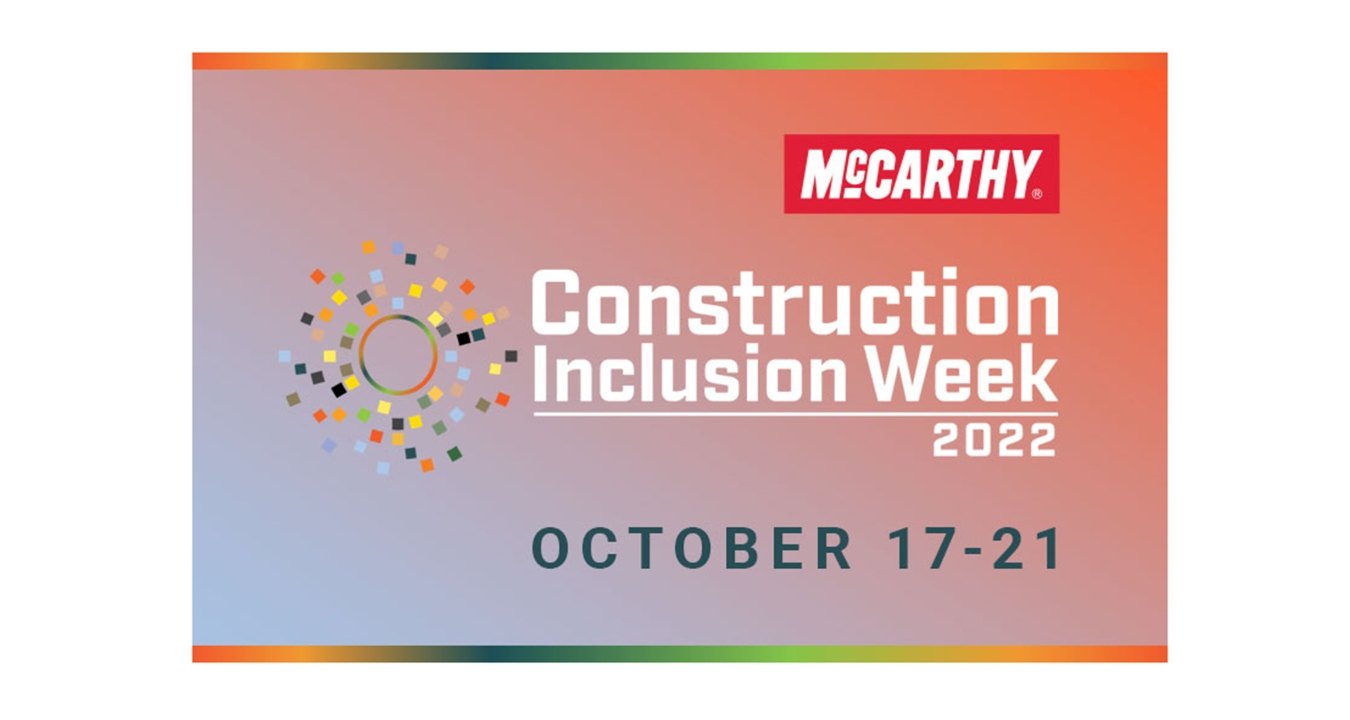 Construction Inclusion Week (CIW) 2022 is October 17-21, 2022, and will amplify awareness while celebrating diversity, equity and inclusion (DEI) throughout the construction industry. Open to firms of all sizes, CIW provides educational and business resources for the construction industry including craft and jobsite crews, office teams, and industry affiliates. Construction Inclusion Week 2022 introduces an assessment to help firms evaluate their DEI Maturity, structure engagement throughout the week, and lay the groundwork for improvement.
Topics For Construction Inclusion Week 2022
Every day offers a new focus, information and discussion on a different element of inclusivity and diversity. Content is centered on five daily themes:
Commitment & Accountability (Monday, October 17)
Belonging (Tuesday, October 18)
Supplier Diversity (Wednesday, October 19)
Workplace Culture (Thursday, October 20)
Community Engagement (Friday, October 21)
What Is Construction Inclusion Week?
"Construction Inclusion Week is an important opportunity for everyone in our industry to commit to grow and get better, together," said Ray Sedey, McCarthy CEO and chairman. "McCarthy is proud to be a founding member of Time for Change. We strive to sustain a culture that delivers great experiences for everyone and are already well underway preparing for the second Construction Inclusion Week. We encourage everyone across the industry to join us."
Content for 2022 includes robust curriculum resources, facilitator tools, trainings, and discussion guides. By visiting www.constructioninclusionweek.com, firms can access free materials and resources to bring awareness to diversity, equity and inclusion. Resources are flexible, allowing firms to plan robust activities within their organizations. Video content will be released during the week and distributed through social media channels. In-person and virtual events are being planned by industry partners throughout the country. Additionally, community engagement outreach efforts will introduce students to construction careers.
Over two thousand firms have registered to participate in 2022. Contractors as well as architectural firms, owner/client firms, higher learning institutions, governmental contracting entities, and municipalities throughout the country have registered. 76.8% of registered firms are majority-owned entities, while 23.2% of registered firms hold a diverse supplier certification.
About Time For Change
Time for Change is a construction industry collaboration dedicated to identifying ways to advance diversity, equity and inclusion in the construction industry. Founding members launched the first national Construction Inclusion Week event in 2021. The construction industry makes the most progress when members collaboratively work together. Fostering sustainable and measurable change requires unity, a shared focus on achieving goals, and taking bold steps. Construction Inclusion Week is an annual event that harnesses the collective power of general contractors, specialty contractors, subcontractors, and suppliers to build awareness and improve diversity and inclusion in the construction industry. For more information, visit www.constructioninclusionweek.com
ABOUT McCARTHY
As a founding member of Time for Change, McCarthy is committed to sustaining a culture that delivers great experiences for everyone. McCarthy is the oldest privately held national construction company in the country – with nearly 160 years spent collaborating with partners to solve complex building challenges on behalf of its clients. With an unrelenting focus on safety and a comprehensive quality program spanning all phases of every project, McCarthy utilizes industry-leading design phase and construction techniques combined with value-add technology to maximize outcomes. Repeatedly honored as a Best Place to Work and Healthiest Employer, McCarthy is 100 percent employee owned.