Insights
M
c

Carthy Completes Houston Methodist Sugar Land Medical Office Building
McCarthy's scope included a medical office building, totaling 160,000 square feet, while the garage consists of 1,100 spaces.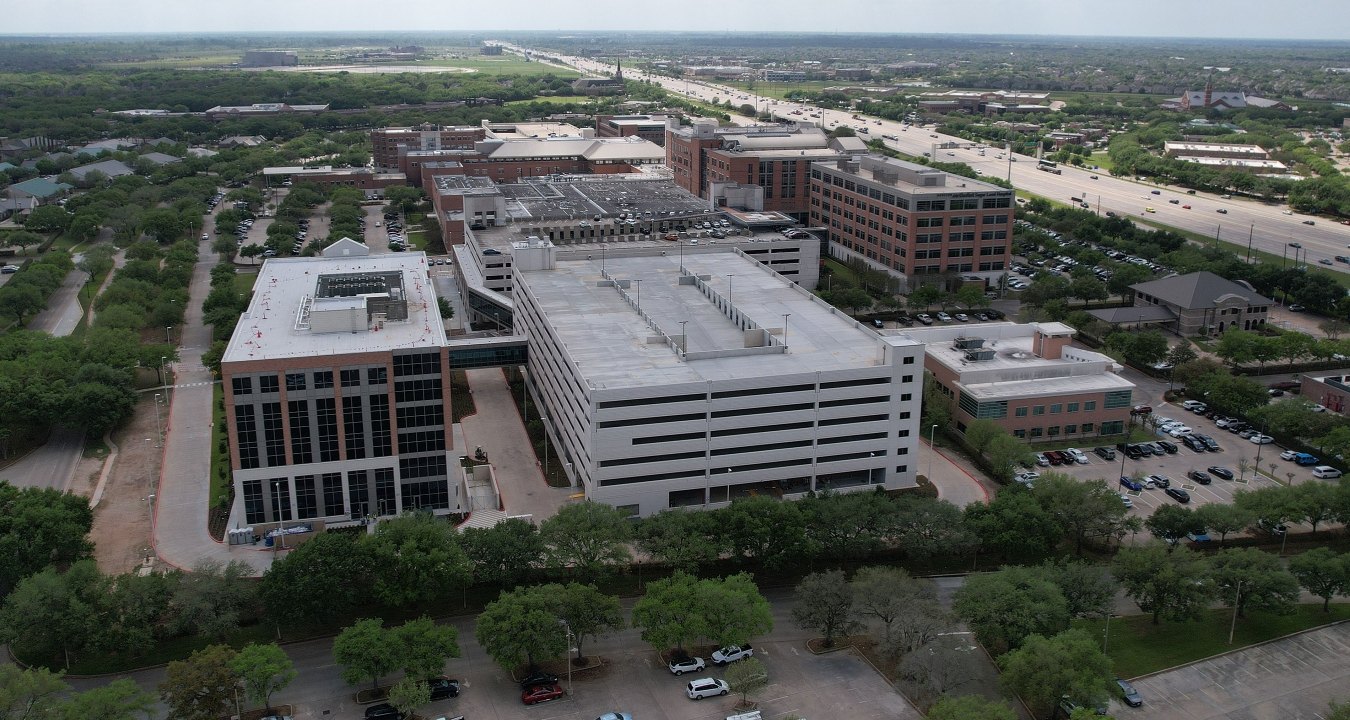 McCarthy Building Companies, Inc. has completed construction of two structures on the campus of Houston Methodist Sugar Land Hospital located in the greater Houston area. The project included a six-story medical office building and an attached seven-level parking garage. McCarthy broke ground in December 2021. 
McCarthy's scope included a medical office building, totaling 160,000 square feet, while the garage consists of 1,100 spaces. Conditioned pedestrian bridges connect the new medical office building to the existing campus buildings. A vehicle bridge connects the new garage to an existing adjacent garage. For the building's interior, McCarthy was responsible for building out the lobby, corridors, and an endoscopy surgical center. The surgical center, which will be completed in August, includes three endoscopy rooms as well as one operating room. 
Building In Tight Spaces Presents Challenges
The project's location within the campus also created multiple challenges, as working within an operating hospital campus meant McCarthy had to work in a confined area without disrupting sensitive hospital operations. Deliveries were timed to ensure materials were installed as soon as possible to accommodate limited laydown space. Challenges associated with the supply chain were managed to ensure materials arrived in time to prevent disrupting the project schedule. 
As part of the project, McCarthy undertook a major logistical challenge of extending a water main 2,500 feet around the campus while navigating existing underground utilities. Additionally, the existing garage structure was reinforced to accommodate the new vehicle connector bridge. On the technology front, McCarthy utilized a fully BIM-coordinated MEP system, as well as using McCarthy Mapping to identify locations of underground utilities. 
"With an aggressive timeline and several challenges along the way, the entire project team was unified in its commitment to serve Houston Methodist and provide a seamless experience on this complex project," said Greg Lynch, McCarthy project director. "We always want to be good stewards of each project, and McCarthy was honored to continue our partnership with Houston Methodist as they expand in Sugar Land."
McCarthy served as the project construction manager, with Page as the project architect and Jacobs as the Owner's representative. With an extensive portfolio of multi-phase healthcare and research facility projects, McCarthy is ideally suited to take on healthcare and research projects of any size or complexity. Some of McCarthy's other healthcare projects include Houston Methodist Cypress Hospital, Texas Children's Hospital – Austin, Parkland Moody Center for Breast Health in Dallas, CHRISTUS Mother Frances Hospital - Tyler expansion, CHRISTUS Spohn in Corpus Christi, The University of Texas MD Anderson Cancer Center Alkek Hospital Expansion and The University of Texas MD Anderson Cancer Center The Pavilion expansion. 
###
About McCarthy
McCarthy Building Companies, Inc. is the oldest privately held national construction company in the country – with more than 150 years spent collaborating with partners to solve complex building challenges on behalf of its clients. With an unrelenting focus on safety and a comprehensive quality program that spans all phases of every project, McCarthy utilizes industry-leading design phase and construction techniques combined with value-add technology to maximize outcomes. Repeatedly honored as a Best Place to Work and Healthiest Employer, McCarthy is ranked the 19th largest domestic builder (Engineering News-Record, 2022). With approximately 5,000 salaried employees and craft professionals, the firm has offices in St. Louis, Atlanta; Collinsville, Ill.; Kansas City, Kan.; Omaha, Neb.; Phoenix; Las Vegas; Denver; Dallas, Houston; and San Diego, Newport Beach, San Francisco, San Jose and Sacramento, Calif. McCarthy is 100 percent employee owned. More information about the company is available online at www.mccarthy.com or by following the company on Facebook, Twitter, LinkedIn and Instagram.