Insights
M
c

Carthy's Concrete Team Pours On the Success
The 19-person concrete team travels across Arizona, completing anywhere from one to eight jobs together within a given week.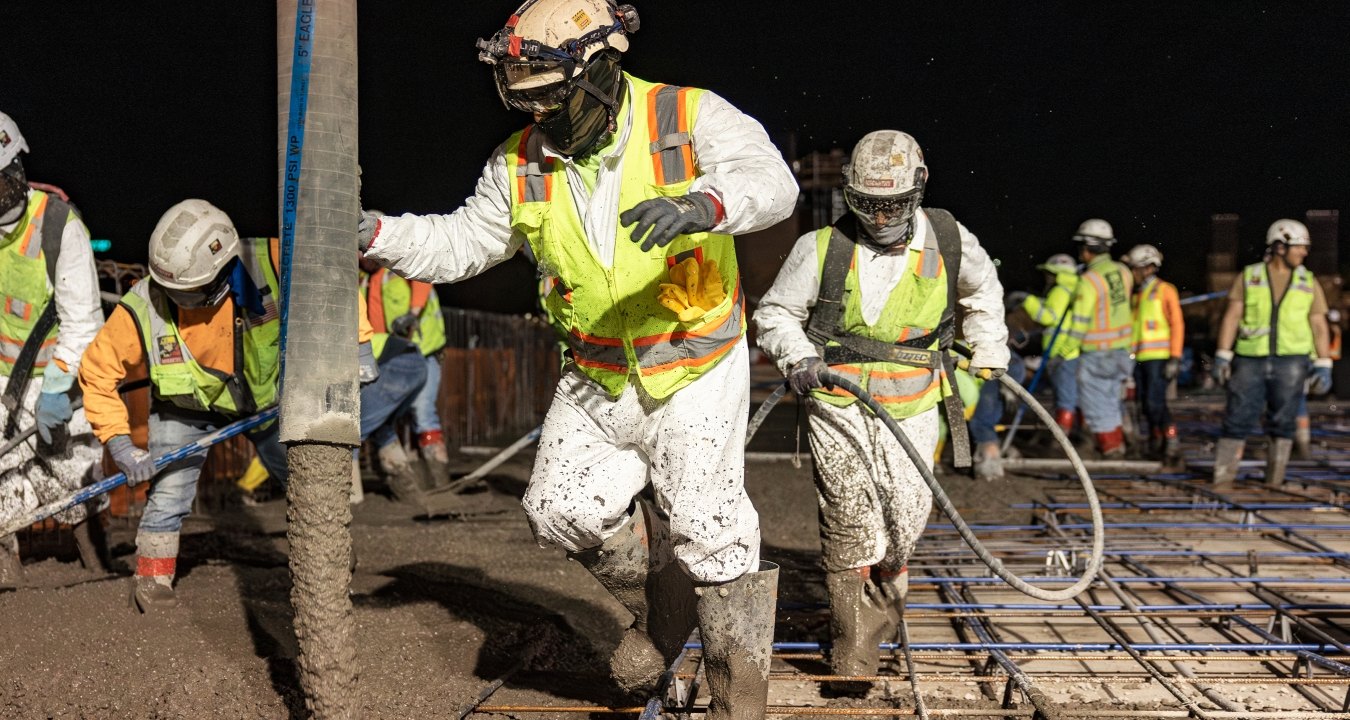 Across the country, McCarthy has more than 4,000 craft professionals working on projects ranging from large mega-projects to smaller scale, more specialized projects. However, one small self-perform concrete crew is making a big impact in Arizona, and we are highlighting their consistently excellent work while celebrating Craft Appreciation Week. 
The 19-person concrete team, led by Superintendents Louie Gutierrez, Jose Hernandez, and Greg Samarripa, travels around Arizona, completing anywhere from one to eight jobs together within a given week. In 2022, the group completed more than 40 concrete projects in nearly all the market sectors where McCarthy works, consistently delivering exceptional quality for clients. That was about 1,500-2,300 cubic yards of concrete poured by this crew per week!  
A Strong Concrete Team Means A Strong Foundation
"This is a very technical and challenging trade," said Amber Shepard, McCarthy Self-Perform Project Manager. "Coming from a recruiting standpoint, concrete finishers are one of the hardest trades to hire for. Each one of the members of this team has a specialized skillset, and it's been incredible to witness their positive impact to McCarthy's projects."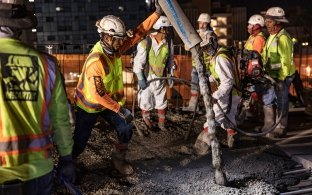 To avoid the intense Arizona heat, this crew does most of their larger pours through the night. This timing also helps with the coordination of work on each jobsite. Since the site schedule includes other work, the concrete crew will usually be out of their way and off-site by the morning as other scopes begin work for the day.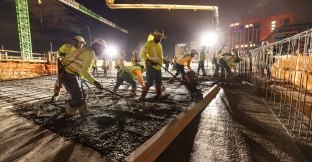 This concrete crew never works in a silo – aside from coordinating work schedules between scopes of work on one job, moving from job to job requires detailed coordination between all the Arizona jobsite teams. Louie, Greg and Jose lead a weekly coordination call between all the projects so that their crew can make sure they meet the concrete needs of all jobsites requesting work by their team. Coordinating to meet the needs of each jobsite team helps keep each project on schedule, ensuring a timely delivery in the end for the client.  
Putting All the Pieces in Place
Aside from performing the concrete work, this team also manages and coordinates all the concrete equipment for McCarthy's Arizona operations. This includes running the pour truck, which includes all of the ride-on trowels, walk-behinds, and other miscellaneous tools and equipment the crew utilizes on every concrete job in the state. Having this team manage and run their own equipment improves efficiencies on projects and ultimately results in cost savings for owners.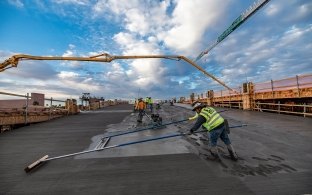 All of this coordination and logistics takes more than one leader – the team boasts four superintendents and four general foremen. All of those leaders have been promoted from within the team, bringing their experience to every project and mentoring new crew members as they join. That includes Superintendent Louie Gutierrez, who recently celebrated an incredible 40 years of service with McCarthy, and Superintendent Greg Samarripa, who has spent over 25 years with McCarthy on this crew. Jose and Carlos Chavez, two brothers, are both general foremen with more than 20 years of McCarthy experience. Additionally, crew members like Jesus Yanez have been on the team since 1999. The impact of this team expands even beyond concrete operations. A few team members have transitioned from the concrete crew to McCarthy's electrical and civil construction teams. The concrete finishers on this team have also supported a number of other trades.  
"I am grateful to collaborate with this exceptionally skilled team," Amber continued. "The synergy within the team is remarkable, with each individual playing a crucial role that contributes to the successes of our projects." 
McCarthy's craft workforce is the heart of our business, and this concrete crew is no different. As we continue to celebrate Craft Appreciation Week, we are proud to recognize the impact and value craft professionals bring to our jobsites every day.  
Thank you to each of these team members on the Arizona concrete pour team: 
Louie Gutierrez – Superintendent 
Greg Samarripa – Superintendent  
Jose Hernandez – Superintendent 
Gabriel Diaz Orozco – Assistant Superintendent 
Jose Chavez Dominguez – General Foreman 
Carlos Chavez Dominguez – General Foreman 
Joseph Gonzales – General Foreman 
Luis Lopez Hernandez – General Foreman 
Juan Amaya 
Carlos Carrillo Castaneda 
Guadalupe Acuna 
Jose Felix 
Francisco Regalado 
Ramon Villegas 
Eduardo Hernandez 
Damian Fuentes 
Miguel Alvanez 
Tevita Pupua 
Solomone Lolohea 
Julio Juarez 
Jesus Yanez 
Martin Castrellon 
Alberto Medina Reyes 
Interested in joining our elite concrete team? Explore open McCarthy positions and join our ranks!