Insights
Parkland Moody Center for Breast Health
Free standing, six-story Outpatient Building to be complete later in 2021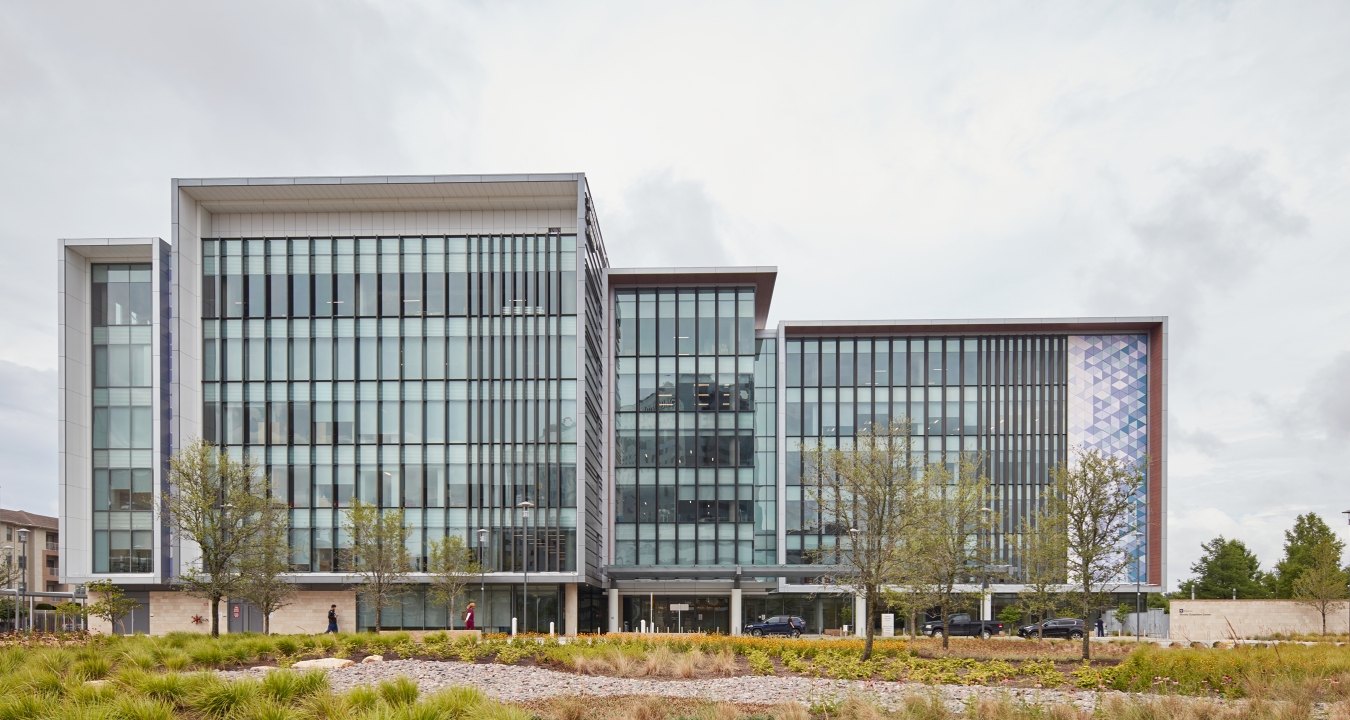 McCarthy Building Companies, Inc., in joint venture with The Crowther Group, has completed construction of Parkland Health & Hospital System's Moody Center for Breast Health, located on the first floor of the system's new Outpatient Clinic building, a freestanding six-floor medical building. Opening mid-February, the 40,000-square-foot clinic provides comprehensive breast care to all Dallas County residents seeking care. The new center is designed to be a warm, welcoming, hopeful environment for patients, encouraging them to ensure they return for follow-up care after their initial appointments.
Services such as medical and surgical oncology, plastic surgery, imaging, infusion, physical therapy, and more will be collocated in the Outpatient Clinic Building. Previously, patients had to make separate appointments at different locations, and coordinate transportation, childcare, and work absences for these multiple appointments. To further facility accessibility, the building was specifically sited to be adjacent to DART bus and rail stops, strengthening the convenience and connectivity for those arriving by public transit to receive care. The design features many improvements for environmental performance and the project is expected to receive a LEED Silver rating.
"The McCarthy/Crowther team is pleased to bring to life the vision for the Moody Center for Breast Health. The thoughtful design, planning and construction for this specialty clinic project will positively impact so many lives and we look forward to completing the rest of the new outpatient clinic that designed to meet the needs of the community now and into the future," said Erika Walker, project manager for McCarthy/Crowther. 
The six-story Outpatient Building totals 500,000 square feet and will also house other tenants including: administrative offices; antibiotic therapy; diabetes foot wound; HIV clinic; nutrition clinic; oncology clinic, oncology infusion, oncology lab and oncology pharmacy; ophthalmology, oral surgery clinic; surgical oncology; palliative care clinic; and physical medicine and outpatient rehabilitation. Further, the fifth and sixth floor will allow consolidation of the remaining elements occupying the Outpatient Center, formerly the old Parkland hospital, on the new hospital campus.
McCarthy/Crowther self-performed concrete, foundations, and vertical columns featured in the building. The team also employed off-site prefabrication for the panels that cover the north and south walls – with curtain infills for the remaining sections – saving two months on the schedule. Under the scope of the project, the construction team conducted site and civil work, including underground utilities from Central Utility Plant to the Outpatient Clinic. They conducted extensive utilities work, bringing power and hydronic piping from the existing CUP across the street, working in the roadways on all three sides of the building to get sanitary, storm, city water connected and tying in pneumatic tubing and fiber to another existing/active clinic on the other side of the DART rail.
The construction team also used virtual reality headsets during client mockup reviews. This allowed for end-user groups to walk the space virtually and ensure furniture, computer monitors, and equipment was in the right place in their work zone thus avoiding costly change orders after the fact. The project was completed on schedule with zero lost-time injuries.
Minority/Women Business Enterprise (MWBE) contracts comprised of 33%, or $56 million of the project, with 48 MWBE subcontractors and vendors working on the building. McCarthy/Crowther created business-specific plans and worked with these teaming partners and subcontractors on where and how they wanted to grow their business. Through this, McCarthy/Crowther has pursued additional projects with these MWBEs.
"Eagle Barricade is grateful for the opportunity to partner with McCarthy/Crowther on the Moody Outpatient Clinic project because it gave us the experience of working on a large project to add to our resume. It also provided us with new relationships and additional opportunities to work with Parkland, increased our brand awareness, and allowed us to pursue additional work with McCarthy and The Crowther Group," said Terry Lacy-Little of Eagle Barricade, LLC, the wayfinding and signage subcontractor on the project. "Working on the Moody Center for Breast Health means a lot to our company, as we have several breast cancer survivors at our firm."
Sean Smith, project engineer for McCarthy/Crowther, said, "As a team member, I was proud to see the impact this project had on so many small, minority, and women-owned businesses during the pandemic. Our teams worked together with a 'boots on the ground' approach to ensure these MWBE businesses had a voice on a project of this magnitude. We look forward to working with these partners again."
McCarthy/Crowther also worked with RBCA Foundation Second Chance program which offers short-term construction and workforce training designed to prepare participants for gainful employment.