Insights
Sunnyslope High School Campus Renovation and Expansion Project Marks Topping-out Milestone
Completion of phase 2 of the campus construction project is expected in time for the 2023/24 school year.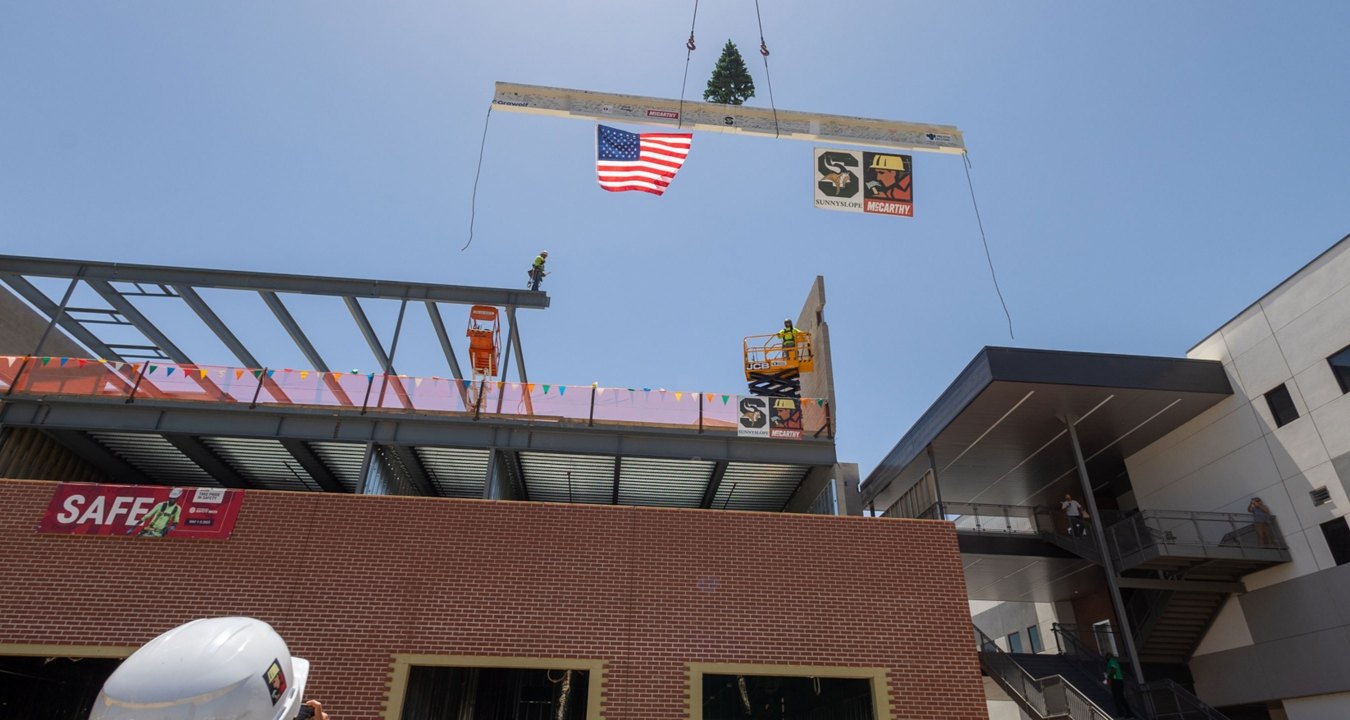 General contractor McCarthy Building Companies recently celebrated the construction milestone of topping-out for Phase 2 of the multiphase construction and renovation project at Sunnyslope High School. Topping-out marks the placement of the final beam atop the newest three-story classroom building on the growing campus, which is located at 35 W. Dunlap Ave. in Phoenix. The Glendale Union High School District's project at Sunnyslope High School allows the high-performing school to accommodate additional students. Phase 2 is slated for completion in fall 2023.   
Phase 2 of the project, which began in May 2022, involved the demolition of several buildings and the construction of a new, three-story, 100,000-square-foot classroom building. Phase 2 will provide the campus with 40+ new classrooms, chemistry/biology labs, a library, art rooms and ELA rooms. In addition, the project team has completed renovations to the sports fields, including new turf on the football field, new bleachers, a resurfaced track, and renovated varsity baseball, varsity softball and JV softball fields on the campus. 
"The excitement on campus over the past two years as students, faculty and staff have watched the campus transform and experience the new classrooms completed with phase 1 has been energizing," said executive vice president Antonya Williams, who leads the education services team with McCarthy Building Companies. "Achieving the topping out of the newest building marks another major milestone for the Sunnyslope community and we're proud to be able to celebrate with them as we move closer to the completion of this incredible project and prepare to welcome new students this fall."       
Phase 1 of the campus construction project was completed in only seven months with McCarthy and its design partner Orcutt-Winslow providing design and construction services concurrently and the majority of the work occurring over the summer months. This strategy ensured completion of the initial phase by the beginning of the 2021/22 school year. Phase 1 included the addition of a three-story, 72,000-square-foot classroom building with 33 classrooms as well as space for band, choir, and the campus ROTC program.
The Glendale Union High School District is using school bond funds approved in the 2020 election by voters to renovate the campus, which first opened in 1953. 
McCarthy Building Companies is the general contractor; Orcutt | Winslow is the architect; and major subcontractors for the project include Procon Professional Concrete, Mark's Valley Grading, Hawkeye Electrical, Sunburst Landscaping, Sun Valley Masonry, MKB/Capture, Graywolf, Midstate Mechanical, Pete King Construction, Progressive Roofing Arizona Verde Fire Protection, B&F Contracting, DH Pace, and Graywolf. 
About McCarthy
McCarthy Building Companies, Inc. is the oldest privately held national construction company in the country – with more than 150 years spent collaborating with partners to solve complex building challenges on behalf of its clients. With an unrelenting focus on safety and a comprehensive quality program that span all phases of every project, McCarthy utilizes industry-leading design phase and construction techniques combined with value-add technology to maximize outcomes. Repeatedly honored as a Best Place to Work and Healthiest Employer, McCarthy is ranked the 9th largest domestic builder (Engineering News-Record, May 2020). With approximately 3,700 salaried employees and craft professionals, the firm has offices in St. Louis, Atlanta; Collinsville, Ill.; Kansas City, Kan.; Omaha, Neb.; Phoenix; Las Vegas; Denver; Dallas, Houston; and San Diego, Newport Beach, San Francisco, San Jose and Sacramento, Calif. McCarthy is 100 percent employee owned. More information about the company is available online at www.mccarthy.com or by following the company on Facebook, Twitter, LinkedIn and Instagram.
About Orcutt | Winslow
Orcutt | Winslow, is a multi-disciplinary design firm that offers specialty services including architecture, interior design, project management and planning.  Established in 1971, the firm has expanded from a two-architect practice to 120+ staffers and offices in Phoenix, Nashville and Dallas/Ft. Worth making it one of the largest architectural firms in the nation and a business model multiplier impacting the economics of dozens of cities nationwide. For more information, contact Kristine Millar at 602.628.5078 or visit www.owp.com.