Insights
The Integrated Virtual Builder
How closer collaboration among stakeholders controls costs, lowers risk and creates an exceptional client experience
By

Alex Belkofer
VDC Director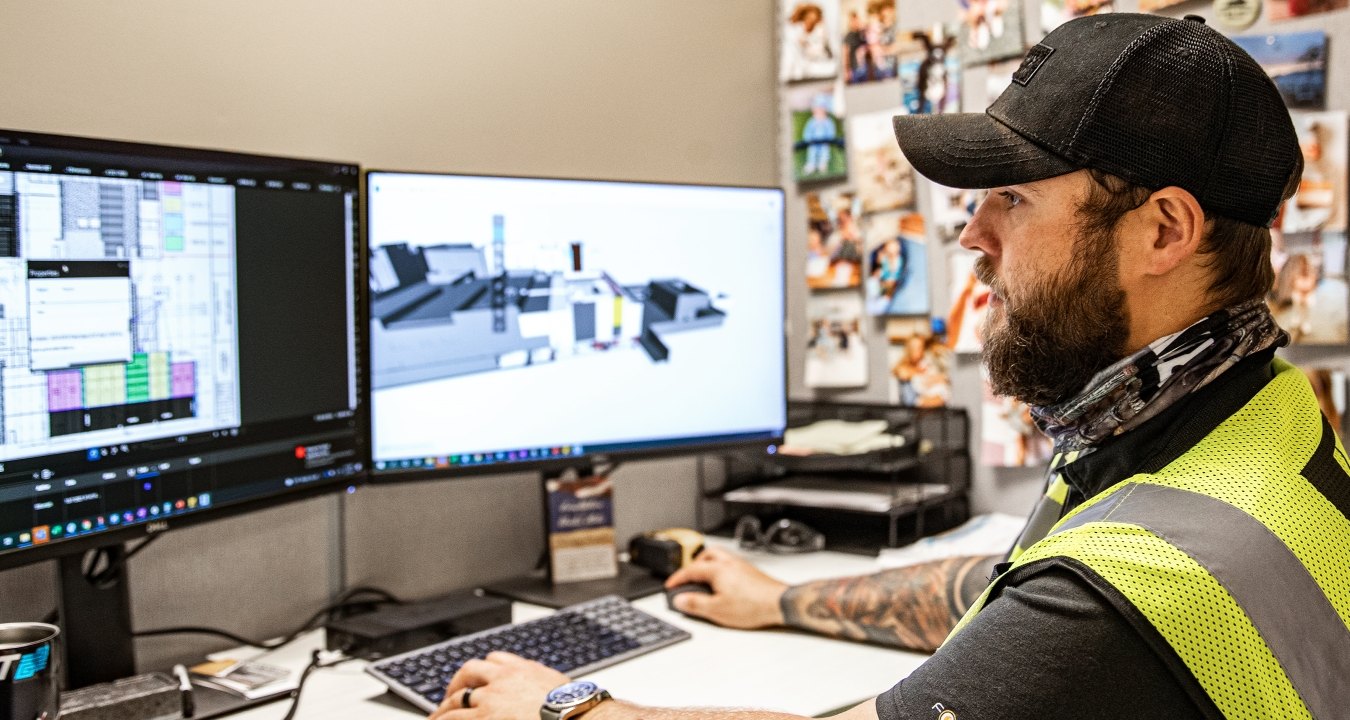 Connecting the dots
What is one of the greatest barriers to controlling costs, mitigating risk and improving owner satisfaction? It's a lack of strong communication among all stakeholders, from the design and construction teams to the project owner. Virtual Design and Construction (VDC) is one way to help improve communications and strengthen collaboration. But not all VDC approaches are created equal.
Today, it's common for many builders to dedicate VDC resources on an as-needed basis, deploying teams to handle specific parts of a project's life cycle, such as design and preconstruction. But those teams don't have the benefit of seeing the project life cycle in its entirety. They are basically operating in a silo of their own making.
A more effective approach to VDC is to view the role in a more holistic way. At McCarthy, VDC is the process of integrating Building Information Modeling (BIM) technologies throughout every step of the project life cycle. The aim is to connect every stakeholder to improve collaboration. In effect, we're making integrated virtual builders of us all.
Why is this approach more effective? Let's begin by defining the critical role BIM plays — and then, how McCarthy broadens that value by leveraging it from one end of the project life cycle to the other.
Communicating in new dimensions
Distinguishing BIM as tools for creating shared information platforms – and VDC as a process of integrating BIM into every element of a project – enhances communication and collaboration throughout the project life cycle. During the last 15 years, the design and construction industry has evolved from delivering projects in 2D to data-rich 3D models using BIM tools, fundamentally changing the way projects are delivered.
As they say, a picture is worth a thousand words. And for visual thinkers, BIM technologies enable clear communication you can understand at a glance. BIM enables the creation of a project's 'digital twin' in the virtual world, creating an environment where builders, designers and owners alike can visualize the project's details and close communication gaps.
By developing model-based workflows, our integrated VDC approach compels pre-planning and ensures that data is shared freely between different teams. These tools help connect data silos and keep information flowing seamlessly from stakeholder to stakeholder. Suddenly, you're identifying issues before they ever become problems that can impact timing, quality and costs. What better way to help manage risk and deliver results for owners?
More than a deliverable
Why is it so important that our approach to VDC leverages BIM throughout every step of a project's life cycle? Because better communication yields stronger collaboration. When owners, architects, engineers and construction teams share the same information in real-time, they can make better decisions faster. As a result, each stakeholder is in a better position to achieve project goals. That is the key to improving satisfaction across the project life cycle from startup to closeout and beyond.
The project benefits of the McCarthy approach are clear:
Fewer Requests for Information: RFIs indicate that there are information "gaps" among design and construction teams. This can slow a project down — not to mention result in costly errors. In the past, if your contractor needed to build a wall and required more information, they would have to create an RFI, send it to the designer and wait for the response. The result: a lot of lost time while entire teams sat on their hands waiting to hear back. Our integrated approach to VDC connects owners, designers and trade partners through various technology platforms to close those gaps.
Fewer field coordination issues: Model-based workflows compel pre-planning and review, clarifying details and getting the right information to the field — where the majority of coordination issues occur. By replacing drawings and light tables with 3D models, you can reduce field coordination issues by as much as 50 to 75 percent.
Faster, higher quality response: When dealing with clarifications through a paper process, getting clarity on what changed to each and every project team member is a huge challenge. Because 3D imagery communicates more effectively than 2D, you'll see more timely communications that result in more informed decision making.
A culture of doing things right
As an industry leader, we've seen the pitfalls that come with poor communication. When construction and design teams don't freely share information, preventable errors occur. As a result, the project takes longer, costs increase and the process negatively impacts satisfaction from one end of the project's life cycle to the other.
We made the shift to a fully integrated VDC approach because providing a deliverable simply isn't good enough. It would be easy to deploy VDC teams as needed and stop there – most builders do. Instead, we've created a culture of integrated virtual builders where designers, construction teams and owners work closer together than ever before to improve every project.
# # #
About the Author
As Virtual Design and Construction Director at McCarthy Building Companies, Inc. for the firm's Central Region, Alex Belkofer is responsible for the overall strategy, implementation and execution of the Virtual Design and Construction (VDC) lifecycle process between all project stakeholders. Alex oversees the internal promotion, training and guidance of McCarthy project teams through VDC processes and practices throughout a project's design and construction life cycle. He also works closely with key project stakeholders to establish early expectations and project deliverables at all project phases. Alex holds a Certification of Management – Building Information Modeling and is a graduate of The Ohio State University. He is actively involved with various national organizations focused on construction technology such as the Associated General Contractors of America BIMForum, the Associated Builders and Contractors National Student Construction Management Competition (CMC), Campus FM Technology Association (CFTA) as well as Junior Achievement of Missouri.