Our Work
BJC Healthcare Campus Renewal
St. Louis, MO
Project Stats
Client
BJC Healthcare
Project Status
In Progress
Markets
McCarthy is leading the design-build team overseeing the design and construction of the new 16-story inpatient hospital tower at Barnes-Jewish Hospital on Kingshighway at Barnes-Jewish Hosptial Plaza in St. Louis. The new inpatient tower is an important component of BJC's Campus Renewal, a long-term vision to transform the Washington University Medical Campus (WUMC) through new construction and renovations with an overall focus on improving the patient and family experience at Barnes-Jewish Hospital and St. Louis Children's Hospital.  
The innovative new 660,000-square-foot tower will feature private rooms for heart and vascular patients, state-of-the-art imaging, and the latest in surgical preparation and recovery, designed to advance care and enhance the experience for patients and their families.  
Plans include 224 private inpatient rooms (32 rooms on seven floors) and 56 private intensive care unit (ICU) rooms (28 rooms on two floors), many with expansive views of Forest Park. Two rooftop gardens will provide patients, families and staff with access to fresh air and respite, and a spacious family lounge will bring new amenities to the south end of the hospital campus, including a business center, kitchenette, quiet rooms and laundry facilities.  
In addition, an expansive surgical prep and recovery program will occupy two floors and two additional floors will feature a modern imaging center. An expanded dietary program will streamline meal preparation for on-demand patient dining, and visitors, staff and physicians will enjoy a spacious and bright cafeteria. 
Significant improvements along Barnes-Jewish Plaza also are designed to simplify and enhance arrival and wayfinding. A new elevated pedestrian walkway will lead from parking to a redesigned and expanded lobby, gift shop and coffee bar. A widened street and reconfigured drop off and valet space will offer a more intuitive and inviting entrance.  
The new tower will replace Queeny Tower, a 16-story structure that housed inpatient rooms and physician practices, which was vacated in 2019 in anticipation of its demolition and replacement. McCarthy managed construction of the original building in the early 1960s and has completed more than 20 other construction projects on campus.  Structural demolition of Queeny Tower was completed in September 2021. Construction began in fall of 2021 and is estimated to be completed in December 2024. The building will open for patient care in the fourth quarter of 2025.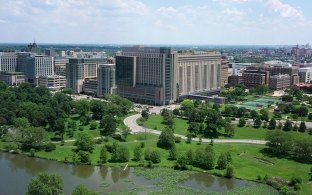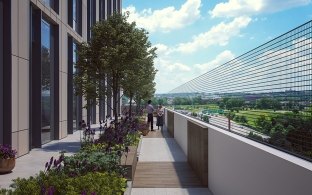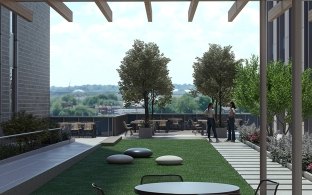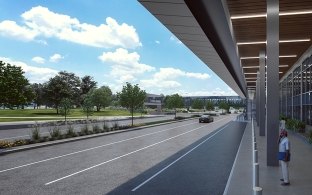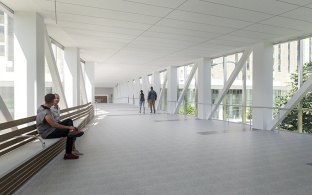 Engineer
BR+A Consulting Engineers (consulting engineer) 
Thornton Tomasetti (structural engineer) 
Castle Contracting (civil engineer)