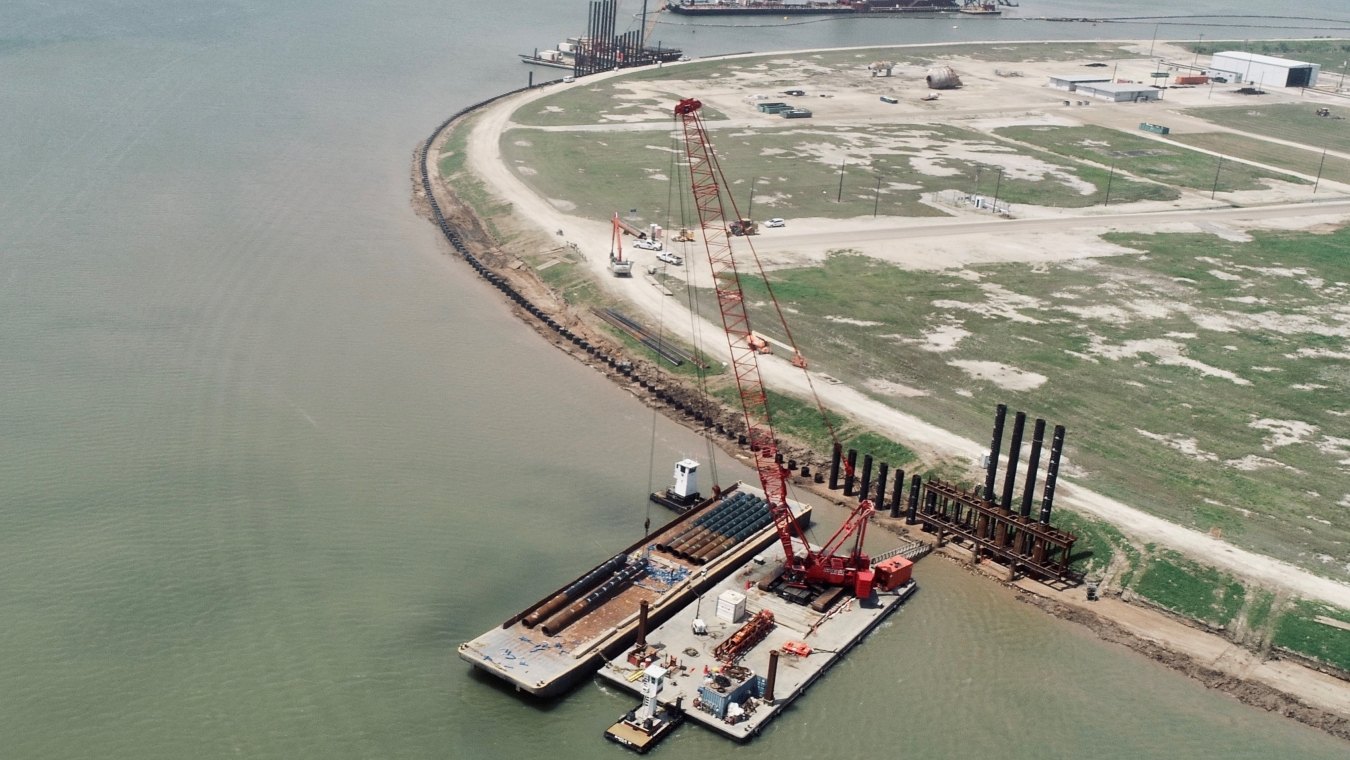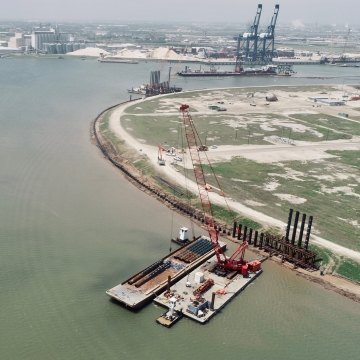 Our Work
Port Freeport Harbor Levee Stabilization Wall
Freeport, TX
Project Stats
Client
Port Freeport
Markets
Port Freeport hired McCarthy Building Companies to undertake the Harbor Levee Stabilization Project. The $29M project called for a 3,000-liner foot steel combination wall (combi-wall) that would "crown" the Dow Levee Road. The combi-wall consisted of 358 steel pipe pile and 357 pairs of steel sheet pile that reached a maximum depth of -88 feet.   
The levee, of which ships navigate around the tip, is situated on the southern tip of the Dow Levee Road in the Freeport Harbor Channel. The channel's widening and deepening project called for the removal of the levee's underwater berm, which is part of the Freeport Hurricane Flood Protection Project. To maintain levee integrity and protect the levee from flooding or undermining from dredging, rising sea levels, and potential hurricane washout, a stabilization wall around Dow Thumb was needed.  
Due to the protective nature of the wall during hurricane season, McCarthy had three months to complete the project to protect the levee from failure and to ensure channel operations should a hurricane or storm hit.   
For efficient and faster installation, and to ensure quality, McCarthy employed two multi-level, 85,000-pound templates to set and drive the piles. Typically, templates accommodate four or five piles, but McCarthy built theirs to accommodate eight. Also, to accommodate the curve of the thumb, the end pockets were able to rotate 4.5 degrees to form a perfect semi-circle. Each template took two weeks to build but crews were able to install the pipe piles in half the time. The 42-inch diameter piles were 90 and 64 feet long.