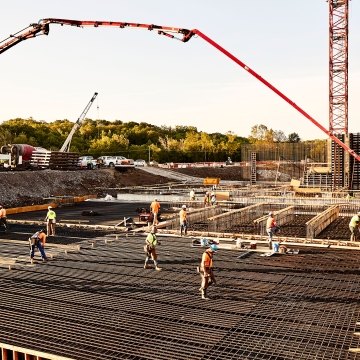 Our Work
Tomahawk Creek Wastewater Treatment Facility
Leawood, KS
Project Stats
Client
Johnson County, Kansas
Markets
The Tomahawk Creek Wastewater Treatment Facility originally commenced operation in 1955 and has undergone numerous expansions and upgrades over the years. The new $270 million expansion will allow the facility to treat wet and dry weather flows from 19 million gallons per day (MGD) to 172 MGD.  
This project, which is essentially a complete overhaul of the existing site, is the largest project ever undertaken by Johnson County and will improve water quality while providing cost-effective long-term treatment solutions for Johnson County customers. The new footprint of the facility is approximately 30 percent greater than the footprint of the existing facility with more than 30 new structures. These include: a new Peak Flow Pump Station, Influent Pump Station Modifications, Headworks Building, Primary Clarifiers, Bio-Nutrient Removal Basin, Blower Building, Chemical Disinfection Building, Final Clarifiers, Sludge Pump Station, Final Effluent Pump Station, Compressed Media Filter Basin, Chlorine Contact Basin, Re-aeration Structure, Digesters, Solids Handling Facility, Sidestream Treatment Facility, Odor Control Facilities, and Administration Building.  
 The Tomahawk WWTF is a joint project of Johnson County Wastewater, Black & Veatch, HDR and McCarthy Building Companies/Kansas City. Due to the complexity and tight schedule, Johnson County chose to use the collaborative delivery method of Construction Manager at Risk. 
9 MILES UNDERGROUND UTILITIES

SELF-PERFORMED

72 DRILLED

PIERS

54,000 CUBIC YARDS STRUCTURAL CONCRETE

SELF-PERFORMED

1.1 MILLION

WORK HOURS