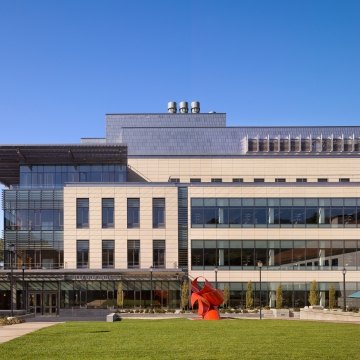 Our Work
Li Ka-Shing Center
Berkeley, CA
Project Stats
Client
University of California, Berkeley
Markets
McCarthy partnered with UC Berkeley to build a new 200,000 sf science building including a vivarium, a brain imaging center with space for MRIs and other imaging equipment, a teaching laboratory, a 300-seat auditorium and 80-seat classroom, small conference rooms, interaction spaces, and faculty and staff offices. Certified LEED Gold.
The Li Ka-Shing Center for Biomedical and Health Sciences (Li Ka-Shing), is a science building located at the West Gate of the University of California, Berkeley (UC Berkeley) campus. The state-of-the-art facility was designed to support a collaborative model for biological research and teaching to advance solutions to the world's most pressing challenges in health. The Center's overarching goal is the study of the molecular basis for disease with a focus on cancer biology, stem cell biology, infectious disease, and neurodegenerative disease. UC Berkeley has named the building in honor of Mr. Li Ka-Shing in recognition of his generosity, which has helped to fuel the University's pioneering research in biomedical and health sciences. 
In addition to the research component of the building, the common spaces are comprised of high-end architectural finishes which include terrazzo floors throughout, glass guardrails, reclaimed wood wall panels, back painted glass panels, custom stainless-steel trim, and a mixture of complex wood fin and fabric wrapped panel ceilings. The building has a structural steel frame and is clad with an exterior skin system that is made up of fifteen different elevations with a mixture of architectural board form concrete, curtain wall, terracotta rain screen, stainless metal shingles, aluminum sunshades, and includes multiple green roofs on three different levels. Many of these finishes contributed points towards LEED and in combination with the high efficiency MEP systems, allowed the project to achieve LEED Gold certification. Beyond the finishes and building systems, Li Ka-Shing is situated at the main entry point for all pedestrian and vehicular traffic entering the campus from the downtown Berkeley area, which required extensive coordination between McCarthy, UC Berkeley, and the City of Berkeley for the duration of the construction process. 
McCarthy led an Integrated Project Team Approach to develop a plan that allowed construction to start immediately, without having the entire project funded or the interior designed. There were many challenges during this phased approach, including 12,000 clashes which were detected and resolved; a construction area locked in on three sides by underground buildings and surrounded at the mouth of campus by thousands of students; and a very complex exterior skin system. The team used 3D capabilities of BIM and Virtual Coordination to solve issues and streamline communication. Despite the challenges, the team worked hard to keep everyone safe, control costs, and to deliver a high-quality product ahead of schedule. Mr. Li Ka-Shing and our partners at UC Berkeley are proud of and pleased with the results. 
Awards and Recognition
LEED Gold Certified

2012 Award of Merit

Best Higher Education/Research Project, ENR California
2012 Design Merit Award

2012 Going Beyond Award

Institute for Sustainable Labs

2012 Real Estate Deal of the Year

Research & Development, SF Business Times

2012 Best of Category

Education, International Interior Design Association

2011 Melvin McCarthy Award

Excellence in Quality Management

2011 Roger Burnet Award

Outstanding Project of the Year