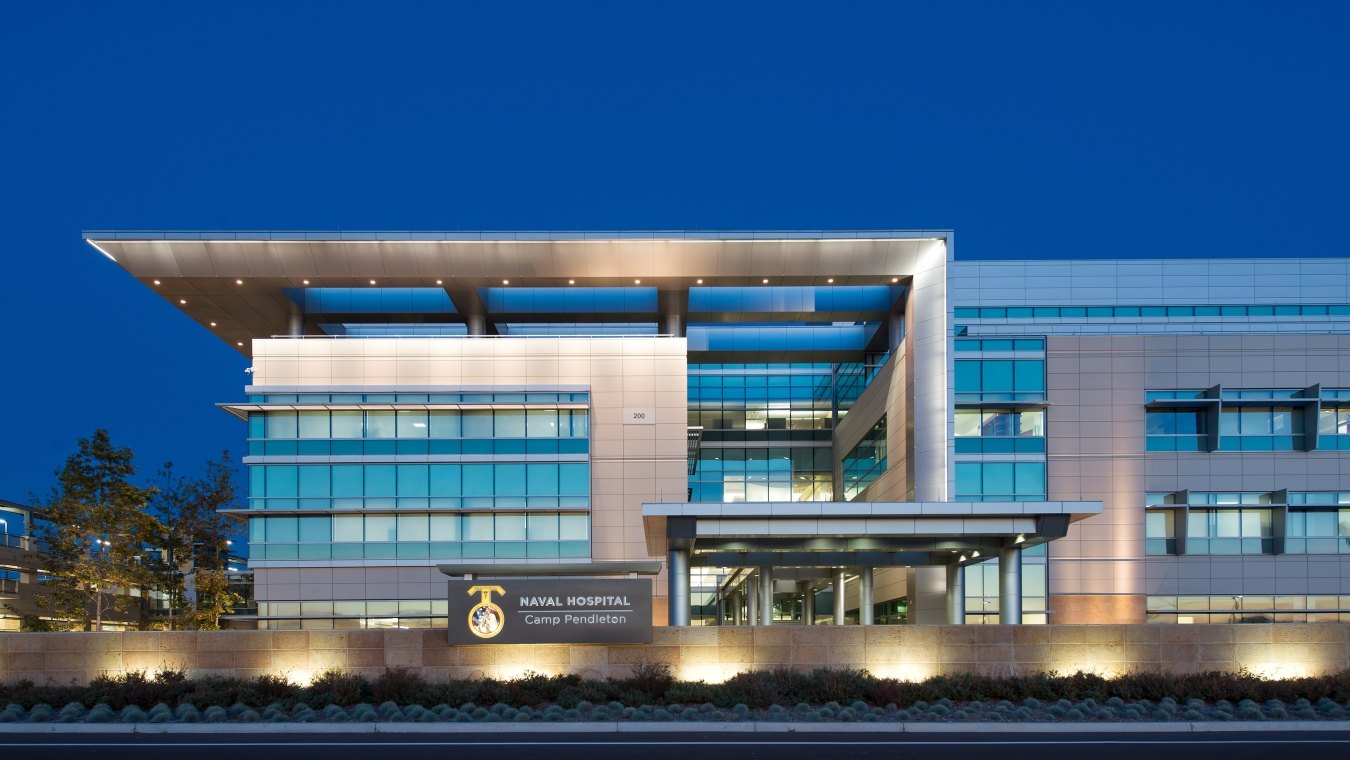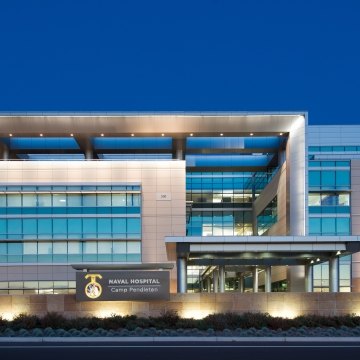 Our Work
Naval Hospital Camp Pendleton
Oceanside, CA
Project Stats
Client
Naval Facilities Engineering Command (NAVFAC) Southwest
Markets
Delivering world-class healthcare for our nation's heroes and their families takes more than building expertise. Constructing the naval hospital replacement project at Camp Pendleton required nothing less than a wholehearted approach to excellence, unity and team spirit among all project stakeholders. A model for best-practices in design-build delivery, partnering and Lean methodology, this massive naval hospital was delivered six months early and $100 million under budget. 
As one of the largest Recovery Act projects within the Department of Defense, the new 500,000-square-foot hospital was built to provide modern, safe and effective medical care for approximately 70,000 veterans, active-duty sailors, Marines and their families in the region. Located on a 67-acre campus, the hospital features medical facilities for emergency, primary, intensive and specialty care. It also boasts numerous sustainable features and was designed to meet California's stringent seismic regulations. 
Housed within the patient-focused hospital are 96 outpatient procedure rooms, 205 exam rooms, ancillary departments, support spaces and 54 patient rooms, accommodating up to 60 beds for non-ambulatory patients who require stays in excess of 24 hours. The facility also has eight labor and delivery rooms, together with 16 post-partum suites to serve the needs of young military families in the area. 
In addition to the hospital, the medical campus includes a new central utility plant, 73 acres of landscaping and environmental restoration, a new 1,500-space parking structure and surface parking to accommodate 1,000 cars. 
THE CHALLENGE
Creating a foremost medical facility of this immense magnitude and scope was a feat in and of itself. Yet, our design-build project team overcame this and various other challenges — giving their all to further the Navy's goal of delivering world-class healthcare to the region's military and their families. 
Funded through the American Recovery and Reinvestment Act of 2009, the project had to meet a pressing deadline for completion in order to receive funding. To accomplish this requirement, we proposed an aggressive 40-month schedule, at least two years shorter than the Navy's typical timeframe to design and construct a hospital project of this size and scope. 
In a first for the Naval Facilities Engineering Command (NAVFAC), our team also tackled the unprecedented task of not only designing and building the campus, but planning, procuring, and installing all medical equipment, furniture, and artwork, as well as training hospital staff. From the MRI units, to the blood analyzers to the patient beds and operating room equipment, the team was responsible for all aspects of delivery under this turnkey contracting approach. 
To decrease operational costs and protect the environment, sustainability was another primary goal for the project. In response to this objective, the team set out to achieve U.S. Green Building Council LEED Gold Certification — an ambitious aspiration for an energy-intensive hospital that operates around the clock. 
THE HOW
Design-build delivery played an instrumental role in realizing the project's ambitious goals. As a part of this approach, the design team fully integrated with the construction personnel, including key subcontractors. From early design phases through project completion, they collaborated on each design submittal and package to ensure constructability, expedite work and control quality and costs. 
To further accelerate construction, an innovative phased design approach was developed by the project team. Construction and design staff worked alongside NAVFAC to identify critical path activities available for early starts. This approach shaved two weeks from the schedule. For instance, by sequencing the structural package as one of the first to be reviewed and approved, the hospital's foundation work began two weeks early. A portion of the civil design was also moved into an early package, facilitating the relocation of two high-voltage transmission lines clearing the way for an early start of mass grading. 
Virtual design and construction technology was implemented at the project's inception to design and coordinate construction for all aspects of the hospital. Three dimensional models aided in budgeting, improved workflow, resolved field conflicts and allowed for quality control through all phases of the project. Taking Building Information Modeling (BIM) technology one step further, the model was linked to the project's cost-loaded CPM schedule to produce a 5D tool (3D geometry, time, cost) that automatically adjusted when changes were made. The model was also used to prefabricate a variety of materials and components thus ensuring quality and expediting installation of various components of the building, including window and exterior framing assemblies, ductwork, piping, casework, a pneumatic tube system, mechanical systems and electrical distribution systems. 
In collaboration with NAVFAC and Navy Medicine, a medical equipment package was developed utilizing the Basis-of-Design specifications and the experience of Navy Medicine user groups to select more than 20,000 pieces of equipment and coordinate the building infrastructure to accommodate it. Best Value Determination was used for every item, allowing the Navy an opportunity to compare models, options, maintenance contracts and lifecycle costs. This turnkey delivery method, which is usually performed by multiple subcontractors, successfully maximized quality, minimized added costs and expedited the construction schedule. 
To achieve LEED Gold Certification, the hospital's design incorporates a variety of sustainable features, including green roofs, healing gardens, an open-air atrium, solar cells, horizontal and vertical sun screens, maximized use of recycled materials and low flow plumbing fixtures. Resulting from these eco-friendly features, the building's energy performance is 30% better than baseline standards set by the American Society of Heating, Refrigerating and Air-Conditioning Engineers. The team went above and beyond efforts needed to achieve all five Innovation in Design credits by using more than 20% recycled content, reducing water usage by more than 50%, restoring vegetative open space that is more than twice the footprint of the building and implementing a campus-wide education program that highlights the hospital's sustainability. 
Key Lean practices, and a positive safety culture further contributed to the project's success.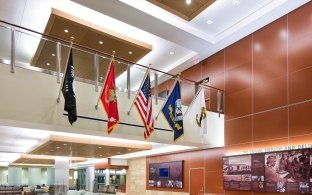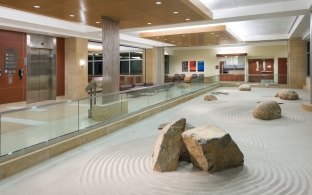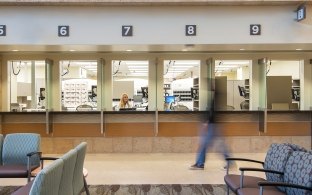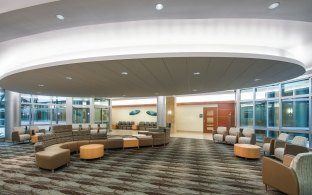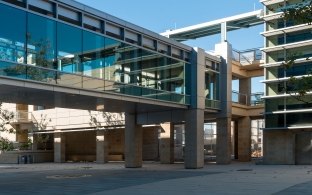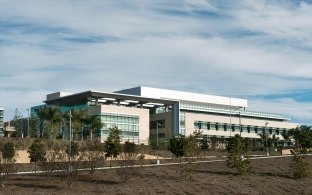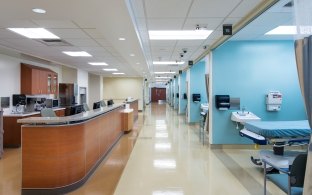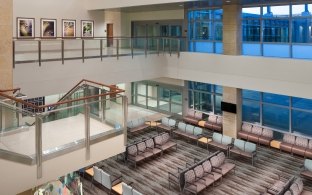 THE OUTCOME
Resulting from this unprecedented contracting method, on-site innovations, and full-team collaboration, the Naval Hospital at Camp Pendleton was delivered with the following accomplishments:
Turned over six months ahead of the Navy's target schedule
Completed more than $100 million under budget (with less than 2% in contractor-requested change orders)
Zero lost-time incidents for the entire project with more than 2.6 million man hours
Zero re-work needed due to government non-compliance
Awarded 75% of work to first-tier small business subcontractors, including more than 45% to Service Disabled Veteran Owned Small Businesses.
Achieved LEED Gold certification, exceeding the project's LEED Silver requirements.
Representing a new standard for federal healthcare construction, the innovations developed on this landmark healthcare facility will have a lasting impact on how future projects are procured and delivered in the public sector and beyond. But even more importantly, this cutting-edge naval hospital has effectively heightened the health and wellness of the men and women who selflessly protect our country each and every day.
6 MONTHS

AHEAD OF SCHEDULE

0 LOST TIME

INCIDENT RATE

$100 MILLION

UNDER BUDGET

LEED GOLD

CERTIFIED
Awards and Recognition
2015 Best of the Best Project

Healthcare
Engineering News-Record

2014 Alliant Build America Award

Best New Building Project
AGC of America

Marvin M. Black
Excellence in Partnering
AGC of America

2014 Design-Build Project of the Year

DBIA Western Pacific Region
Engineers
KPFF Consulting Engineers (structural)
TMAD Taylor and Gaines (mechanical)
exp (electrical)
Berger Abam-Flores Lund (civil)
CONSULTANTS
EcoLogic Studio (sustainability)
Rolf-Jensen Associates (fire-life-safety)
DeLorenzo Inc. (landscape design)
TRADE PARTNERS
FJ Willert (earthwork)
CMC Rebar (reinforcing steel)
Bomel Construction (concrete)
Comm Steel (steel erection)
Schuff Steel Company (structural steel)
Anning-Johnson (metal deck)
International Iron (stairs)
Monaco/RPM - A joint venture of A.O. Reed, Murray Co. and Pan-Pacific. (mechanical)
Bergelectric (electrical)
G&C (electrical equipment)
Seamless Care (medical equipment procurement and installation)
PARKING STRUCTURE
Choate Parking Consultants (designer)
Empire 3 (electrical design)
Ficcadenti & Waggoner (structural design)