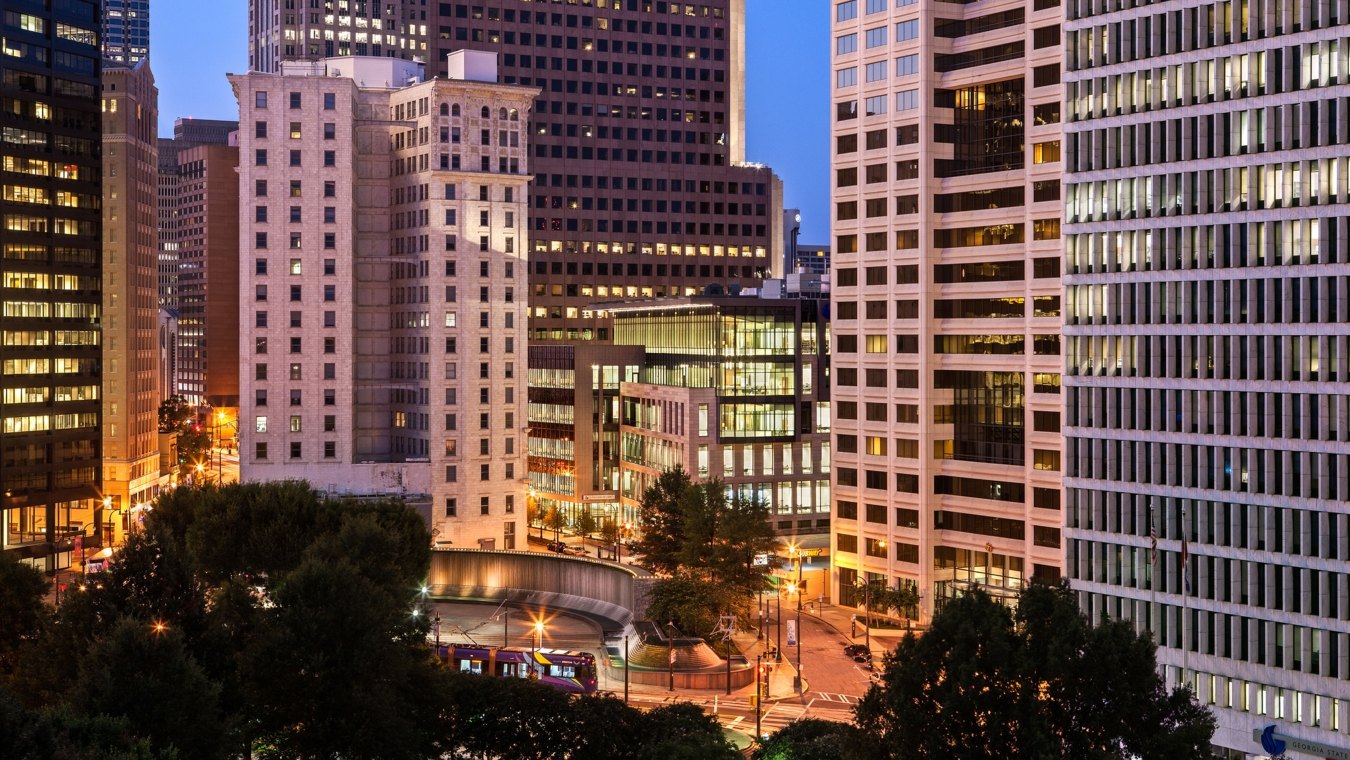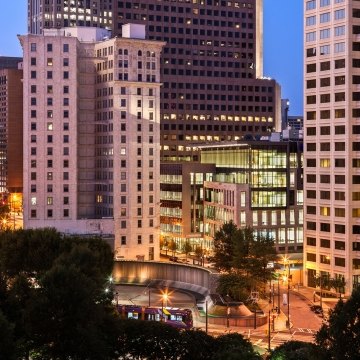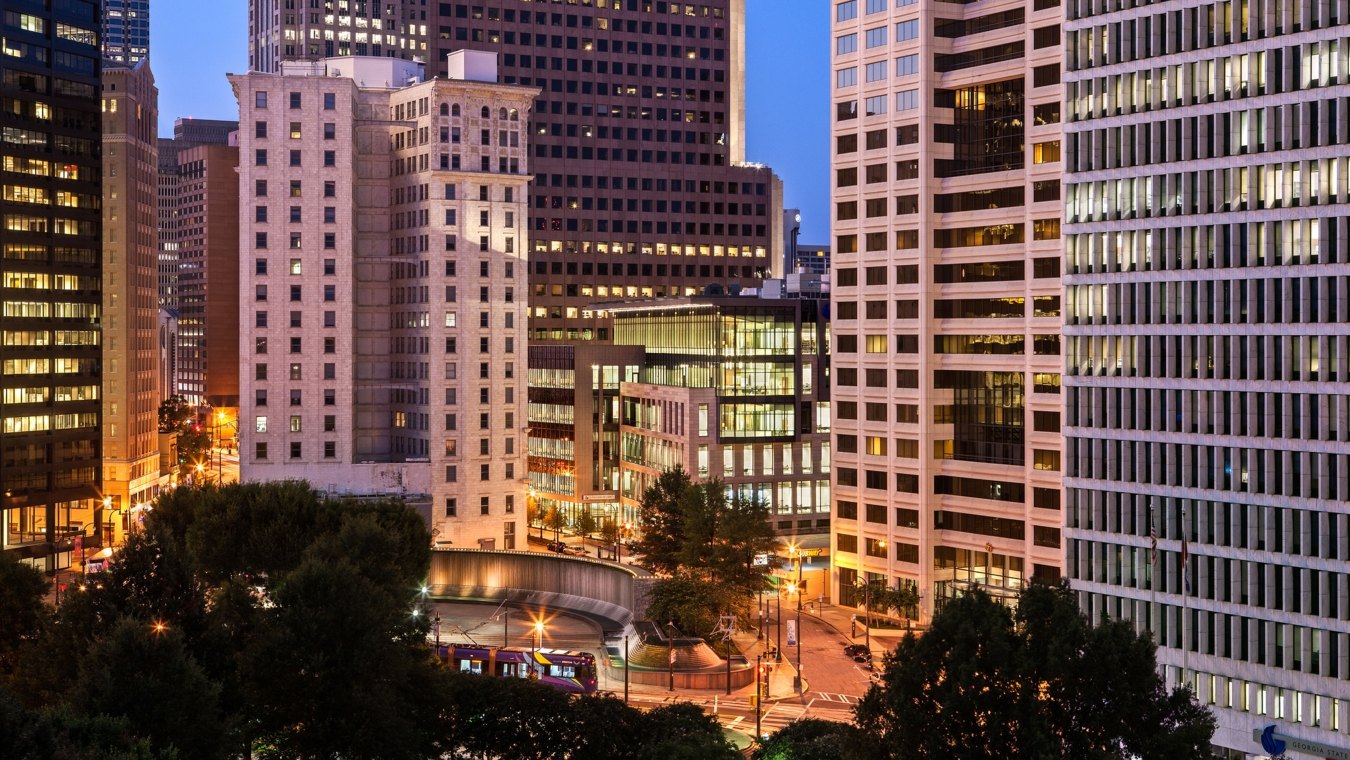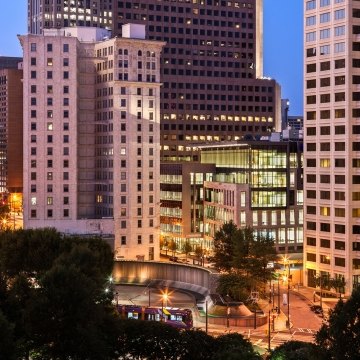 Our Work
GSU College of Law
Atlanta , GA
Project Stats
Client
Georgia State University
Markets
This 200,000-square foot law school building encompasses lecture halls, law library, a 230-seat mock courtroom, legal clinics, central community gathering space, classrooms, and offices. The College of Law building is certified LEED Gold.
The Georgia State Law building is the university's first dedicated legal education facility, housed on a 2.42-acre site located on the downtown campus. This is the first phase of a multi-building university complex. The facility includes a conference center, areas for clinical practice and an International Arbitration Center. The Law Library occupies the top two floors and offer flexible learning space for individuals, groups, classes and guests, as well as a formal reading room, a café and outdoor terraces.
The building features numerous sustainable elements, including a green roof complete with vegetation and trees to improve air quality and provide a unique downtown aesthetic. Energy efficiency comes through the use of magnetic drive chillers within the climate control system, which reduce heat and friction during operation. A variable refrigerant flow cooling system allows efficient multizone temperature control while eliminating air and water as heat transfer mediums. Inside finishes include high-end wood paneling on walls and ceilings and terrazzo flooring. Outside, zinc metal panels and coping connect windows for an ultra-modern aesthetic.
Facility Fast Facts
16,179 square feet of wood paneling
292 square yards of area accent rugs
36,000 square feet of cast in place terrazzo flooring
11,000 cubic yards of concrete
998 tons of reinforcing steel
215,000 lbs of ductwork
22,500 LF of HVAC Piping
1,070,000 square feet of drywall
4,300 gallons of paint
70,000 square feet of glass
7,000 square feet of glass markerboards
22,650 SF (2,444 panels) of Zinc panels
Stone Cladding = 24,000 square feet of stone cladding
19,000 square yards of carpet
McCarthy Building Companies, Inc. is pleased to have built a school with the Georgia State University College of Law that has transformed legal education in Atlanta, with a building designed to support the programmatic demands of 21st-century legal instruction.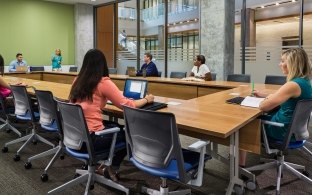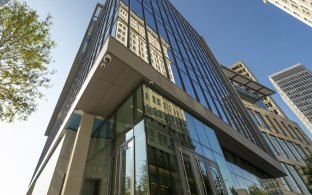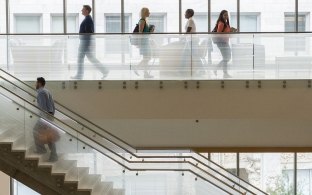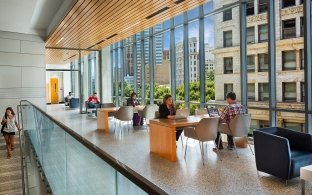 Awards and Recognition
LEED GOLD CERTIFIED

People's Choice Award

Award of Merit

Higher Education
Engineering News-Record, Southeast
Engineers
Eberly & Associates
J&A Engineering
Nova Engineering & Environmental