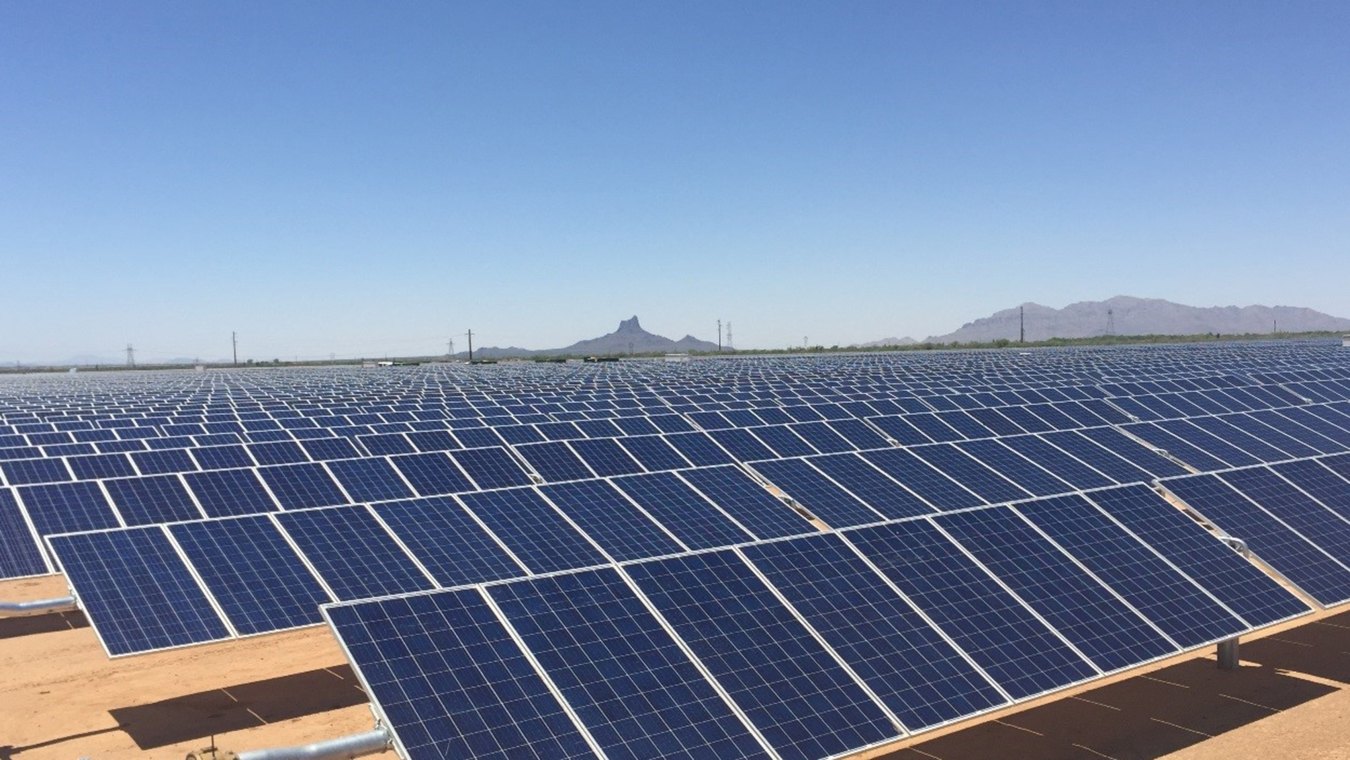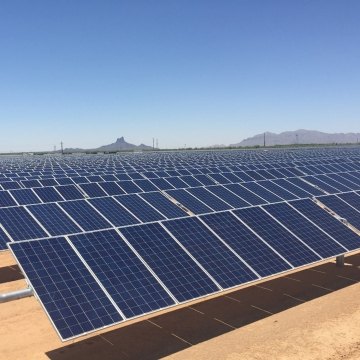 Our Work
Red Rock Solar Plant
CASA GRANDE, AZ
Project Stats
Client
Arizona Public Service Company
Markets
Located on 400 acres in a remote region of Arizona about 30 miles south of Casa Grande, this project represents the largest Arizona Public Service solar plant to date with 2,286 single-axis trackers supporting 182,880 photovoltaic panels, generating 40 megawatts (MWac) of solar energy.
There were 174 workers on the project during peak construction and no recordable safety or lost-time accidents. It was McCarthy's sixth solar project working for APS, allowing the company to expand its solar portfolio and solar leadership in Arizona. This was APS' largest grid-scale solar plan and is located next to the company's first solar plant, built more than 20 years ago.
By The Numbers
Plant covers 400 acres of land
246,300 cubic yards of earth moved
36 snakes encountered and safely relocated
14 retention basins built (1.8 million gallons of water)
650 container trucks of material delivered
1,043 miles of DC string cabling
2.4 million pounds of steel piles
2,286 single-axis trackers
731,520 of glass fastening pins
182,880 solar panels
20 inverters (2.1 MW)
174 workers at peak construction
Key Design Elements
Soil cement stabilization for erosion protection: This is the first solar project in APS's portfolio to utilize this design element to facilitate long-term erosion protection for high-velocity water flow area in order to mitigate operation and maintenance exposure annual monsoon impacts.
Braided Bus Connection for AC System: The inverter to medium transformer electrical connection has typically been an underground design with cable and terminators to complete this AC connection. The industry has been migrating to an above ground bus connection for this installation as it provides a cost savings and minimizes long-term maintenance.
Challenges
A key challenge involved the project interconnect and testing process to the nearby substation and power grid. There were two construction efforts involved: McCarthy's portion for the solar project to medium voltage switches and APS's portion for the substation make ready and underground installations to the solar plant switches.
Among the jobsite concerns were heat exposure, plus the snakes, scorpions and spiders native to the region.
Solutions
Coordination for this effort began on day one at the construction site so that equipment and installation logistics could be identified real-time with the crews. Expectations were clearly communicated and determines and each party did their part to execute their scope in conjunction with the overall project needs.
By focusing the crews on the dangers involved in the tasks for the day, and then agreeing on mitigation measures to stay productive, we prevented risky short-cuts. Another key was to properly train every new worker to the processes and safe work measures expected. of each worker. New crew members were paired with seasoned crew members to ensure proper training and full understanding of safe work expectations.
Because construction occurred during some of the hottest days in Arizona, shade structures, and 80,000 pounds of ice and hydration (water coolers and bottles) were used on the project water coolers and bottled water were allocated to each crew to prevent dehydration or heat-related illness.  
Anyone who entered the jobsite attended a site safety orientation facilitated by McCarthy Supervision. They also participated in an environmental training session to understand wildlife in the area — and the protocol to follow should wildlife be encountered. When rattlesnakes and other species were found, they were safely relocated from the project site to an adjacent habitat area with no workers being injured.
zero

RECORDABLE SAFETY OR LOST TIME ACCIDENTS

182,880

SOLAR PANELS

246,300

CUBIC YARDS EARTH MOVED

2.4 million

POUNDS OF STEEL PILES
Awards and Recognition
2017 Award of Merit

Energy/Industrial
Red Rock Solar Plant
Engineering News-Record Southwest